Airbrush has become an extremely popular hobby in recent years, not least because the airbrush technique can be used in many areas of art. Not only canvas and plastic objects can be designed with this painting technique. Also metal, textiles, food or human skin can be embellished with airbrush colours. To start with the hobby you need an airbrush gun, a compressor, an air hose, airbrush paints and a cleaning set. All these materials are also available as complete sets for the start.

What is an airbrush set?
The above mentioned components of the basic equipment compressor, pistol, paints and cleaning set are all available separately and can be combined individually to suit your needs. To save time and money there are also pre-assembled airbrush sets available. These packages contain the airbrush gun and the compressor with connection hose in their basic version. Often different nozzle sizes, a selection of airbrush colours and a cleaning set are also included.
In the meantime, the available airbrush sets are no longer just all-round starter sets, but there are also sets that are already tailored to the different areas of application. Airbrush sets are available that include a particularly quiet and compact compressor, which is preferred by model builders. Or sets with a special airbrush gun, which can be used for particularly fine work in the field of tattoo or body painting.
You can also buy airbrush sets that contain several guns at once or several interchangeable nozzles. Especially well equipped sets even include the respirator, stencils or the airbrush gun holder. The combination possibilities as well as the price are almost unlimited.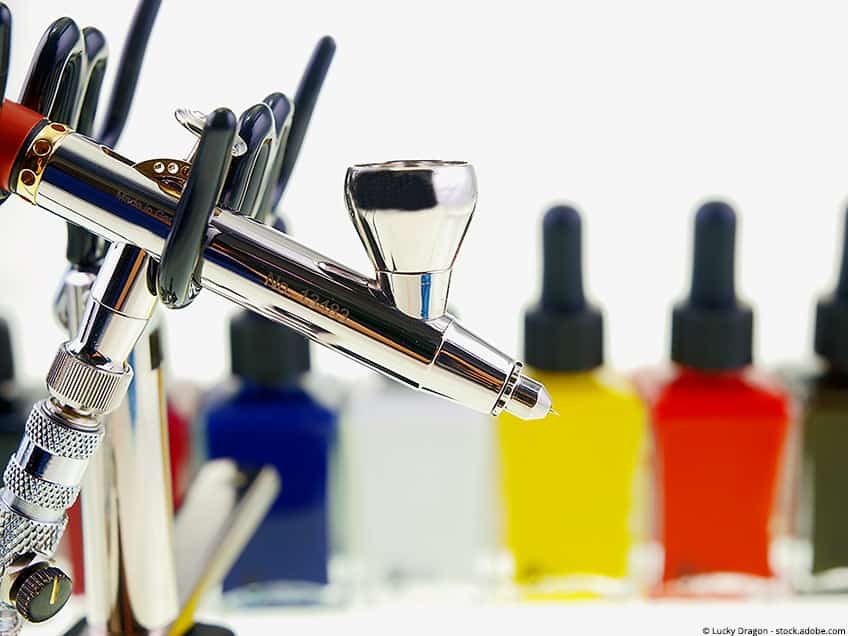 Our Airbrush Set Test – Popular models in comparison
When buying an airbrush there is a wide range of models. We help you with our Airbrush Set recommendation to find the right airbrush set for your application:
Product recommendation will follow
These components are important in the airbrush kit
Of the many components an airbrush kit can contain, the airbrush gun, compressor, paints and cleaning kit are the most important. Especially when choosing the airbrush gun and compressor, there are a few things to consider before you make your purchase decision.
Airbrush Gun
Before choosing your airbrush gun or airbrush set, you should be clear about the primary purpose for which you want to use your airbrush gun.
A combination of 4 different functional principles regarding air and paint volume regulation and supply define the optimal airbrush gun for your requirements:
Single Action Principle
The amount of ink in this type is fixed by means of a wheel. With a lever you can regulate the air volume alone while working. This version is easy to use but not very flexible, so that it is more suitable for priming and coarse work.
Double Action principle
This version of the airbrush guns are also equipped with a lever that is operated with the finger. However, here it is assigned two functions. By pressure you regulate the amount of air, by pulling the lever you regulate the amount of paint. This principle of operation allows a very flexible work, but also a lot more practice.
Flow cup system
In the flow cup system the paint is in a cup on the airbrush gun. By gravity the paint runs into the air stream and is atomized there. The flow cup system is suitable for small areas. Only little pressure is needed. It cannot be sprayed overhead.
Suction cup system
In this system, the paint cup is located below the airbrush gun. The passing air stream creates a suction that sucks the paint out of the paint cup and atomizes it in the air stream. This system has a much larger paint holding volume and therefore larger areas can be treated with one paint filling. The pressure at which the airbrush is operated must be slightly higher.
The most flexible and most used system is probably a double action airbrush gun with a flow cup system.
Airbrush compressor
In principle it is of course possible to operate the airbrush gun with a normal DIY store compressor. However, a real airbrush compressor has a few unbeatable advantages, which we would like to introduce to you here:
Water separator
Compressed air loses liquid. In a normal compressor, this liquid is collected on the ground and may be carried outside with the compressed air. If this happens when the airbrush gun is connected, unsightly splashes of paint will quickly appear on your model.
An airbrush compressor prevents this by installing a water separator. This filters the water from the compressed air. This prevents unsightly paint splashes and stains.
Pressure regulator with pressure gauge
An airbrush gun works with pressures between 1.5 to 3 bar, depending on the airbrush gun, paint viscosity and expected spray pattern. It should be possible to adjust the pressure easily, very precisely and in detail. For this purpose a pressure regulator with display (manometer) is almost indispensable.
Air tank
An air tank is certainly not a must, but it is very helpful for the protection of the hearing. A compressor with an air tank can only be heard at the beginning of its work. Once it has compressed enough air and stored it in the air tank, it works silently. As soon as the pressure in the tank drops, the compressor starts working noiselessly and refills the air tank.
This way the compressor not only works silently, but also works much longer with constant pressure, which in turn creates a nicer spray pattern.
In addition to the water separator, pressure regulator and air tank, airbrush compressors also often operate with low vibration. This advantage should undoubtedly not be underestimated, especially when working at home. Depending on the intended use, airbrush compressor manufacturers also offer very compact, small units that are easy to transport.
Airbrush colors
Basically you can use all colors in an airbrush gun. It always depends on which painting surface you want to spray. For the beginning and also for most surfaces, water-based acrylic resins are best suited. They are uncomplicated in the processing, easy to dilute or they are even available already mixed.
Since acrylic paints have no harmful effects on health, they can be used without special precautions. Nevertheless it is advisable to wear a breathing mask when airbrushing or at least to ventilate the workshop well.
If your chosen set contains undiluted paint, we recommend that you order a thinner at the same time. It is also possible to use simple water, but the colors are not durable as long as the thinner is used.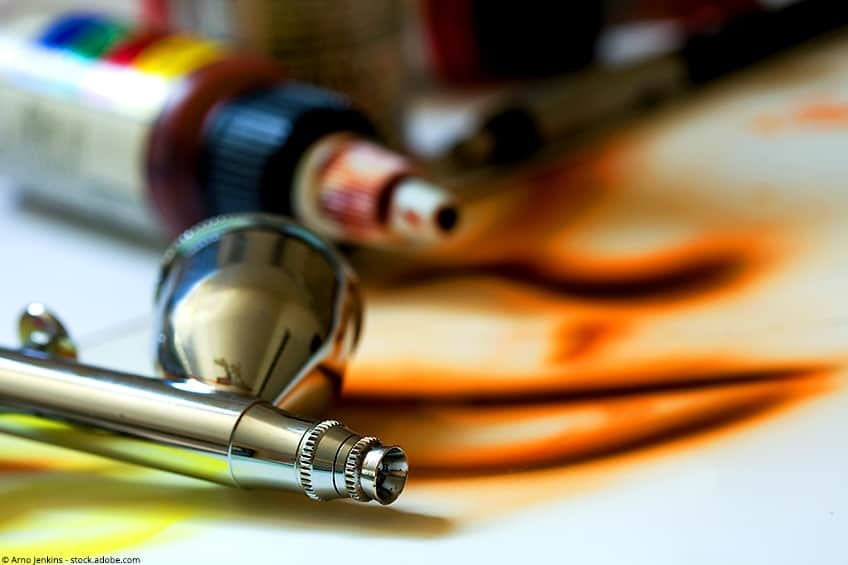 Detergents
A cleaning kit should definitely be part of your basic equipment. A regular and thorough cleaning of your airbrush gun not only prevents unwanted paint mixing and clogging, it also keeps the seals and fine components intact and ensures that you can enjoy your tool for a long time.
A cleaning set includes the Airbrush Cleaner and a brush set. A cleaning pot is also often included as an option.
Advantages of an airbrush complete set
By buying a complete airbrush set you will certainly save yourself some time. Because putting together the best offers for your needs requires a lot of research. Nevertheless, you will have to deal with your personal requirements for the airbrush gun and compressor in advance. Only then will you be able to choose the right set!
In many cases it is cheaper to buy an airbrush set than buying it individually. Often, paints or cleaning sets are "free gifts" from the seller.
With the purchase of an airbrush set you can be sure that the individual components are compatible. If you buy them individually, it is possible that the hose and compressor connection do not match and additional adapters may be necessary. Or your chosen compressor may not deliver the pressure required by the airbrush.
Attention: not every set really contains all the components you need for your projects! Surely you will have to purchase some additional items over time to meet your increasing demands. As basic equipment it is not wrong to use an airbrush set.
Our recommendation: The Airbrush Set from Timbertech
The Timbertech Airbrush Set includes a compressor, a double-action airbrush gun with flow cup system and 3 nozzles in the sizes 0.2 mm, 0.3 mm and 0.5 mm. The storage box also contains the 1.90m long air hose and pipettes for mixing and filling the colours.
The oil-free compressor works with a maximum pressure of 4bar and is equipped with a pressure regulator and a manometer. The compressor weighs only 3,6kg and produces noise with a tolerable 47db.
Advantages
Powerful, handy and relatively quiet compressor with water separator
Allround double-action airbrush gun with 3 nozzle sizes
Large (7ml) paint cup
Air battle, adapter and storage box included in the set
The set costs less than 100€.

Disadvantages
No cleaning kit included
No colours included
Compressor gets quite hot during long continuous use
There is only a small air reservoir
Conclusion: The Timbertech Airbrush Set is a solid airbrush set at an absolutely fair price. The compressor is quiet and very handy. However, you should allow it to cool down every 30 to 40 minutes. The Double Action pistol with its 3 nozzle sizes leaves nothing to be desired for the beginning and provides an attractive spray pattern. Spare parts are available from the manufacturer. A cleaning set must be purchased additionally.
Product recommendation will follow
Tips and tricks for buying an airbrush set
Unfortunately, buying a set does not take all the research work off your hands! You should also consider the following when buying an airbrush set:
Get to know the functional principles of an airbrush gun and choose the one that suits you
Spare parts should be available for the airbrush gun included in the set
Think about what kind of work you want to do and which nozzle sizes are necessary (0.2mmm for fine work, 0.4mm for primers) – the set already includes exchangeable nozzle heads for more flexibility
You shouldn't compromise on the compressor! Volume, compactness, vibration and weight are important criteria that should be closely examined!
A cleaning set is an absolute must!
The colours included should be suitable for the intended use (food colouring, textile colouring, make-up).

You decide how extensive your airbrush set should be: do you want to buy only the gun, compressor and cleaning set or do you prefer to buy the all-inclusive package? This also includes stencils, masking film, airbrush gun holder and possibly a transport case
Although it is certainly tempting, we do not recommend that you buy the cheapest set. The spray patterns certainly differ only slightly, but the cheap guns often lack durability and the availability of spare parts.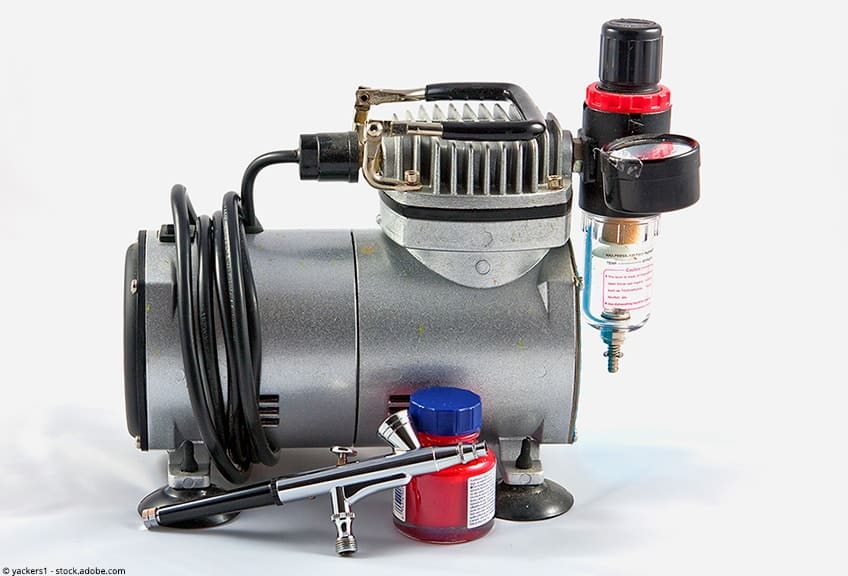 Frequently asked questions and answers
How to clean an airbrush set?
Only the airbrush gun actually requires intensive cleaning. The compressor is basically not cleaned. Here, the highest maintenance work such as changing the air and lint filter is required. If your compressor has a water separator you should of course check before every use if it is full. A full water separator cannot do its job, overflows and in the worst case ruins the spray pattern.
The airbrush gun should be rinsed briefly with every colour change to prevent unwanted mixing of the colours. For this you proceed as follows:
Remove the remaining paint from the paint container (you can save the paint in small sealable containers for later)
Fill the colour cup with water instead of paint
Now you spray the water like paint. Spray on kitchen paper or in a transparent container, so you can see best when no more paint comes out of the airbrush gun
Empty the water and spray again until no more water comes out of the gun
The airbrush gun can be filled with new paint
After finishing your work you should clean the airbrush gun thoroughly to avoid blockages and to keep the airbrush gun with its small components and sensitive seals in a well-kept condition.
Product recommendation will follow
A thorough cleaning includes the following steps:
First empty the paint from the paint cup
To remove coarse paint residues, fill water into the paint cup and clean all visible areas with a cotton swab or handkerchief
Spray the airbrush gun with the water through
Empty the remaining water and fill in Airbrush Cleaner instead, spray this special cleaner through the airbrush gun
Thoroughly remove solid paint residues with a brush (included in the cleaning set)
Pay particular attention to the needle when cleaning, it must not be damaged or bent
Finally the airbrush gun is disassembled as far as possible. For this purpose, the nozzle is removed, the needle is pulled out, all other dismountable parts are disassembled. In most cases there is an instruction manual for this!
The individual components are now thoroughly cleaned and reassembled
Our tip: Collect all the parts of the set in one cup to not lose any! The disassembled small parts can also be put into an ultrasonic bath, which takes over the cleaning.
Where to buy an airbrush set?
If you want individual advice and don't want to rely solely on internet research, then you are still best off in the specialist artist trade. The competent specialists will give you good tips regarding the individual components. Often you also have a contact person for problems or defects directly on site. However, this type of purchase is usually the most expensive; specialist shops are never cheap, advice always comes at a price.
If you want to buy more price-consciously, like to do your own research or know exactly which airbrush set you want, you will of course also find it quickly on the Internet. Specialized online shops, the web shops of the manufacturers and also at the well-known online marketplaces you will find a large selection of airbrush sets in all price categories.
When to replace the airbrush needle?
The needle is one of the most sensitive parts of an airbrush gun. However, it is not a classic wearing part, but is rather damaged by carelessness of the user. For example, when working without the needle protection cap, it can easily be nudged and thus be damaged. The needle can also be damaged if the airbrush gun is cleaned inadvertently or if it is changed.
The needle does not always have to be replaced immediately. You can try the following if your needle is bent:
Try to clamp the needle diagonally between two glass plates and then pull it out so that you can bend it straight with several attempts

Afterwards, any remaining unevenness is treated with 1000 or 1200 wet sandpaper. Always work away from the tip with a rotary movement.
Do not try to bend the needle straight on a wooden plate. Wood is too soft. The needle would press in and your efforts would be counterproductive!
Meanwhile, there is already a helpful tool to straighten a bent needle. The Sharpen Air Tool has 4 channels with different angles and grit sizes. The bent needle is guided through the channels, starting from the right, one after the other with a rotating movement until it is straight again.
Why is no paint coming out of the airbrush gun?
First check the connection to the compressor. Kinks in the hose can prevent air from flowing through the hose and gun

Check the compressor pressure. If the pressure and lift supply are correct, the cause may be a clogged nozzle or a dirty air head.

Unscrew the air head and clean it thoroughly
In some cases the airbrush gun does not work as it should because seals are defective or the nozzle head has not been screwed on properly. Check all components of your airbrush gun and tighten the threads.
If the fault cannot be rectified either by cleaning or by reassembly, check that the nozzle fits the air head. Between air head and nozzle a gap is necessary through which the compressed air flows. If nozzle and air head do not fit together and this gap is no longer present, your airbrush gun cannot work. You can also get advice on this in specialist shops.
We hope our recommendations regarding the purchase of an airbrush set were helpful. We wish you much fun with your new hobby!