An airbrush gun requires compressed air for its function, as the translation "air brush" already suggests. This can be taken from a compressed gas cylinder or a compressor. Compressed gas cylinders are relatively expensive and so it is worthwhile on average to use a compressor for the 3rd spraying process. What you should consider when buying a compressor and which advantages a special airbrush compressor offers, we would like to explain to you in detail in the following
What is an airbrush compressor?
Basically you can use any compressor for the airbrush gun that works with a pressure between 1.5 and 3 bar. So if you already have a compressor that meets this criterion, you will probably only need a few minor modifications to get the compressor ready for use.
For example, a 1/8 inch adapter is often required to connect the air hose. Furthermore we recommend a retrofit of a water separator. If your compressor is oil lubricated, an oil separator is also advisable. We will explain the reasons for this later.
If you are not yet in possession of a compressor, we recommend that you purchase a special airbrush compressor. This offers some unbeatable advantages and is in most cases not much more expensive than a normal compressor.
By the way: Airbrush compressors can also be used for other activities in the house!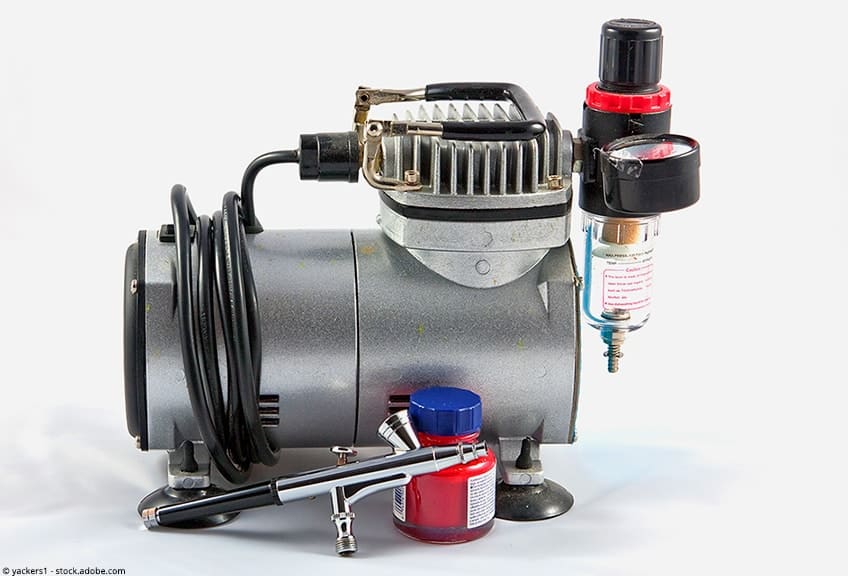 Criteria for the airbrush compressor purchase decision
There are some components that a good airbrush compressor should have to give you a relaxed spraying experience.
Water separator and oil separator
In principle an airbrush compressor should not be oil lubricated. If it is, it requires an oil separator. If oil were to get into the compressed air, it could damage the airbrush gun irreparably and make your tool permanently unusable. Oil clogs the fine components of the gun and is extremely difficult to remove.
The water separator is necessary because compressed air loses liquid. This liquid can get into the ejected compressed air and thus get into the gun. For the spray pattern this means paint splashes and splotches. A water separator prevents contamination of the compressed air with water and ensures a spotless spray result.
Note that water and oil separators only perform their work to the full extent when empty! Therefore, check that the separator tanks are empty before starting work. Empty them if necessary before you start your work.
Pressure regulator and pressure gauge
Most airbrush guns work with a pressure between 1.5 and 2.2, bar. In this range, your compressor should be particularly finely adjustable. Therefore an easy to use pressure regulator and an accurate display (manometer) are necessary.
1/8 inch thread
For the connection threads of the air hose to the gun and the compressor 1/8 inch threads have become generally accepted. An airbrush compressor already has these standardized threads installed or comes with a suitable adapter. An adapter can of course also convert a normal compressor for use with the airbrush gun.
Volume
Airbrush guns are mostly used in a domestic environment and are also placed very close to the artist. Special works of art also require a high degree of concentration and privacy. These circumstances make it necessary to pay attention to a low noise level when buying a compressor.
We recommend compressors that work with a maximum volume of 60db. This corresponds to the volume of a normal conversation and does not overload our hearing and nerves.
Air tank
An air tank is certainly not absolutely necessary, but it makes the airbrush work much more pleasant. On the one hand, an air tank is easy on the hearing, because the compressor only has to compress the air noisily at the beginning of the work. This air is then stored in the tank and taken from there silently. Depending on how big the tank is and how long the airbrush is used, one tank filling is often sufficient for a complete airbrush session.
On the other hand, the air tank generates a more constant pressure and thus a uniform (in technical terms homogeneous) air output. In this way you also achieve a nice, balanced spray pattern.
Last but not least, a sufficiently large air tank allows the simultaneous work with several guns. A compressor that has to work permanently to supply the compressed air would soon be overtaxed. It should be noted that the tank is regularly cleaned of settled water to prevent rusting.
Size and weight
A low weight and a handy size are extremely useful if the airbrush hobby is carried out within your own 4 walls.
These features are really important if you do contract work and are often on the road with your equipment. If this is the case, it is a good idea to look for models with a carrying handle.
Vibration
Surely it is not the first fact you will think of, but you should not ignore it. Your airbrush compressor should produce as little vibration as possible. If only because it is often quite close to the object to be painted and vibrations can have a very unfavorable effect on the picture. The use in private surroundings with possibly existing neighbours increases the importance of this characteristic. It is true that smaller compressors often produce less disturbing vibrations. Rubber feet and a compressor located far below also have a vibration absorbing effect.
Price
Airbrush compressors are already available for less than 100€. Upwards there are almost no limits. The manufacturers usually offer one model in each price segment.
Well-known manufacturers of airbrush compressors are among others:
Revell
Fengda
Implotex
Timbertech
Harder & Steenbeck
Wiltec
Einhell
Schneider Airsystems
Gocheer
Compressors are often also offered used on various online marketplaces. To buy a high quality compressor used for little money is certainly not reprehensible. However, when buying used compressors, you should pay special attention to whether all important components are available and functional. The best is a personal conversation with the seller!
So the first thing that is important is that the equipment and performance of the compressor is right. In particular, it should be maintenance-free and durable. Unlike guns, of which a few different models will accumulate with increasing demands, the compressor can remain a loyal part of your basic equipment over the years. Therefore, you should not necessarily choose the cheapest model, but you don't have to buy the high-end version either.
The price alone is not decisive, but at the moment a strong indicator of which of the above features are guaranteed in which quality.
Airbrush Compressor Test
In order to give you an overview of different airbrush compressors, we have tested the best airbrush compressors in different price ranges. For comparison, we have a wide range of different compressors in the review.
Iwata-Medea Studio Series Power Jet Pro
An airbrush gun that you are bound to choose if perfection is on your mind is this one. The airbrush gun is relatively adjustable and offers regulators that also enable further adjustment. It is this aspect of the Iwata-Medea Studio Series Power Jet Pro that makes it seem like a superior airbrush gun but in actuality, the airbrush gun utilizes Smart technology and a USP. Due to the Smart Technology employed by the airbrush gun, the airbrush compressor knows when exactly to turn off and understands that it is turning off because it is not in use. This way you can rest assured that you are saving on electricity when using this airbrush gun.
You will also find it interesting that the airbrush is compatible with both an adapter as well as a hose. The airbrush can simply be used and it is also a reliable airbrush gun therefore many people buy this airbrush. The dual-brush capabilities make it an all the more desirable airbrush option.
Pros
This is an electricity-saving airbrush
The airbrush gun enables you to use a double brush
The airbrush air compressor is assisted with Smart Technology
The airbrush can be used simply
Readjustment is possible and simple
Cons
With all the benefits being offered by this airbrush, you will pay a hefty price upon purchasing it
 Revell Airbrush Compressor Master Class
A particular airbrush that may sound appealing to you is the Revell airbrush compressor Master Class. The name hints at its numerous positive qualities including being in a class of its own without using oil to work. The airbrush compressor also has pressure gauges and a separator.  If you are an expert at using an airbrush, you will understand why this is such a valuable buy.
Pros
It is a quiet working air compressor and just like your fridge, you can barely hear it
The included water separator can stop unnecessary condensation and acts as a stopping valve
The airbrush gun contains a pressure regulator and two pressure gauges which knows when to turn on and off
There is no oil employed to make the airbrush compressor work and thus no ruination of paint
It has  a weight of less than 10 Kg making it an easy load to carry
Cons
You do need to save for this best airbrush compressor as the cost is not everyone's cup of tea
You need to buy additional airbrushing equipment like hoses and connectors
We suggest experts opt for this airbrush air compressor not novices
Most compressors work well with only Revell airbrush guns
Iwata Media Smart Jet Air Compressor
Like the Revell airbrush compressor, this airbrush compressor brand does not need oil to work. The airbrush compressor can only accept certain types of paint such as Comart. With these paint types, both siphon and gravity are fed to the airbrush simultaneously. Much textile type of paint hues cannot be utilized with this particular airbrush as it has a standard nozzle.
Pros
The airbrush air compressor can be simply used
The Iwata Media Smart Jet Air Compressor can be used by novices
It is simple to upkeep
Does not have enough pressure
Cons
The airbrush does not allow all paint types or brushes to be used with it
Grex AC 18180-A
An airbrush that is adaptable to every situation and can fit everywhere is the Grex AC 18180-A. It is a high-quality functioning airbrush gun with the adjustment of pressure. The pressure can be changed to 20 PSI or even to about 60 PSI. You should use the lower pressure setting if you want continual painting, or a higher pressure setting to have gaps in between spraying. The airbrush gun is so sophisticated that if the pressure builds up too much, it automatically shuts itself off. This is a remarkable quality to have – an airbrush compressor that can regulate its own pressure. At about 55 dB one can hear a tremendous reduction in sound. The airbrush gun allows any nozzle to be fitted in. You can keep this kit almost anywhere.
Many experts in the airbrush field cart this easy-to-carry airbrush along. However, novices can also take to this device which ensures continual work.
Pros
The airbrush compressor regulates its own pressure
It is a multipurpose airbrush
Super light
Does not make a noise
Double brush function
Cons
There isn't an external tank
Which airbrush compressor types are available?
There are two different operating principles on the basis of which compressors work. The diaphragm compressor and the piston compressor. In both cases air is compressed and made available to a terminal device.
Piston Compressor
The piston compressor is the most common principle on which a compressor works. The main part of the compressor is represented by a cylinder in which a piston moves up and down. The piston is driven by a motor. The cylinder is equipped with 2 valves. One of them is directed towards the outside world, the other towards the extraction point or air tank.
If the piston now moves downwards, a vacuum is created in the cylinder. At the same time the valve connecting the inside of the cylinder with the outside world is opened. Air is sucked in through the negative pressure. If the piston is at the lowest reversal point, the first valve closes again. The piston moves upwards and compresses the air. The second valve, which connects the cylinder to the air tank or the extraction point, opens and compressed air escapes or is led into the air tank and stored there. This process continues until either the extraction is stopped or there is a corresponding pressure in the air tank. Sensors inside the air tank measure the filling level and switch off the motor. The piston stops and the compressor waits to start working again until the pressure at the extraction point drops accordingly.
During compression, the air loses its ability to store water. The escaping water collects in the air tank or is transported outside with the compressed air.
However, compressed air contaminated by water causes the airbrush artist great problems. Therefore a special airbrush compressor has a water separator. The compressed air is led into the water separator, where it starts to circulate strongly. The water is pressed to the outside of the water separator and can run off into a collecting tank. What remains is water-free, clean compressed air.
Advantages
Quite cheap to buy
Most popular compressor type
With air tank homogeneous compressed air extraction possible
Maintenance-free
Hardly any problems with integrated water separator
Sufficiently long service life
Very light
No danger of oil-contaminated compressed air
Disadvantages
Can produce quite loud working noises under certain circumstances
Can run hot during continuous operation and without air tank
Without air tank a lower delivery volume
Oil Piston Compressor
The operating principle is exactly the same as for the oil-free piston compressor. However, the oil-lubricated piston compressor has a special oil in addition to the compressed air in the cylinder. This is to prevent material abrasion of the piston and thus ensure a longer service life.
Advantages
Longer service life
Low noise emission
The oil also dissipates the heat generated in the cylinder and thus prevents overheating
Higher delivery volume and thus a larger air tank volume
Disadvantages
This type of compressor requires regular maintenance (oil must be topped up)
The oil to be refilled generates additional maintenance costs
Due to the large air tank often very heavy
The oil can evaporate when heat is generated and get into the air flow and thus into the airbrush gun, where even the smallest amount of oil causes irreparable damage to the fine components of the gun
Diaphragm Compressor
In a diaphragm compressor, a diaphragm made of plastic is moved up and down by a motor. There is also an outlet valve and an inlet valve through which the air is sucked in and discharged. These compressors usually work without an air tank, i.e. in continuous operation, which easily leads to overheating. The engine is then automatically switched off until the unit has cooled down. A longer working time is made possible by an integrated fan. This is also driven by the motor and provides cooling during the working phase.
Advantages
Oil-free, maintenance-free
Very favourable purchase price
Very compact and handy because without air tank
Disadvantages
The lifetime of the diaphragm is quite short
Danger of overheating
No air tank, therefore no homogeneous air extraction ensured
Slightly louder than piston compressors
Continuous operation of the motor
Essential Concepts and Meanings
You must understand the types of pressure and PSI which is the pressure measurement unit
You don't need to consider horsepower when choosing a compressor. Therefore do not base your airbrush compressor on horsepower
An airbrush air compressor with greater pressure is always a better selection
There are types of airbrush compressors that are without oil
The diaphragm type of compressors differs considerably in comparison to reciprocating air compressors. The latter is understood to place a larger amount of air into the air tank. The gun slowly pushes to decrease the chamber size in order to give off compressed air.
Cubic feet per minute (CFM) is the unit of measurement for this airbrush gun and knowing what CFM means can be vital to getting to grips with the number of displacement and pressure.
You must always look at the PSI in relation to the CFM to fully fathom the volume.
You must remember that most airbrush compressors can range between 40dB and 90dB and this means that the sound is very soft. Different airbrush guns have different sounds.
Moisture separators found within airbrush air compressors control the amount of moisture that mixes with paint
Many airbrush compressors have their own filters that function to clean the air. It does so by having a material that grabs solids and liquids that will clean the air.
The air within the airbrush gun tends to be replaced based on the RPM in cubic feet per minute
To enable storage of pressure control, you can use pressure switches that are controlled by being joined to the motor. The pressure can also be determined by the circuit
Many of the best airbrush compressor guns have air pressure adjustment features to control the air that is released.
Frequently asked questions and answers
How much pressure must an airbrush compressor deliver?
An airbrush compressor should be able to deliver a permanent pressure of 2.5 bar. The usual working pressure is slightly lower at approx. 1.5 to 2.2 bar, depending on the nozzle used and paint viscosity.
If the supply of compressed air breaks down spontaneously, speckled paint appears, so that surfaces and lines can only be filled and drawn unevenly.
Reworking is usually cumbersome and sometimes can only be completed with a limited result. Therefore it is really important to make sure that your airbrush compressor is permanently efficient.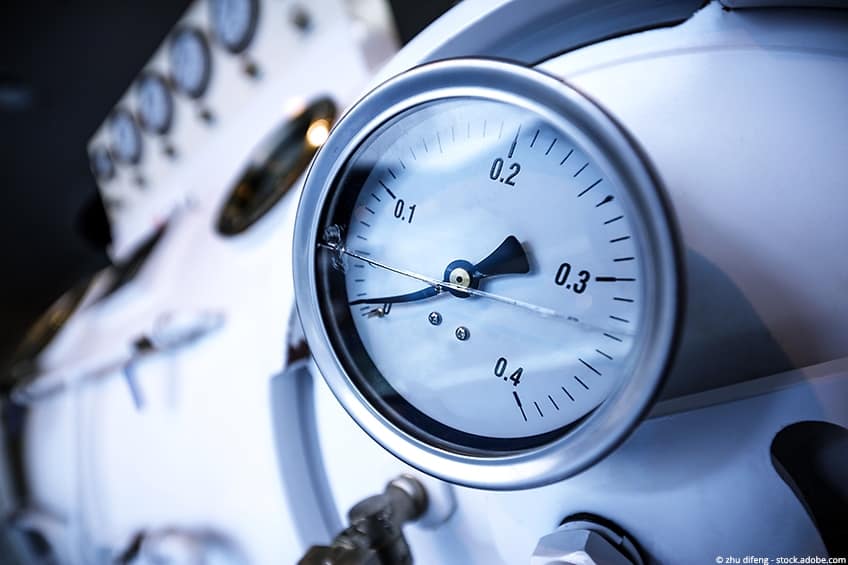 Compressor defective – what to do?
If your compressor does not deliver any more pressure or has other malfunctions, it is advisable to ask the manufacturer for help. Often the defective compressor can be sent back. Within the warranty period you will certainly receive a new one or your compressor can be repaired.
Specialist dealers will be just as happy to help you with any problems you may have with your equipment and may take over communication with the compressor manufacturer or repair.
Build your own airbrush compressor
To build a compressor completely by yourself is rather a difficult undertaking and certainly not worth it with the current cheap offers.
Often, however, an already existing compressor is to be converted for use with the airbrush gun. Some modifications are necessary:
Adapter for 1/8 inch air hose connection
Assembly of a water separator
For oil-lubricated compressors Installation of an oil separator
Installation of a pressure reducer, since most conventional compressors provide a much too high pressure (8 to 10 bar), with which the airbrush gun does not work
How Can You Effectively Clean an Airbrush Compressor?
An important thing that you can do for your airbrush gun is clean it regularly. Old paint and other dirt get stuck in the compressor thus it can cause the compressor to wear out easily. The compressor is not the only unassembled part that ought to be cleaned.
You have to clean all parts including the hose. Clean the compressor often. It is vital to clear paint from the compressor. Any dried up paint harms the compressor in the long run. Clean all other parts that can be disassembled too including the hose. Clean the airbrush after every use. A toothpick is used to get out grim from the airbrush.
How Little Air Does a Compressor Use?
When the pressure is low, thinner paints can be disseminated from the gun causing the airbrush to function at 1 psi. The pressure should be approximately 10 psi or higher to enable you to work with an airbrush gun consistently. We advise the Iwata-Medea IS 800 to be used if you wish to maintain consistent pressure.
What are the Ways to Connect an Airbrush Compressor to a Hose?
An adapter is your best bet to connect the compressor to a hose. Many compressors come with an adapter but oftentimes the adapter gets overused. The more one uses the airbrush gun, the quicker you will need to replace the adapter.
You can purchase an adapter from hardware stores and stationary ones. You must check if the adapter fits into the connector as the pressure can be disrupted if this is not considered and an incorrect fitting is used.
How Can You Remove Moisture Setbacks?
Every time the paint amalgamates with moisture it makes working impossible and can spoil the work. Paint that bubbles are a sign that moisture has been added to the paint. To solve the problem you need to see that no water goes into the paint.
We suggest you work with your airbrush in a cooler place. An area filled with humidity is never ideal for working with an airbrush. We advise that you use a trap to keep the moisture. Many of the better airbrush compressors have the moisture trap built-in, however, if your airbrush gun is without one you can surely add in one. The key rule of keeping your moisture trap in perfect working condition is by taking it out of the airbrush to give it time to release any trapped fluid.
How Can You Add Volume to the Compressor's Results?
A tank can be used to increase both volume and power. Every airbrush model is different and the type of tank you add depends on the airbrush compressor and the airbrush gun model that you are working with. Adding in a tank is a cheaper alternative to buying new products. You must use things such as brass couplers, adhesive, and an extra hose.
You must also clean the compressor to ensure that no excess moisture remains trapped within the compressor. After the compressor has been correctly cleaned, a tank can be installed. You can start by adding a valve and thereafter you can remain calm and follow the DIY steps for adding a tank.
What Makes Silent Airbrush Compressors Higher in Price?
Almost all airbrush compressors make noise so finding a soundless alternative is rather tedious a task. You may not even ever a compressor that is completely silent. Most airbrushes even with the correct pressure and a reasonable amount of air pressure pumping tend to make noise.
You must remember silent compressors still produces a slight sound of 50-55 dB but since the compressor promises silence it can be purchased at a higher price.
We hope our valuable tips and explanations will help you make the right choice for your airbrush compressor. We wish you much fun!