Airbrush Nails – Airbrush Nail Art Guide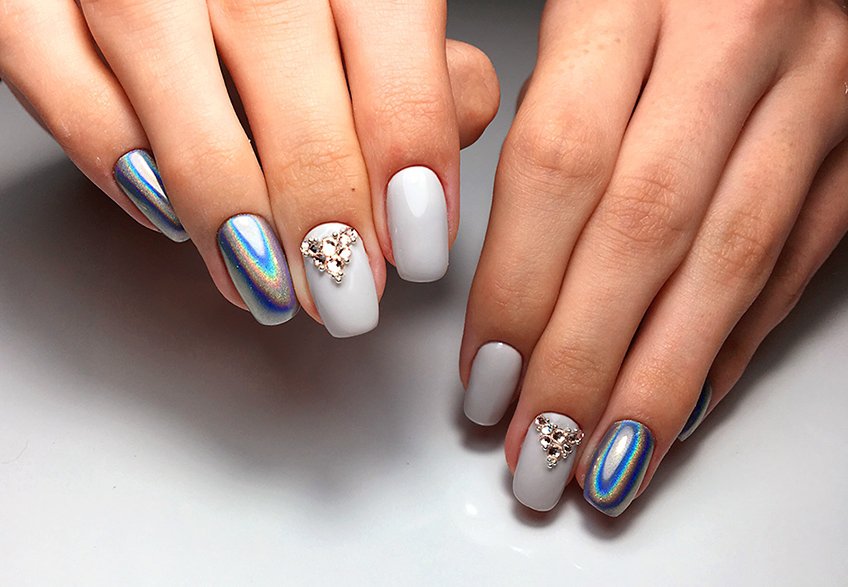 With an airbrush pistol you can capture impressive works of art on canvas, embellish entire walls, paint cars and everyday objects. But did you know that you can also create tiny details with an airbrush – for example in airbrush nail design? Here we will tell you how you can create a great nail airbrush and which characteristics the best airbrush set for nails should have!
What are Airbrush Nails or Airbrush Nails?
With the airbrush nail art the nails are not painted with a brush, but sprayed with the airbrush gun. There are no limits to your imagination: From French Nails to neon pink painted nails to tiny detailed works of art, you can create anything you imagine. What matters most is the right airbrush equipment – and your skill.
Even in our high-tech world, a nail studio that uses airbrush technology to work on fingernails is unfortunately more of a rarity than the rule. That's why you might want to take a look at it yourself, because you can design great airbrush nail pictures too! All you need is the right airbrush equipment and a little practice.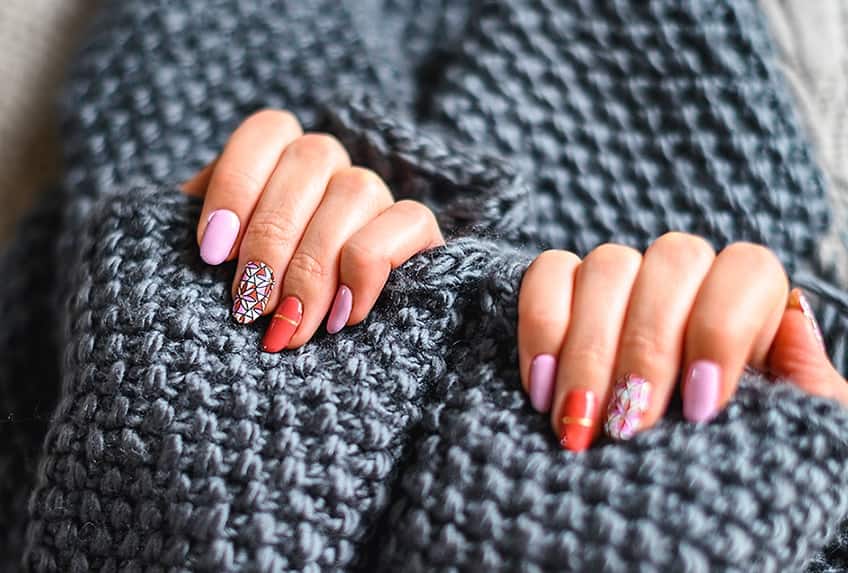 What are the advantages and disadvantages of nail art with airbrush?
When airbrushing nails, as with any method, there are various advantages and disadvantages, which we present to you in the following:
Advantages
You can use stencils, which is of course a little easier, or you can design your motifs freely
With the help of stencils the application of airbrush on the nails is also suitable for beginners
Of course, you will have to invest a little money to get the basics for your nail airbrush, but you will save a considerable amount of money over time if you consider that you would normally go to the nail studio every four to six weeks
There are many different colour shades available and these can also be mixed, so that you are in principle completely free in your design
Why don't you organize an airbrush nail party? You can invite your friends and let off steam creatively with a glass of champagne and nibbles
Disadvantages
Airbrushing nails is of course precision work and requires patience, so if you are more the type for the rough, another art form may be more suitable for you
The cleaning of the nails as well as the application of the paint are quite time-consuming
The airbrush set must of course also be cleaned after each application, which means additional work
When airbrushing, you must always think about your safety and should therefore wear a breathing mask when airbrushing nails; this could interfere with the detail work
Whether nail airbrushing is the right thing for you, you have to decide for yourself. If you like to be creative and you like beautiful nails, we would definitely recommend this art form!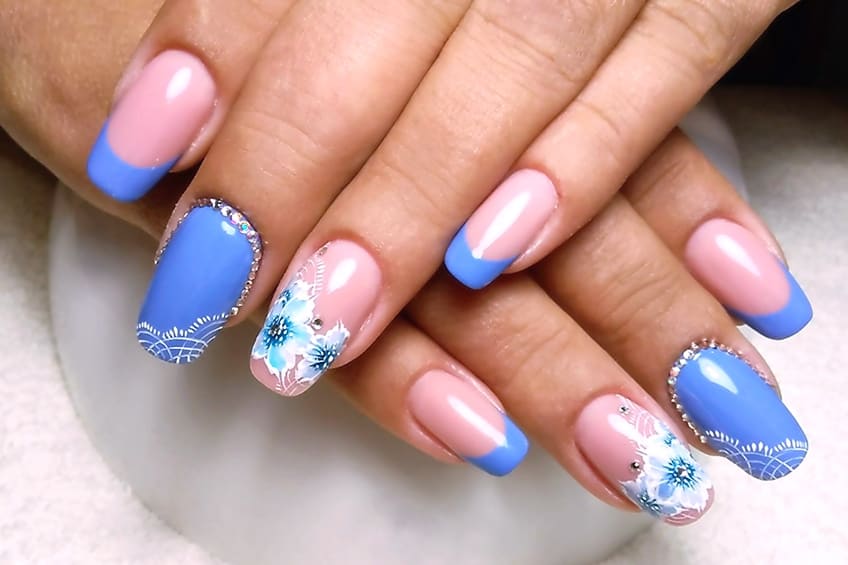 Airbrush set for nails in test
An airbrush set for nails should have certain characteristics that are partially not or less important for other airbrush sets. So you have to pay attention to the right nozzle size, because you work with tiny details. This, however, has an effect on the colour used, because in general, the smaller the nozzle, the more fluid the colour. If you use paint that is too thick for your nozzle size – i.e. too low-pigmented – your gun will quickly clog. You can mix low-pigmented paint with a dilution medium to make it compatible with the nozzle size.
An airbrush set for nail art generally contains all the basics that a normal airbrush set should also contain. Basically these are an airbrush gun with different nozzles, a compressor, hoses as well as suitable threads and a cleaning set. With some airbrush kits the right colors are also already included.
With the compressor, there are several things to consider, such as volume and the equipment with a water separator and a pressure reducer. Whether you want to use an oil-free compressor or an oil-piston compressor is basically a matter of taste – we would recommend the oil-free version, as it requires much less maintenance and does not dirty the colours during work. Most airbrush kits for nails have a handy little compressor that works without oil anyway.
A double action pistol allows the user to spray very fine details. This gun needs a little more practice and sensitivity than a Single Action, but it is definitely worth buying. Especially for nail design it is very important to be able to spray even very small details.
Often the devices are changed with the airbrush nail art, so that the work goes better from the hand and different colors can be applied faster. So that this is possible, some nail airbrush guns have a quick coupling. With it you can change the gun with one hand without risking a drop in pressure. If you are already advanced in your airbrush nail art, you should think about buying such a gimmick.
Recommendation: GANZTON 19B Mini Airbrush Compressor Set
It is not easy for beginners to find their way through the maze of airbrush sets for nail design. Because especially airbrush sets for nail art should have some features that set them apart from other airbrush kits. A huge, bulky compressor will not be of any use to you in nail design, nor will giant nozzles, which can be used more for painting cars.
That's why we provide you with a recommendation, the GANZTON 19B Mini Airbrush Compressor Set. This contains everything that the airbrush beginner needs and offers a lot of advantages for the application of the nail airbrush:
Advantages
The Double Action pistol offers high precision through optimal regulation of paint supply and air flow
The compressor is light and easy to handle, it also works quietly and switches off automatically between the individual sprays
Various precision components are used to ensure perfect atomization and spray control
Operation is simple and intuitive
The pressure is adjustable in three steps
The compressor is protected against overheating by an automatic switch-off device
Not only the airbrush nail design is possible with this kit, but also various other applications, such as photo retouching, temporary tattoos and cake design
There is an unbeatable price-performance ratio, especially in comparison to other providers
Disadvantages
There is no information about the air pressure in the three adjustable levels, the user has to find this information by himself (a little tip from us: you can find it in the english manual)
The product image on the packaging could confuse the consumer, as it shows a pink device, but the compressor is actually white
No tools are supplied to disassemble and clean the pistol
Colours and cleaning fluid must be purchased separately
As you can see, the disadvantages are mostly rather small things or, for example with the colour, simply a matter of taste. In general, this airbrush kit offers the user a solid base for his first airbrush nails. Therefore the GANZTON 19B Mini Airbrush Compressor Set is the absolute winner in our Airbrush Set Test.
The right colours for airbrush nails
The paints or varnishes for your airbrush nails should be based on acrylic, as these are compatible with water. So you can mix them with water if necessary – but we still advise you to use a suitable thinning medium. However, acrylic paints are very durable and almost indestructible, even in more ruthless everyday activities such as gardening. They are also odorless, which makes them much more pleasant to use.
As far as the design with the airbrush colours for nails is concerned, you are completely free. There are endless possibilities, because the colour palette is not only gigantic, but can also be mixed with each other. So you can decide completely for yourself how your airbrush nails should look like.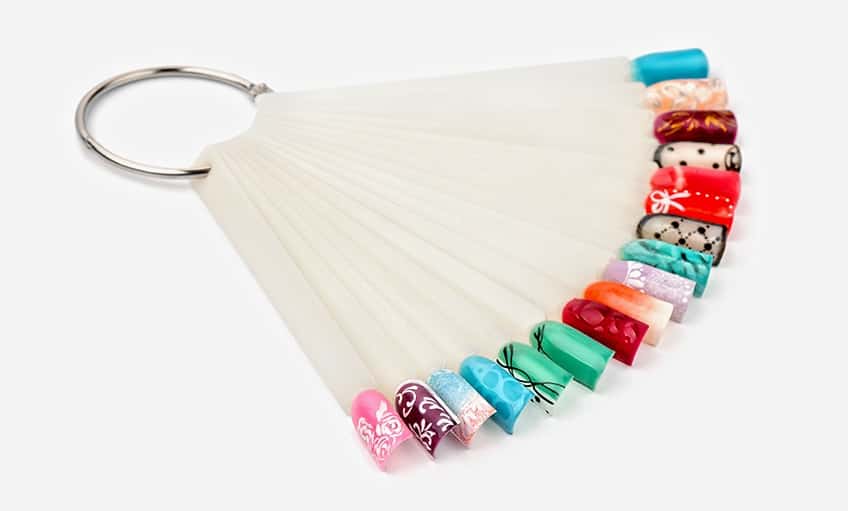 Instructions for a successful nail design
Beautiful airbrush nails pictures are not witchcraft. They only require a little patience and practice and the right preparation.
The first step is to degrease your nails using a cleaner. This will make the colours more adhesive, which means they will last better. Once you have prepared your nails for airbrushing, it is important not to touch them with your fingers anymore, because the skin's own grease film will settle on your nails and you will have to clean them again.
Now follows the primer; this is always white to ensure a better brilliance of the colours.
A stencil, as known from the nail gel technique, is now applied to the nails and protects the front area.
Now it starts: Use your gun to create great airbrush nail pictures – either freestyle or using templates.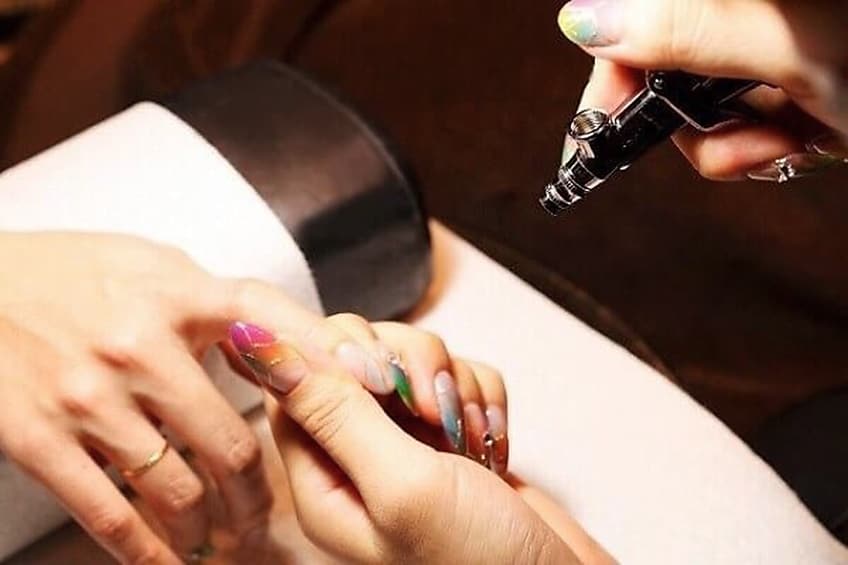 After the application of the nail art colors a sealing follows. For this a so-called Top Coat is applied, which protects the airbrush nails against damage, for example by frequent hand washing or garden work. In addition, the top coat gives the nails a long-lasting fresh and shiny appearance.
The next step is a matter of taste: Now you can use a special gloss gel that protects the nails even better after the airbrush and gives them a special shine. But this is not a must, just like the use of nail jewellery. Of course, colours for airbrush nails are compatible with it, so that you can decorate your nails with small stones or similar jewellery.
Remove now still the surplus color or cleaner remainders. You can use a Spray-Out-Box for this.
Ready are your airbrush nails like a pro!
You see that you too can airbrush really great nails. You can let off steam artistically and be creative. With a little patience, you too will soon become a nail airbrush professional!