Best Automotive Paint – Our Top Recommendations for Great Car Paint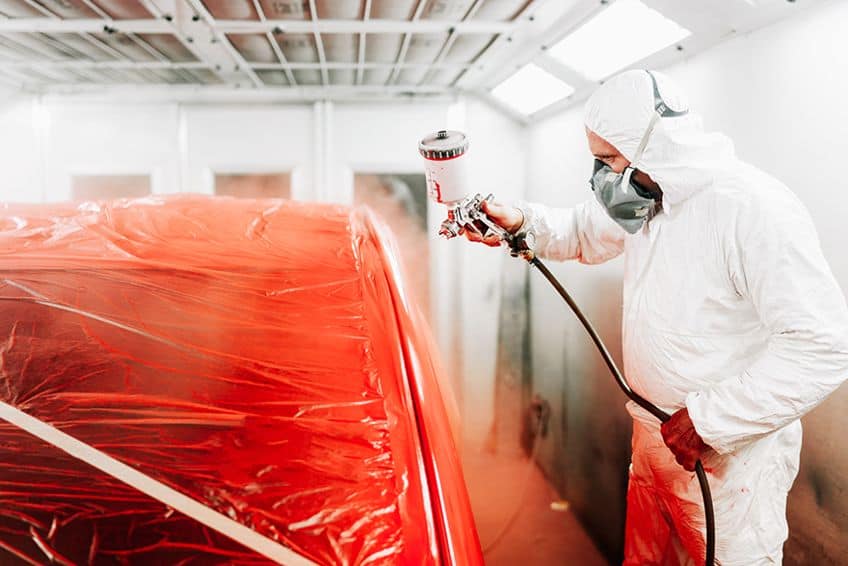 Like the houses we live in, many of us take pride in the cars we drive. Our cars are a considerable expense, so we like to maintain them over time. This means servicing regularly, and in some cases, the exterior may need repainting. While it may set you back a great deal financially to have your car resprayed at a body shop, you can easily do the job yourself. In this article, we show you some of the best automotive paint products on the market and help you decide which is best for your car.
Choosing the Right Car Paint
If you are considering repainting your own car, you need to consider more than a simple color change. Your paint job will also require a protective coating. No matter the reason for repainting your car, choosing from the best automotive paint brands will ensure a durable and impressive finish. Even for professional auto sprayers, finding good car paint can be challenging as there are numerous factors to weigh up. You need to be asking questions like:
Must I use a primer coating?
Should I choose urethane or enamel paint?
Must I select a single or dual-component formula?
Which color will be best suited for your car?
You will also need to think about the type of car paint and make sure the level of quality and durability is good. Check out the best auto paint products and decide which is a cost-effective solution for you. It is important to look into the application process to see if it is easy to use and find out if it requires a base coating layer. If you keep these points in mind, you will ensure that you are choosing the best automotive paint. Let's take a more detailed look at some of the most important considerations to help you make an informed choice.
Considerations Before Buying Car Paint
Before selecting the best auto paint for your needs, you should take note of the specifics of the job. This requires planning no matter the scope of the work, even if it's a simple scratch repair. For example, more involved projects like painting the rims of your wheels will need a more specialized solution. When taking on the job of painting the car's entire body, one of the most essential considerations is making sure you have enough paint.
Note: Ensuring that you have the right quantity of your paint is particularly essential if you've mixed a specific color, which can be a challenge to match if you've used up the paint.
Primer Coat
Before buying your paint, you have to decide if a primer layer is necessary. The primer is the initial paint layer applied directly onto the metal surface of the car, ensuring that the layers of your paint will bond effectively with the metal. Without the primer layer, the adhesion of the base coating is limited, which may cause the paint to peel, flake, or chip. The primer effectively binds any additional layers to the metal surface of the car. Primer is commonly available in colors like black, grey, or white and you choose the shade depending on how light or dark your base coat will be.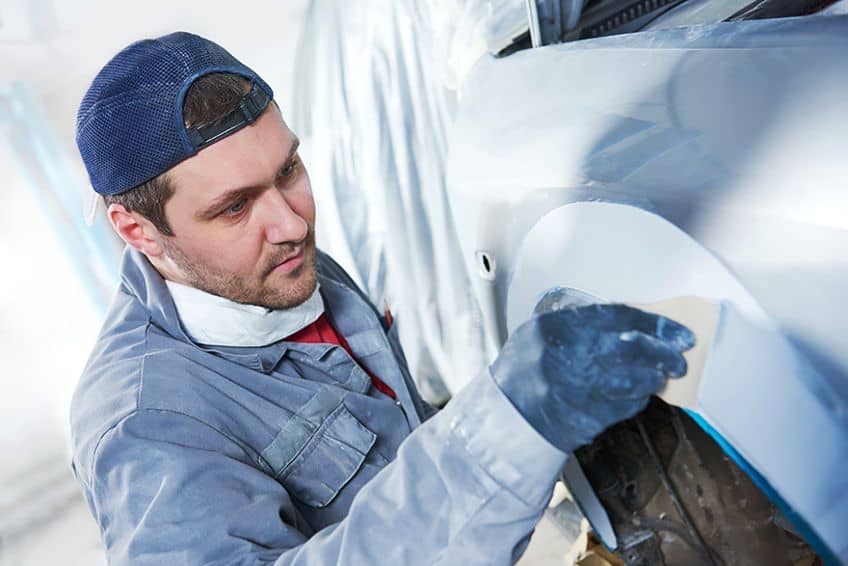 Not only does the primer layer increase adhesion, but it also prevents the formation of moisture on the surface which avoids rust. If you are a beginner, keep in mind that primers are often porous by nature, which means the surface will require sanding. Without a truly smooth surface, you can end up with inconsistent coating with bumps or bubbles forming. You can also get primers that you can spray directly onto the surface of your car.
Color
The color you select is important, as it can't be changed once applied so you need to be absolutely sure of your choice. While it may be tempting to paint your car your favorite color, it is good to consider visibility on the road as well. Some colors may even hide the appearance of dirt more than others. You do not have to limit your choice to factory options, however, you should ensure the shade you select can be mixed easily by the supplier.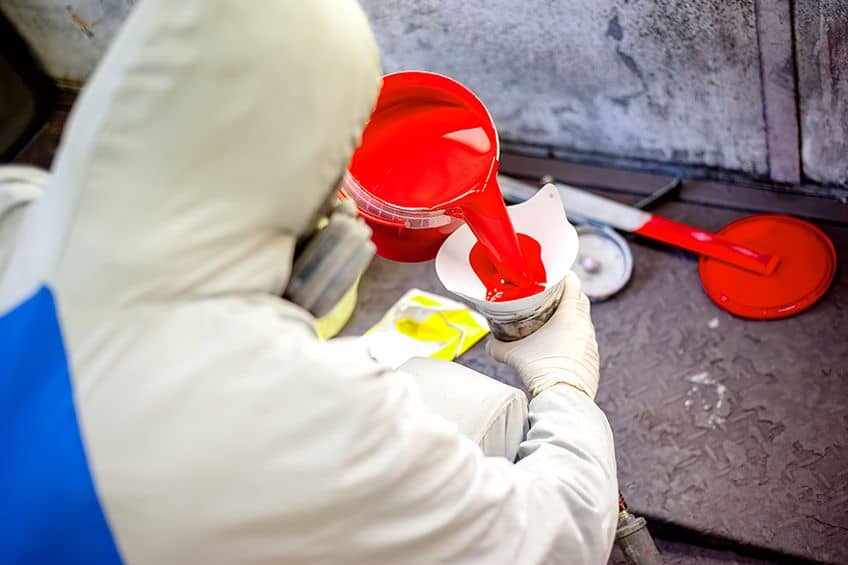 There are various situations in which you may need to repaint your car, and sometimes you will not want to change the color from the original shade. In these situations, you will need to get a color match from your car, which is an easy process. If you'd like to repaint your car in the exact same color, you have to match the shade properly. The majority of cars built after 1980 have a small label inside the front door with the required information, so look for a numeric code next to "EXT PNT". With this number, the supplier can match the color precisely. You should also find these details in the car's manual.
The next consideration for most is choosing a color shade that will be easy to keep clean. A darker color means the dirt will show more readily. Black will be hard to keep clean, while colors like silver, light grey, beige, and cream are the easiest to maintain.
Note: Some colors make the appearance of dirt far more pronounced, so be aware of this.
Clear Coat
A transparent layer or topcoat finish is applied after the base coat. This coating contains no color pigment, as the name suggests. Once applied it produces an impressive gloss finish that protects the surface. These coatings often contain chemical additives allowing adhesion to metal and even plastic surfaces such as the front or rear bumpers.
Note: To ensure the longevity of your car's paintwork, it requires protection from the elements, which can be achieved with a clear coat.
A good clear coating product will prevent the color from fading over time with its UV protective formula. The shine of the finish is achieved with the polyurethane or urethane in the coating, and if well maintained, it can last many years.
Types of Base Coats
Now that you've chosen your color, we can prepare for the exciting job of applying the base coating. Selecting a base coat can often come down to personal preference. Urethane-based paints offer easy application and high durability, but they are extremely toxic and harmful to the environment so you may opt for acrylic instead. It's important to make an informed choice, so let's have a closer look at the benefits of using either one.
The color paint for cars is layered onto the primer coat, and contains no hardening or strengthening agents. This means it will require a protective finishing coat to shield the car from moisture and prevent rust. For your color base coat, you must decide between water or solvent-based car paint, while your choice of finish can be gloss, metallic, or pearlescent. There are two broad types of base coat, those made from acrylic lacquer and those with a urethane base, we will discuss these further in the next section.
Acrylic Lacquer Auto Paint
Usually, acrylic car paint is designed with a water-based formula. The water base allows the paint resin to adhere to the car's metal chassis with water as the primary bonding compound, whereas urethane paints use solvents. The application requires no additional chemicals or hardening agents, and the paint can be used straight from the container.
Note: Acrylic-based paints are lighter than urethane-based paint types, so your primer will need more consideration. Acrylic car paint is also more affordable, so it is used more often for small restoration work. For vintage car restorations, urethane or solvent-based paint is still required to correctly match the color.
The application process does differ considerably between acrylic and urethane car paint, as acrylics tend to form small droplets. Acrylic enamel is the more affordable option compared to acrylic lacquer auto paint. In general, acrylics take longer to dry than urethane-based paints, requiring up to 48 hours of curing before you can apply additional layers. It may not seem logical to use water-based paint on car exteriors, but using a decent top coating will protect the paint effectively.
PROS
Produces an impressive gloss finish
The application requires no additives
The coating forms a hard protective shell
CONS
Prone to fading
The application requires you to work quickly once you start
Aspects of application can be tricky
Not the best for durability
Urethane Auto Paint
Urethane car paint has been the industry standard for many years, but over time has been surpassed by acrylic lacquer paint, as preferred by professional auto painters. The main reason for this shift was to lessen the environmental impact of car paint. Those who use urethane paint say that it often produces a smoother, finer quality finish and offers far more durability than acrylic-based paint.
Note: Urethane car paint also provides optional resistance to chipping and offers far more longevity than acrylic paint.
You should never breathe in the hazardous fumes emitted during urethane paint applications, so wear a respirator mask at all times in the workspace, which should be well ventilated. Urethane car paint is usually either lacquer or enamel-based and each of these has its own benefits. The solvents contained in urethane paint help the molecules to bond with the car's metal surface.
PROS
Easy adhesion
Not prone to fading
Allows application over lacquer
Affordable solution
Doesn't react when sprayed over most other paint types
Rapid drying
Offers lasting durability
Resistant to chipping
CONS
High toxicity formula
More reasonably priced options available
Spray application is challenging
The surface may seem like plastic in appearance
Single-Stage or Two-Stage Car Paint
Once you've decided between an acrylic or urethane base-coat, you can then choose either a one or two-stage car paint variant. We will look at each, so you can understand which is best suited for your needs.
Single-Stage Auto Paint
As the name suggests, single-stage car paints combine the base-coat and the clear coat into one product. As a result, this type of paint contains no activator. With this simplified formula, the application to your car will be far easier. Once applied, the benefit of using single-stage car paint is the rapid drying process. They also offer far more durability than two-stage paint products. For more effective spray application, they may require thinning.
Note: Using single-stage car paint will be more cost-effective when applying yellow, red, or black. Metallic or pearlescent color variants are more complex though, and require a two-stage application, with separate base and clear coats.
The only drawback is that single-stage car paint is prone to premature degradation over time. It still requires a primer, but the application will require fewer layers on the body of your car, which makes single-stage paints suited for quick repairs and touch-ups.
Two-Stage Auto Paint
Two-stage car paint is generally favored, due to the separate base color and transparent top-coating, which produces a high gloss finish. It will however require more drying time, which means longer waits between coatings. To ensure that two-stage paint adheres effectively to the paint layers, the formula includes a drying coat with hardening additives. These coatings are non-porous, which increases shelf-life, and once applied they also offer good protection from the elements.
Comparatively, two-stage paint provides better weather resistance than single-stage paint products. During the application, more layers are required, so once your primer is set you will still need an additional four or five base coats. After that, you will still require three or four clear coating layers. Although this might seem excessive, it provides a far more protective and durable finish and takes far longer before repainting is necessary. The additional layers also produce a scratch and chip-free finish. The application is far longer, with more steps in the process and two-stage paint also needs an activator that ensures the proper adhesion of the paint layers.
Considerations Before You Paint Your Car
As you've now looked at the paint products available, you can begin planning your application process carefully. Consider the scope of the job and see if you are doing a complete repainting or simply a minor touch-up. Once you know these details it will also narrow down the search for the best automotive paint for your needs.
Preparation Process
Even a minor touch-up requires a certain amount of planning if you want a smooth application procedure and a quality result. Each section will require sanding, buffing, and washing before painting it, and you may have to repeat this process a few times.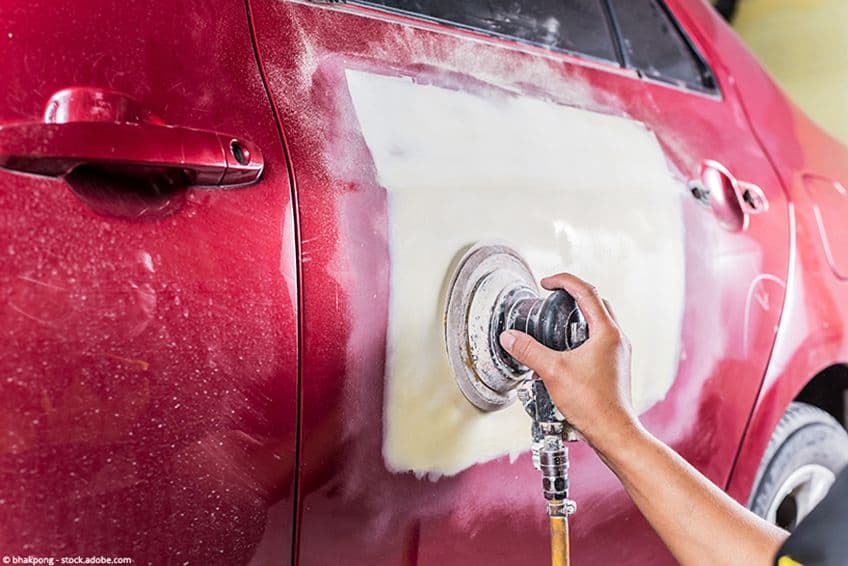 Each layer will require sanding before applying the next and it may seem tedious but, the resulting finish will be consistent and high quality. When you sand and clean each surface you'll need plenty of tack cloths for removing any debris or dust before painting. This process is time-consuming but essential for achieving a factory-matched finish.
Painting Area
For a complete respraying job, you'll require a large workspace, so a single garage will not be sufficient. The surrounding area has to provide you with enough room to work accurately and efficiently. So before you start, check around the workspace so every angle you aim to paint is easily accessible.
Safety Equipment
Safety equipment is essential before you begin painting. You'll need a high filtration respirator, protective eyewear, coveralls, and safety gloves. Ensure that your workspace has good airflow, and keep in mind the paint may still be toxic even while drying.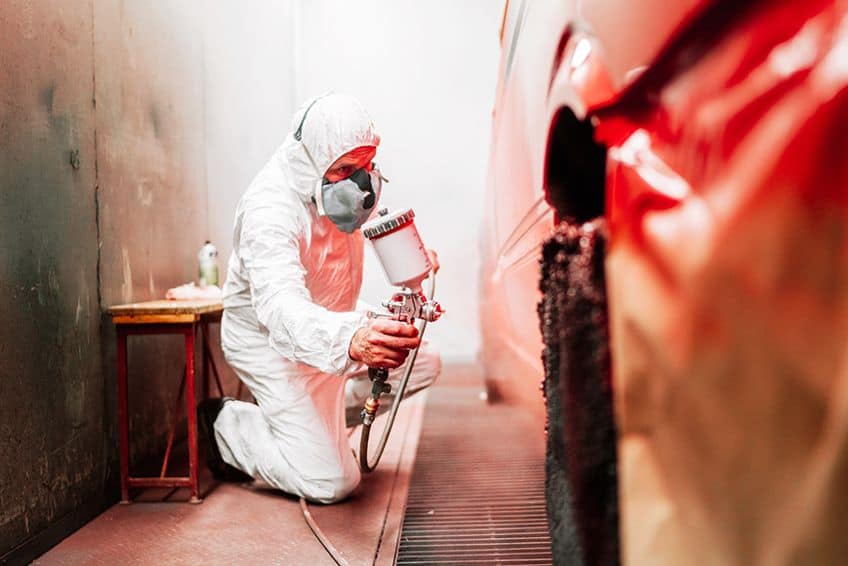 Repair Process
While you prepare and clean the surface of the car's body, you might discover parts that require repairs. These need to be taken care of before you begin painting or your paint job may crack, peel, and become compromised by these inconsistent surfaces. It is important to do this first, or your work may be for nothing.
Spray Paint Gun and Equipment
To achieve a great finish, the majority of available automotive spray guns use either a gravity-feed or a High Volume Low Pressure (HVLP) system. Understanding the tool you are working with is the key, as you can set the pressure, airflow, and flow rate to the optimal level for the area you are covering and the type of paint used.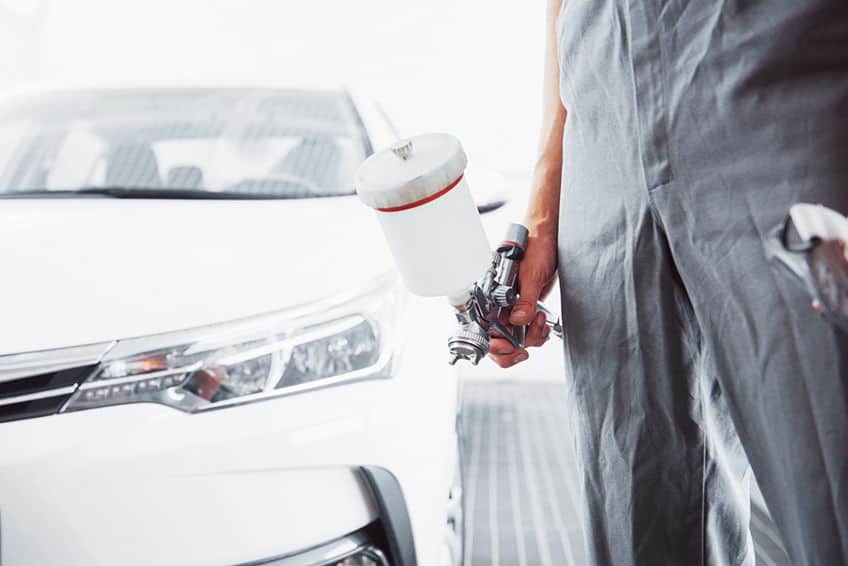 Once you've begun the application, you can then dial back the settings. Ensure your hose is long enough and you have all the correct fittings for the job, as well as an accessible power socket. Make sure to protect your work area with enough plastic sheets for the floor or any other areas.
Our Recommendations for the Best Automotive Paint Products
Now that we have been over the various aspects you need to look at when selecting the best automotive paint for your job, we will look at some reviews together and find the best car paint brand for you.
As we've discussed before, the most commonly used car paint types are urethane and acrylic. With this in mind, let's see which automotive paint brands work best for you.
Best Single-Stage Auto Paint: SPEEDOKOTE High Gloss 2K Acrylic Urethane
This Acrylic Urethane car paint from Speedokote is a superior single-stage top coating. It uses a dual-component application system that consists of an activator, and the acrylic urethane pigment for its color. It includes ¾ gallon (2.84l) of urethane resin and 1 quart (0.94l) of the activator compound. This provides you with a full gallon (3.78l) for your spray application. The paint will need a mixing ratio of 3:1 with an optional 5% reduction when using a urethane grade thinner.
If the formula seems higher viscosity than required, simply thin it with the urethane reducer. Using this product will require numerous layers in the application to produce the impressive glossy finish you desire. The coating also provides UV resistance, as well as protection from environmental conditions. Ensure you wear safety equipment when using this product, as the odor is strong.
Universal, durable acrylic paint with a uniform jet-black color

Medium dry- and cure-times produce a high gloss and DOI

UV Resistant for excellent weathering and durability on all surfaces
View on Amazon
PROS
Dries completely in just a few hours
Provides protection from extreme weather conditions
Offers UV resistance
Best Easy to Use Auto Paint: DUPLI-COLOR Perfect Match
Perfect Match spray car paint from Dupli-Color is a rapidly drying lacquer-based acrylic solution. The formula allows it to easily match the original color of your car's body paint. This one-stage spray is ideal for minor repairs and touch-ups. The aerosol container includes a 360° spray nozzle that provides a large, smooth spray pattern.
The range of colors available is extensive which allows color matching of new, vintage, and even imported cars. This is one of the best auto paint options for minor restorations of surface scratches, and can also be used on car accessories and motorcycles. Should you require additional protection from the environment then simply apply Dupli-Color's clear topcoat. It may not be the most cost-efficient solution available, but it certainly provides an impressive finish.
An easy-to-use, high-quality, fast-drying, acrylic lacquer aerosol paint 

Get smooth, even coats with the EZ Touch 360-degree nozzle

Ideal for large touch-ups or color matching vehicle accessories
View on Amazon
PROS
Allows exact factory color matching
Simple, ready to use spray solution
CONS
Not the most cost-effective solution
Certain older weathered finishes might match perfectly
Best Durable Auto Paint: RUST-OLEUM Auto Body Paint
This Auto Body Paint from Rust-Oleum is specially formulated for the prevention of rust on your car's paintwork. The formula makes it the perfect solution for use on wheel wells and the undersides of your car, or any surface that requires protection from abrasion or corrosion when the car is driven.
The paint allows immediate use after the container is opened, without much mixing needed. There is also very little drying time required between additional coatings, as the paint dries within half an hour. This Auto Body Paint provides a superior quality base coat from one of the best automotive paint brands. The finish offers lasting durability and excellent resistance to rust. Once it has cured completely, buffing the surface will enhance the glossy appearance.
Acrylic lacquer clearcoat formulation with a ready-to-spray system

Stop-rust formula helps to protect and support your auto paint job

Can be buffed to a high gloss for a factory matched finish
View on Amazon
PROS
Dries rapidly within half an hour
Rust prevention formula
Resistant to extreme conditions
CONS
Slightly more expensive compared to other lacquer paints
Requires top-coating to achieve that attractive gloss finish
Best Primer Car Paint: SPEEDOKOTE Automotive Urethane Primer
Speedokote Automotive Urethane Primer offers a versatile priming solution. The formula may seem high viscosity, but it can easily become more fluid by adding your thinner of choice. The ¾ gallon (2.83l) of primer also includes one quart (0.94l) of activator, which amounts to a full gallon (3.78l) for spray application. It dries rapidly, which is why it is regarded as the best primer solution by auto repair workshops.
The high-build formula means fewer coats or necessary in the application. Keep in mind your final result is still affected by the quality of your base coating. For an optimal priming layer, the surface should be completely smooth, as any inconsistencies will show through the layers. This primer contains low VOC levels and complies with emissions regulations. The adhesion provided is excellent and the resulting surface can be easily sanded in preparation for the base coat. Overall, it's a relatively cost-effective primer solution.
High-build, fast-drying, and versatile urethane primer 

Easy to sand during the preparation of the car surface

Fewer coats are needed to offer excellent adhesion
View on Amazon
PROS
Excellent adhesion
Dries rapidly
Can be sanded easily
Best Car Top Coating: SPEEDOKOTE Automotive Clear Coat
Auto Clear Coat by Speedokote is an acrylic-based urethane top coating. It has a specialized formula that allows a fast curing time of 6 hours once applied, and includes a quart (0.94l) of activator. The application is very straightforward and the resulting coating is easy to maintain and shine, providing a high gloss finish 4 – 6 hours after the surface is buffed.
The coating provides excellent protection from sunlight and UV, dirt and grime, and has even been tested against chemicals. This is one of the best auto paint products as you can apply the coating to any vehicle type and it offers exceptional durability and longevity.
Offers a quick and easy application process for quick results

The fast-drying and curing time results in a high gloss finish

UV-Resistant for excellent weathering and durability outdoors
View on Amazon
PROS
Cures rapidly
Easy application and maintenance
Resistant to chemicals, UV, sunlight, dirt, and grime
CONS
Nozzle problematic in some cases
Best Automotive Touch up Paint: DUPLI-COLOR Auto Touch-Up Paint
This Dupli-Color automotive touch-up paint is incredibly versatile for the repairs of minor scratches, nicks, and chips in your car's paintwork. It has a marker pen-like look and application, that allows easy spot restoration. It's the perfect touchup product for blemishes on the paint surface because it can be matched to the exact color and make of your car. The abrasive application tip also removes any traces of use or loose paint. The applicator has a pen tip on the one end, for more precise retouching and a brush on the other, for taking on larger scratches.
This specialized all-in-one formula allows application of the paint and top coating at once, to restore that showroom finish. The applicator is also compact, so you can easily carry it anywhere you need to. This is one of the best automotive touch-up paint solutions you can find. Known as the best car paint brand for retouching, Dupli-Color gives you a versatile product for use on any vehicle.
Abrasive tip removes loose paint and rust before painting

Pen tip for fine scratches and b

rush end for larger chips

Clearcoat to seal, protect, and ensure a factory matched finish
View on Amazon
PROS
Provides the base-coat and top-coat in one
Applicator is small
Allows exact color matching
Also has a brush applicator for bigger scratches
Pen tip for more precise touch ups
Abrasive tip can remove any rust or old paint
CONS
Brush cap may be tricky to unscrew
Not every color in the range is perfectly matched
When it comes to selecting the perfect car paint for your car, it often comes down to your personal preferences. Paint products are available with different attributes, with a range of colors and finishes to choose from. Some may require a top-coating or a primer layer. It's important that before you select your paint for cars, you need to have a good idea of the specifics of the job. Rust is a major problem, so ensure you select a product that offers you a protective solution. A finish with fade resistance will also provide the longevity you need.
Frequently Asked Questions
What Quantity of Auto Paint Is Needed?
The size of the car and the type of car paint used will determine this. A regular sedan will use approximately one gallon (3.78l) of primer, and 2 – 3 gallons (7.57 – 11.35l) of base coating in a one-stage application. If you apply the paint in two separate stages, you will require approximately 1 – 2 gallons (3.78 – 7.57l) of primer and 4 – 5 gallons (15.14 – 18.92l) of top coating.
Is Painting Over a Car's Existing Paintwork Possible?
It is possible, but the adhesion of the car paint will not be very effective and could flake away from the surface in time. For long-lasting results, you will need to strip the original paint completely, down to the bare metal. From there you can begin applying the primer, the base coating, and then the top coating layer.
What Other Supplies Will I Need?
When you have purchased the paint, you will also need paint sticks for stirring, plastic sheeting, coveralls, paint strainers, paint cups, a lined trash bin, safety gloves, and a paint respirator mask with additional filters cartridges.
How Does Urethane Differ from Acrylic Paint?
Urethane paint has always been known for being extremely durable, however, it is no longer recommended due to its high toxicity levels. It is still used in the automotive industry, particularly for the repainting of older vehicles. Acrylic lacquer paint for cars is preferred as it contains fewer toxins, but it does require more drying time.
Is Painting Your Car Another Color Legal?
There is an official record of your car's original color when it was manufactured. However, repainting your car in another color is not against the law. You may have to report certain modifications, but you can never change the car's VIN number.
How Long Does an Auto Paint Job Last?
This is dependent on the frequency of use and how well protected the car is from the elements. A good car paint job may last even 20 to 30 years if the car is cared for and driven sparingly. Everyday use will obviously reduce the longevity of the paint job considerably.