Best Airbrush Makeup – Guide to your Airbrush Makeup Kit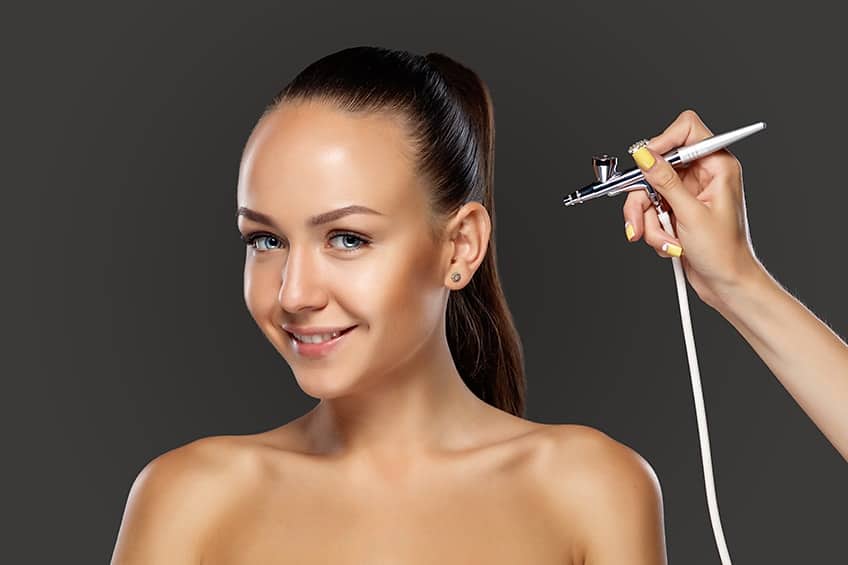 Makeup Artists deserve their name rightly – after all, they are artists who do not create artwork on canvas, but on a face. Nowadays, the airbrush technique is often used; a technique that is actually known from industrial painting, especially of car bodies. Sound strange? It is not. We explain to you why airbrush makeup is an incredibly good idea and what you have to pay attention to if you want to achieve optimal results with airbrush makeup, in one of the best airbrush makeup reviews.   
What is Airbrush Makeup?
Airbrush makeup is a relatively young trend in the beauty industry. Makeup is not applied with the usual tools such as foundation brushes or sponges, but with the help of an airbrush gun.
Until recently, only makeup artists used this technique. In the meantime, however, airbrush makeup is becoming more and more popular at home. This is no coincidence: Airbrush makeup has many advantages and only a few disadvantages and is ideal for home use.
What are the pros and cons of Airbrush Makeup?
The pros of an airbrush for makeup are obvious:
First of all, it is incredibly hygienic. Brushes and sponges come into contact with your skin with every application of makeup. So while bacteria get stuck in them each time, so you have to replace them regularly, an airbrush can be used over and over again because it doesn't come into contact with the skin – the makeup is just sprayed on. The airbrush gun is also cleaned regularly.
With a little practice, you will get very even results and a radiant complexion. It is not for nothing that airbrush makeup is used tirelessly in Hollywood and in the fashion world.
It is possible to apply several coats, depending on whether your skin shows impurities or is flawless.
Contouring is possible with the airbrush and changing the cartridge is quick and easy with some manufacturers.
The makeup is sprayed onto the skin practically dry. You do not have to wait long before you can apply the next layer. Once the makeup is ready, it is virtually indestructible in everyday life. This means you don't have to constantly touch it up.
No powdering is necessary.
The airbrushing is compatible with all common skincare and cleansing products, so you don't have to do without your favorite products.
One cartridge of Airbrush Makeup lasts about three months with regular use. Even if this makeup and the accessories are somewhat more expensive, it is definitely worthwhile.
Unfortunately, there are also some cons with airbrush makeup:
Although this kind of makeup is already very popular, it does not seem to have arrived in the usual shops yet. So you generally have to resort to online retailers if you want to buy beauty products for airbrushing.
It might be difficult to find out your individual color shade because you can rarely see the products live. However, there are online retailers where you can get advice. However, it may take some time to find the perfect makeup shade.
The makeup is often a little more expensive than a standard foundation
Of course, the set has to be cleaned after the makeup – unless it is a TEMPTU – which takes time.
Airbrush MakeUp Set Test
An Airbrush Makeup Set usually consists of the following components:
Airbrush pistol with a hose
Compressor
Makeup in different skin tones
Possibly a cleaner
The gun is connected to the compressor before work is started and the compressor is connected to the power supply.
Of course, one should not imagine a huge apparatus like the one used for industrial purposes under the compressor. Especially in the field of makeup airbrushing, the compressor must be handy and easy to operate.
If no cleaner is included in the airbrush set, you should definitely get one. It is best to choose a complete set including brushes. In the article about airbrush sets, you can find more information about this.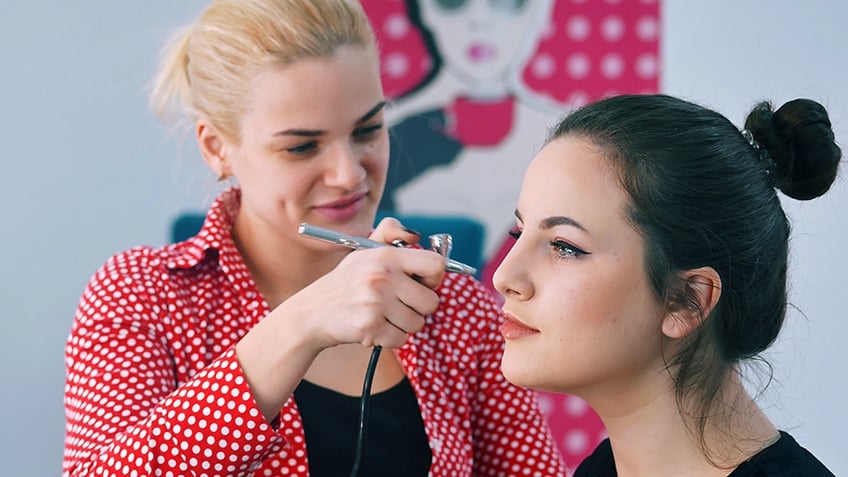 Recommendation: TEMPTU AIRpod STARTER SET
The TEMPTU AIRpod Starter Set is an absolute novelty on the market. The innovative airbrush kit not only looks great but also works with the help of so-called AirPods. These are changed after the paint application so that the cleaning of the airbrush gun is not necessary.
Product recommendation follows Pros  
Cleaning of the gun is not necessary
The set impresses with a stylish look
The compressor is infinitely variable and always operates at the correct pressure
The control is simple
There are even handy compressors available for traveling
Not only makeup can be sprayed with it; you can even freshen up your hairline.

[/su_column]

Cons 
The set and the available AirPods have a high price
Of course you can only use the products of Temptu and no products of other manufacturers
The Foundation has a strong inherent odour that could disturb some users
[/su_row][/su_panel][/su_shadow]  

Price / performance winner: GANZTON 19B mini airbrush compressor set

The GANZTON M 19B Mini Airbrush Compressor Set offers beginners everything they need at an unbeatable price. That is why it is our price-performance winner. The set consists of a double-action airbrush gun, matching hose, and handy mini-compressor.
Product recommendation follows Pros 
The kit is multifunctional: model making, makeup, nail art, cake decoration, and many more

The pressure can be conveniently regulated with three different levels

The makeup airbrush machine is handy and easy to handle

The gun allows a very precise spray control

The price is unbeatable

The compressor is quiet and switches off automatically as soon as no spraying takes place
[/su_column]

Cons  
Some applications may result in a slightly unclean spray pattern
A suitable tool for cleaning the nozzle is missing; this must be purchased separately

[/su_row][/su_panel][/su_shadow]

The GANZTON 19B Mini Airbrush Compressor may not be the right choice for advanced or amateur airbrushers with ambitions; however, the set is ideal for beginners due to its handiness, versatility, and great value for money.
Other material needed for Airbrush Makeup
For a great airbrush foundation, you need of course other items than just the airbrush set. Without spray makeup, no airbrush kit works and without proper cleaning, you will not enjoy your tools for long.
But which makeup for the airbrush is the right one? And what should an airbrush cleaning kit contain? In the following, we will give you a small overview.
Find the right Foundation
Unfortunately, a makeup airbrush gun cannot be used with commercially available, more or less viscous foundation. It needs special makeup marks and this is due to the processes that take place during spraying.
The air supply during spraying ensures that the liquid makeup in the cartridges is very finely atomized – it is micronized. The particles that are created are about seven times finer than conventional makeup particles. This is exactly why the airbrush makeup lies perfectly on the skin and covers all unevenness and skin impurities without looking like a mask. It nestles into every tiny pore of the skin, so to speak, and thus conjures up a particularly even complexion.
This of course has its price. Airbrush makeup is usually rather expensive but also lasts very long due to the fine atomization. With each application, about 0.1 ml is applied to the skin. In addition, the use of airbrush makeup is very hygienic, so that you don't have to dispose of open jars after one or two months. Most types of airbrush makeup can be used for about three months with daily makeup until they are used up.
Product recommendation follows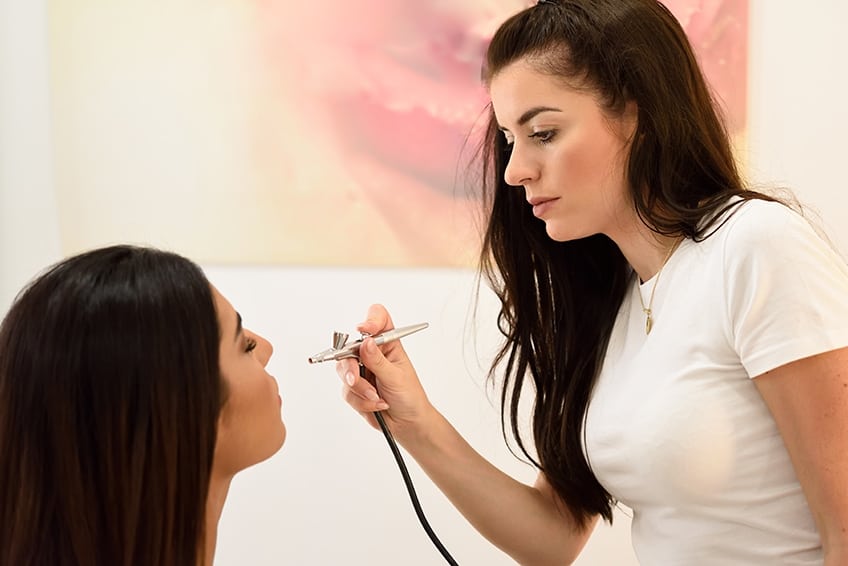 Cleaning Kit
A cleaning set should be part of the basic equipment of every airbrush artist because the care of your airbrush is the most important thing. The airbrush cleaning set optimally contains a set of small brushes with nylon bristles and long needles, as well as an appropriate cleaner. We recommend that you always choose the same company and not jump back and forth between paint and cleaning agent manufacturers. In this way, the colors used will dissolve optimally.
Always clean your airbrush after use and also after each color change. This way you can be sure that no paint dries in the gun and blocks the nozzle.
Water-based paints can usually be removed with lukewarm water. However, it is always better to use a cleaning agent.  
Product recommendation follows
Instructions for the perfect airbrush makeup
First of all, it should be mentioned that your skin needs natural care. In addition to regular cleansing, you should do one or two peelings. How often you do this depends on the product used and the individual skin type.
We assume you would like to apply the following products with an airbrush:
  To do your makeup flawlessly with an airbrush, proceed as follows:
You start by cleaning your skin. Apply your normal cleansing product and use it as you are used to. A moisturizer provides your skin with the necessary moisture and serves as a perfect base for your makeup.

Shake each bottle carefully before use to ensure that the products are homogeneous and the makeup is applied evenly.

Now connect the airbrush and drip a few drops of the primer into the airbrush gun. The primer ensures that the skin is evenly primed and that the makeup is optimally distributed. Before applying, you can cover your eyes and lips with cotton wool pads to protect them. Now apply the primer to your face with slow circling movements. Keep a distance of about ten centimeters to your skin.

Then you can clean your airbrush and continue with the foundation. For TEMPTU you simply change the cartridges at this point. If you use a different airbrush, dribble a few drops of foundation into the gun and spread the makeup evenly on your skin. Use the same circular movements as you did with the primer.

Take care not to work too close to your face when applying the foundation, otherwise, you will not achieve a natural look and your makeup may look like a mask. You should also not stay too long in one place, otherwise, too much makeup will be applied there. An exception to this rule is the following: If you want to use airbrush makeup to conceal certain areas, such as very prominent blemishes, you can apply makeup at a distance of about five centimeters with a pulsating back and forth motion.

Using special stencils, you can even work on eyes and eyebrows with the airbrush. It is not necessary to fix the makeup with powder.

When you are finished, you should clean your airbrush gun thoroughly. To do this, rinse it thoroughly with an appropriate cleaner.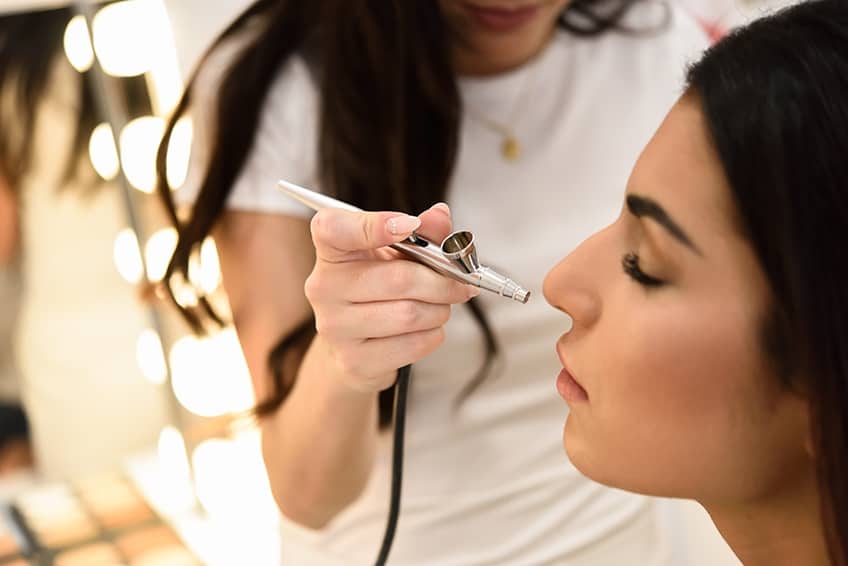 Questions and Answers
Here you will find short and crisp answers to all common questions about Airbrush Makeup:
How long does Airbrush MakeUp last?
Airbrush MakeUp usually lasts about sixteen hours.  
What does Airbrush MakeUp cost?
Airbrush makeup costs vary, as this also depends on the manufacturer. The makeup created especially for the airbrush can be quite expensive, as the makeup is micronized by the airbrush to get better results.  
How does Airbrush MakeUp work?
The makeup is atomized with compressed air from the airbrush. Thus an extremely fine spray mist is applied to the face, which perfectly conceals all impurities.
Is airbrush makeup compatible with other makeup products?
Airbrush MakeUp is in principle compatible with all your usual products. You can use your usual blush as well as your makeup removal products. The gun is not compatible with conventional viscous makeup, as this would clog the nozzle. Therefore, the use of special airbrush makeup products is recommended for spraying.
Airbrush MakeUp is therefore a perfect alternative for all those who want an even complexion and in principle suitable for all skin types. Due to the hygienic handling, the easy application and the durability of the products, Airbrush MakeUp offers the perfect opportunity to feel like a star.