Airbrush Kit for Kids – Guide to Kids Airbrush Activities
Parents are always looking for hobby ideas for their children. Activities that are fun and promote creativity. Why not try airbrushing for children? This is a fantastic way for children to spend time and utilize their energy. We will explore kids airbrushing in more detail below, and highlight why this is such a great activity for children.
What is Airbrushing for Children?
Airbrushing describes an art form in which paint is not painted with pens, but is applied to a surface with the help of a spray gun. An airbrush gun and a compressor create a stream of air that sprays the paint onto the paper, canvas, or another painting medium. Airbrushing offers the artist many advantages:
In principle, it can be applied to all surfaces

There are hardly any limits to the artist's creative freedom

With a little practice, the paint is almost completely free from smudging and is applied very sparingly

Incredible works of art are possible
You get a smooth and even finish that paintbrushes do not create
Airbrushing a fun and unique way of working with a paint
Airbrushing is not only suitable for adults. Many children from the age of six can start to learn how to use an airbrush. But what should parents pay attention to when doing airbrushing for children?
Things to Pay Attention to for Kids Airbrushing
Airbrush painting for children freely promotes creativity. The process will involve creating their own works of art, coming up with painting ideas, and capturing them on paper or canvas with their Crayola airbrush kits. This allows kids to discover and mix colors themselves – all this offers children the ideal basis for their development.
Besides all of this, art is simply fun. Parents should try to provide as many artistic opportunities for their kids. In addition to colored pencils and finger paints at the age of learning to walk, a kid's airbrush set can also be introduced from around age six. However, parents need to consider a few things when using the airbrush:
An airbrush gun for children is not a toy. Stay with and accompany the child during use.
If it is possible, create a separate workplace for your child. Place the necessary utensils there so that they are always within easy reach and clearly arranged for the child. Here you may be able to orientate yourself on Montessori workstations.
Children up to a certain age are very carefree in dealing with danger. An airbrush gun, if used incorrectly, can ruin an entire room in the worst case. Your child's workplace should be designed so that no valuable items can be "decorated".
The paint particles from an airbrush are extremely small and therefore potentially harmful to health. The airbrush gun should only be used when your child can at least work with a light breathing mask for his or her own protection. In addition, the purchase of an airbrush extraction system is mandatory for airbrushing with children. In this way, you ensure that your child – whose lungs are still developing – is on the safe side when working. An alternative to these safety rules is the Orbis Airbrush System, which we will introduce in the following chapter.
After the fun comes work: An airbrush gun must be thoroughly cleaned after spraying. In this way, children learn to keep their tools clean and to take responsibility for them. For parents, however, this can also be exhausting – arguments from children are inevitable.
Parents need to think about when an airbrush is sensible for their child. Apart from the points mentioned above, the cost issue is one that should not be underestimated. When buying an airbrush kit for kids, the investment should not be too expensive. They could always lose interest in art and turn to something else. Nevertheless, the airbrush kit for kids should have a certain level of quality, because nobody will have fun with a very cheap airbrush gun. We have tested various kid's airbrush sets to help you find the best options.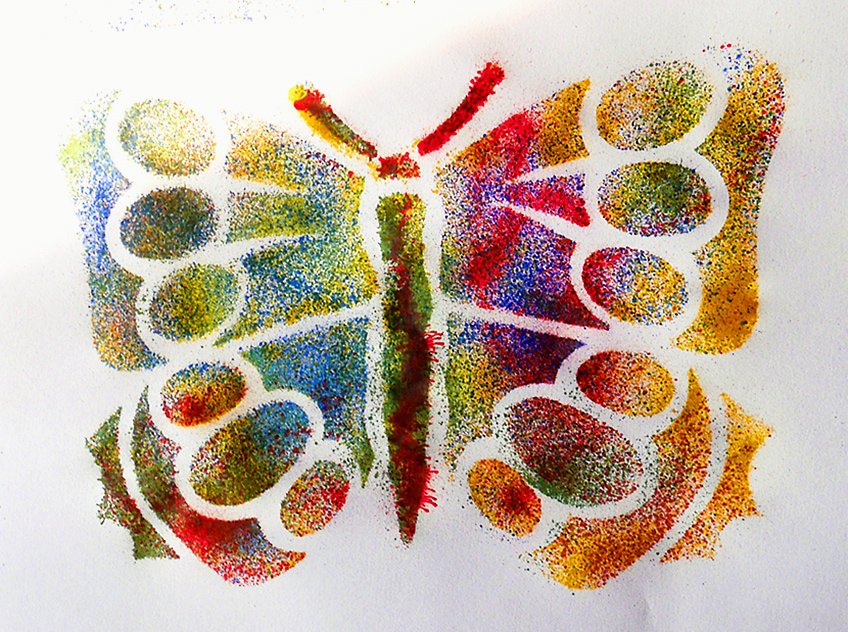 Imaginative images like this butterfly are just one great example of the creative possibilities that airbrush systems for children offer.
Best Airbrush Kit for Kids
Are you inspired to introduce the art of airbrushing to your children? Then you will need to get them an age-appropriate set. We have highlighted some of the best kids' airbrush sets below.
Overall Best: CRAYOLA Airbrush Kit
Crayola airbrush kits are specifically designed for introducing this art form to young kids. This air marker sprayer is a fun and simple solution for children to discover airbrushing. The Crayola airbrush kit uses regular markers for spraying, so there is no need to fiddle with paints and make a mess. This also makes it safer to use. The set is electric powered and includes washable markers and stencils for inspiration.
A simple electric-powered kids airbrush set
The kit sprays using ordinary markers
Includes a set of washable markers and stencils
View on Amazon
Pros
Provides a realistic electric-powered airbrush experience
The Crayola airbrush kit uses markers instead of messy paint
Includes a set of markers and stencils
Dual-action trigger with a push or pull function
Good value for money
Crayola airbrush kits are specifically designed to be easy for children to handle
Cons
Can only be used with thick Crayola markers
Not a particularly advanced airbrush kit
The Crayola Airbrush Kit offers the perfect opportunity for children from a young age to let off steam creatively while training their hand-eye coordination. The kit is affordable and easy to use, whil;e still offering a high level of quality.
Airbrush Pens: OPAWZ Blow Pen Set
An airbrush kit for kids doesn't have to be the traditional airbrush gun style. For younger kids, or a chea[per and easier alternative, you can use blow pens. This set of blow pens by Opawz is a fun choice for kids. It includes ten different colors as well as a tattoo stencil set. There are also alcohol swabs to make the pens more hygienic to use. These pens are non-toxic, safe to use, and can even be applied to dogs if you want to tattoo your pets!
A fun 10-piece blow pen set for kids
Includes 24 tattoo stencils and sterilizing pads
Completely non-toxic formulation
View on Amazon
Pros
The blow pen set is suitable for young children
Easy to use and learn how to paint with
Available in ten vibrant colors
The set includes a wide range of tattoo stencils
The inks are non-toxic and safe to use
Aseptic sterilizing cotton swabs are included
Can be used on paper, as well as hair and dog coats
Cons
This is not a classic airbrush set, so it does not provide the typical airbrush experience
The colors don't blend very well
You don't get as much precision when painting with these
If you are looking for a fun way to introduce airbrush painting to kids, then consider these unique blow pens. They are affordable, easy to use, and provide a new experience for children doing art. The set also includes tattoo stencils to hep them get inspired.
Airbrushing with children is not only a wonderful opportunity to have fun and be creative with your child. It also offers the little ones playful support in its purest form. We hope that you have been inspired to find the best kids airbrush set to help your little one explore art in a new way!