Best Cordless Paint Sprayer – Guide to Battery Powered Paint Sprayers
Painting with a brush or a roller is so old fashioned. Almost everyone nowadays prefers using a cordless paint sprayer because it makes life so much easier and saves you a lot of time. A cordless paint sprayer can be used anywhere. Whether indoors or outdoors, it is a very efficient and effective solution for painting. We have created a full guide below to help you choose the best cordless paint sprayer for your needs.
What is a Battery Powered Paint Sprayer?
Battery-powered paint sprayers are handheld devices that do not need an outer power source. They offer the most convenient solution for painting anywhere and anytime. These come with a paint canister and their own independent power source.
With paintbrushes or rollers, people struggle because it takes a lot of time and effort to use them. With these units though, you can paint large areas in just a few minutes and with minimal effort. They also allow you to avoid bumps, gaps, cracks, and other surface problems that cause a lot of difficulties when using a brush or a roller.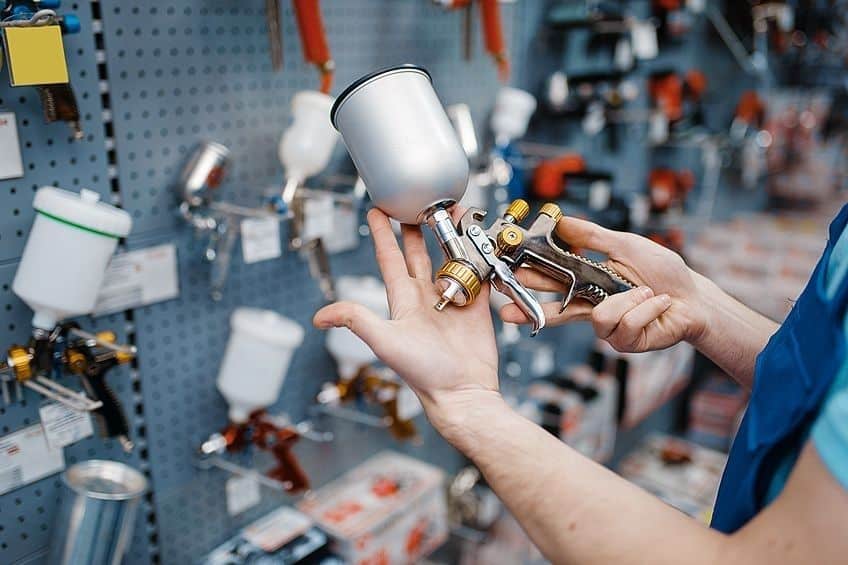 Advantages of Using Cordless Paint Sprayers
Cordless paint sprayers have become incredibly popular, offering an easy solution for many painting jobs. Even professionals prefer using these cordless paint sprayers because they can cover large areas like a wall, or very small areas with just minimal effort. Below we have listed some of the benefits of using a cordless paint sprayer.
The main advantage of a cordless paint sprayer is that it can be used anywhere. There are completely no plug restrictions.
It limits overspray and wasting paint
Cordless paint sprayers always apply paint smoothly. This is because the paint is atomized into tiny droplets that allows you to coat the exact area you're working on, more evenly.
Cordless paint sprayers are more precise and efficient than conventional sprayers. This is because they use hydraulic pressure to apply the paint.
Using a cordless paint sprayer is fast, it can cover large areas within minutes.
They are portable, easy to operate, and move around, meaning anyone can use them without any complications
The tips are customized which makes them more suitable for any kind of painting job
They offer a smooth, high-quality paint job than traditional paint brushes
Factors to Consider when Choosing the Best Cordless Paint Sprayer
Are you planning to invest in a cordless paint sprayer? Well, there are things you need to put into consideration before buying one. A cordless paint sprayer allows you to save time, and at the same time does a wonderful job, it is a must-have for DIYers or any kind of painting job. Now, let us look at the factors you should consider before spending your money on these devices.
1.     The Battery
There are some cordless paint sprayers that will slow down and drain out when the power demand is high, this will eventually slow your painting work down as well. So it is important to look at the specifications when choosing a cordless paint sprayer. It is important to find out about the battery life and how long it lasts after being fully charged.
2.     How Easy it is to Use
Most cordless paint sprayers are convenient and easy to use. So when choosing the best paint sprayer make sure you go for the one that will simplify the painting job for you. Also, go for the one that is easy to clean up and maintain properly.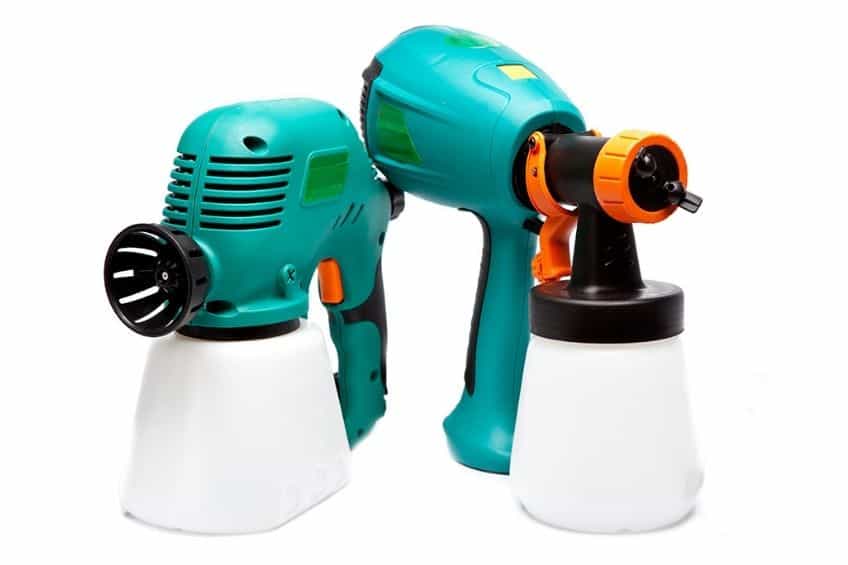 3.     Power Output
Check how powerful the device is before you purchase it. This is because they each offer varying levels of power which can have an effect and limit their spraying capabilities.
4.     Weight
Painting can be a tiresome task, it doesn't matter how small or big the surface your working on is.  So we advise you to look for a paint sprayer that is lightweight and of good quality at the same time for the best results. A heavy spray painter will slow you down and get you tired before finishing your project.
5.     Paint Flow
Choose a versatile cordless paint sprayer that will handle various painting jobs. It should also be able to handle various solvents and materials other than just paint.
6.     The Spray Tip
It is also very important to consider the sprayer's tip. This will help you know if it is suitable for your particular project.
The Best Cordless Paint Sprayers – Top Three
We believe you now have a better understanding of how cordless paint sprayers operate and what exactly you should look for when choosing the best sprayer for your needs. Now it's time we take a look at the top three best cordless paint sprayers available.
Best Overall: GRACO Ultra Max Cordless Airless Paint Sprayer
Handheld sprayers are the essential tool for getting any painting job done really fast and with absolutely minimal effort. Graco Ultra devices Max Sprayers have become the most popular options today, this is because they are fast and also offer a flawless finish and accuracy. The device operates off a Dewalt Lithium-ion system which provides plenty of power to finish any painting job fast.
The Graco Ultra Max can spray detergents, flammable based substances, and water as well. This feature makes it stand out because other cordless sprayers cannot do the same job. The sprayer consists of a Triax triple piston pump with ProConnect, this system can be repairable for the sprayer to last longer.
This device is our top choice on this list because of its high performance and great quality. It is best to use both indoors and outdoors and will make any painting job easy for you. The ultimate smooth and even finish it delivers is awesome and unbeatable. This sprayer is suitable for beginners, but professionals can use it as well.
Powered by a Dewalt XR Lithium-Ion battery system
Provides a perfect airless finish
Sprays water, solvents, and flammable-based materials
View on Amazon
Pros
The batteries charge fast and last longer
A very high-quality paint sprayer
Provides a perfect airless finish
Easy to use
Lightweight and portable
Powerful spray capabilities
Cons
Costly
Requires frequent refilling
Not suitable for larger spray painting jobs
Best Price/Performance: NEU MASTER Electric HVLP Spray Gun
The HVLP system means that this sprayer uses high-volume low-pressure technology. The technology helps in creating an even and smooth finish when painting. This is ideal for painting furniture. The device uses 2.0-Ah and a 900ml paint container which can shield a 50 square foot surface in one fill, and be done with it in about 4 to 5 minutes.  This sprayer can handle a wide variety of projects because it consists of three different nozzles.
With this sprayer, you are able to adjust power settings, how you want the paint to flow, and also the directions and pattern size. This adjustability feature makes this sprayer stand out amongst others. Overall, the electric sprayer is easy to use, easy to clean and maintain, it is also lightweight, making it suitable for almost all outdoor and indoor painting projects.
A large paint capacity cordless sprayer
Lightweight, non-slip grip, and comfortable to use
Advanced adjustability settings for greater versatility
View on Amazon
Pros
Lightweight
Easy to use
Easy to clean
Supports different types of paint
Excellent adjustability settings
Comfortable and lightweight to hold
Cons
The battery life could be better
Best Interior Sprayer: GRACO Ultra Cordless Airless Paint Sprayer
This cordless paint sprayer was made to make life easy for you. It is definitely one of the best cordless paint sprayer available today. But, what makes it stand out? – First of all, this sprayer was built for both small interior and exterior projects, a feature that is rare in other less powerful designs. It also has reverse tips that allow continuous spraying without clogs.
The GRACO Ultra max sprayer provides an airless finish. Once it's fully charged, it is prepared to spray right away. The GRACO model is very powerful and of high quality but at the same time extremely lightweight, making it easy to handle. The sprayer uses a DeWALT battery, the most reliable battery in our market today. It lasts for hours before needing to be charged again. This is also a rarity amongst other cordless models.
Triax triple piston pump with a ProConnect system
Uses high-quality spray tips for good precision
Powered by a long-lasting Dewalt battery
View on Amazon
Pros
High-quality design and build
Lightweight and easy to manage
User-friendly design
Easy to clean
Excellent battery life
Fully portable
Replacement tips are available
Cons
Costly
Requires frequent refilling
Types of Paint Sprayers
Basically, there are three types of paint sprayers. Every type has a reservoir for the paint you select and also a way of moving the liquid from the canister through the head of the sprayer. So, before you actually buy a paint sprayer, it is very important that you understand each type. Below we have listed the main types of paint sprayers together with their pros and cons.
High-Volume Low-Pressure Paint Sprayers
The High-Volume Low-Pressure (HVLP) design uses a constant capacity of air to move the paint from the head of the sprayer to the exact area you're painting. This brings more accuracy when painting and less mess or waste. This feature makes them more suitable for interior objects such as doors, walls, etc.
Pros
Offers excellent paint results
Perfect for smaller interior jobs
Much less messy
Less paint wastage
Offers greater precision
Cons
Costly
Can only handle thinner paints
Not recommended for latex or gloss paints
Airless Paint Sprayers
These use an electric force to move paint through the head of the sprayer, this then applies high force to the paint tank.  Airless paint sprayers are more suitable for bigger projects because they offer a high-quality design, and produce very even and smooth coats. The main difference between HVLP sprayers and Airless Sprayers is the kind of pressure they use to operate.
Airless sprayers are available with a number of tips suitable for different kinds of jobs. These include: wood stain, varnish, lacquer, and more viscous liquids such as latex house paint. Just as with any type of paint sprayers you need to take care and caution when using airless systems.
Pros
Effective for large paint jobs
Perfect finish
Can handle thicker paints and a wider variety of substances
Paints very efficiently
Cons
Higher pressure makes them difficult to control
Expect mess and overspray when using these airless sprayers
Compressed Sprayers
These use compressed air to project the paint out of the tip, therefore creating a smooth and even finish.  Compressed sprayers are very easy to use and are as well perfect for novices. They are also suitable for smaller DIY projects.
Pros
Easy to use
Suitable for DIY projects
Cheap
Suitable for small jobs and beginners
Cons
They can make a lot of mess
They use a lot of paint
Tips for Using a Cordless Paint Sprayer
Cordless paint sprayers are designed to make any painting job easy for you. There are some guidelines and pointers you need to follow in order to get the best results. Below we have listed some top tips for using a cordless paint sprayer.
Safety is a must. Always spray in a well-ventilated room and remember to wear a respirator mask for extra protection
Overspray depends on a number of things such as tip size, tip condition, the pressure used to spray, and so on. So it is very important to cover up all the areas you don't want to paint before you start painting, including your furniture. On the other hand, make sure you use tape and plastic sheeting to mark all the areas you want to paint.
Before you start painting, make sure the device is fully charged.
Frequently Asked Questions
Why Use a Cordless Paint Sprayer?
Cordless paint sprayers have become popular worldwide this is because they provide a whole new level of comfort for any kind of painting job. They can as well be used anywhere. Whether outdoors or indoors, they get the job done easily because they have their own source of power.
Can You Dilute Paint for a Cordless Paint Sprayer?
Yes! But special paint thinning fluid is a better option for diluting paint to the desired consistency. Thinning paint is often necessary for spraying paint.
What is the Best Cordless Paint Sprayer?
There are many cordless paint sprayers available today, and this makes it difficult to identify which one is the best. According to many reviews, Graco Ultra Max cordless paint sprayer stands out as the best paint sprayer.
Can You Use Water in a Paint Sprayer?
The simple answer to this question is YES! You can as easily use water-based paint through the sprayer. This is actually often preferred, as it makes cleaning the system easier.
Is it Worth Getting a Paint Sprayer?
If you want to get the best results for your project, then yes it is worth getting a paint sprayer. These have many advantages and are highly recommended for any painting job. They offer speed and efficiency but they do have their downside as well. They create a lot of mess and require more paint than the traditional brush or roller.
Is it Better to Spray or Roll Paint?
It is up to you to pick which one works best for your needs. But when it comes to efficiency, speed, and perfect finish, these traditional brushes and rollers cannot beat paint spraying. Brushing and rolling require a lot of your time.
If you have a large surface area to paint or need to get a paint job completed quickly, then you should consider the cordless paint sprayers we have listed here. These devices are effective an efficient, and suitable for all type of painting jobs. We hope this guide has helped you understand all you need to know about cordless paint sprayers.