Best Latex Paint Sprayer – Selecting the Best Spray Gun for Latex Paint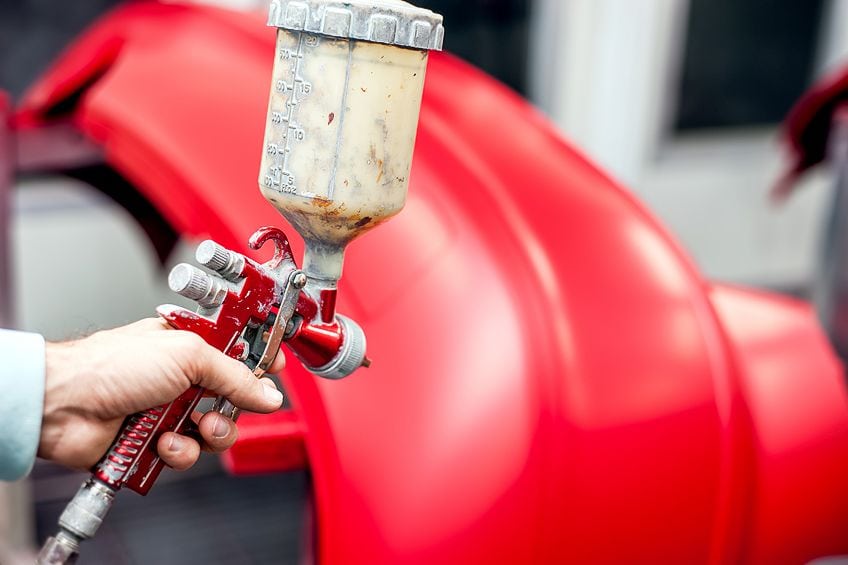 We have come a long way since the first paintbrushes were used to decorate dwellings and weapons in our villages. These days, we can spray entire skyscrapers in a single week and barely break a sweat, but what else can these marvelous machines do? Paint sprayers can be used to spray substances like latex, primer, and sealants, but not all spray guns are created equal. Let's have a look at some sprayers that are latex friendly and how you should go about applying them.
What Exactly Is Latex Paint?
There are various types of paint on the market that fulfill a number of needs in the greater market. Oil-based paints and their predecessor, lead-based paints, were some of the first mass-produced paints available for both private and commercial usage. Fortunately, as technology improved and our understanding of the effects of certain chemical compounds along with it, we discovered that lead paint along with lead piping can be disastrously bad for our health, and as a result, we switched over to the water-, oil-, and latex-based paints.
These paints are far superior to lead paints in versatility, visual impact, and general health, but what exactly is latex paint?
Well, since both latex and oil paints are terrible for interior use (aside from art and craft pieces). This is because latex was developed and produced due to the fact that it uses coalescing agents as a base, which are essentially a glycol solution.
This solution is non-toxic, and if you are asking yourself why it's called latex paint if its base is made of glycol, it is because the binding agent (the substance used to keep the parts of the mixture together) is synthetic latex which typically consists of acrylic polymers.
The great thing about using these materials to create paint is that you can mix and match other substances in order to achieve your desired color, unlike oil- and lead-based paints, which limit your color range to dying substances that are compatible with their respective bases.
Latex paints can be used for a variety of applications due to their inherent versatility.
In fact, they can be used both indoors and outdoors because they are extremely resilient to temperature change, blunt force impact, scratches, are typically waterproof, and do not need to be reapplied as often as their predecessors.
Where lead and oil-based paints typically need to be reapplied every year or so (which you will know if you ever spent the summer painting houses), latex-based paints are often specially formulated to last for three to four years. To get the most out of your latex paint, consider using an appropriate primer and sealer. This is not always necessary for all applications, however, so use your own discretion when deciding on whether to include any of these products.
What Is the Difficulty in Using Latex Paint?
Although it is extremely versatile and durable, latex is certainly not a miracle product, and you should therefore educate yourself on some of the drawbacks of this type of paint. Latex paints do not fare well when there is a lot of humidity present during the application process – this is due to the nature of their composition and the particles it is based on. This means that those of you that live in states with high humidity won't have much luck when applying latex paint to outdoor surfaces.
Another thing you should watch out for when applying latex is minor imperfections and particles on the surface you intend to paint.
Latex-based paints often don't adhere well to surfaces with even minor imperfections on the surface and will begin to bubble and peel in areas where the surface is not entirely flush or has not been prepared adequately with primer and related coatings. If you are using water-based latex paints on wood, whether it be conventional hardwoods or engineered woods, you might notice that the effect produces a sort of muted color.
This is common, and when using water-based latex paints on wood, multiple coats may be necessary to ensure both adequate coverage and color quality. Speaking of color quality, although latex paints are easy to touch up if they have been chipped or scratched, transitioning from a darker color to a light color may require multiple coats.
What Type of Sprayer Can Be Used to Apply Latex?
We mentioned previously that paints have changed as technology improved, and as such, paint sprayers have also had to evolve to keep up with the changing market. In earlier years, there were specific sprayers needed to spray latex, or you had the option of getting your hands on specific spray tips, hoses, and even specially coated hoppers/spray canisters in order to use latex in your sprayer.
These days, common HVLP (high-volume, low-pressure), LVLP (low-volume, low-pressure), handheld, and electrical sprayers are capable of spraying latex. Let's have a look at the different types of sprayers available today and if they are capable of handling latex.
Type of Sprayer
Can It Be Used to Spray Latex Paint?
HVLP (two-piece unit, air-powered)
✔
LVLP (two-piece unit, air-powered)

✘

 

(not recommended)

HVLP (handheld, air-powered)
✔
LVLP (handheld, air-powered)
✘ 

(not recommended)

Airless/Electrical (two-piece)
✔
Airless/ Electrical (handheld)
✔
You may have noticed that there are certain sprayers, specifically the LVLP sprayers, that have not been recommended for use in applying latex paints. Although many of them are able to and the manufacturer will often approve these sprayers for use with latex paint, the consistency of these paints can often prove to be a bit too much for these low-volume sprayers.
This can result in spatter when applying latex paints, but this is not to say that there aren't LVLP sprayers out there that can handle latex paint. Therefore, you should make a habit of checking both the manufacturer's recommendations and customer reviews.
So, what is the best spray gun for latex paint? For your convenience, we have put together what we consider to be some of the best latex spray guns on the market today.
Best Overall: GRACO Magnum X5 Stand Airless Paint Sprayer
There's an old saying that goes "there's no replacement for displacement". What does this mean? Well, when it was coined, it simply meant that cars with bigger engines were better, and even though other engines were smaller and more efficient, there was no getting around the power difference due to their size gap. This is how we would describe the Graco Magnum X5, which is arguably the best spray gun for latex in its class. The Graco magnum is a two-piece airless paint sprayer designed to help you spray everything from your backyard fence on a weekend to an entire estate when you head back to work on Monday.
Fully adjustable pressure and paint flow for easy use
Allows you to spray unthinned paint at a high pressure
A suction tube allows you to spray paint straight from the container
View on Amazon
The Graco is one of those machines that want to get the job done as quickly as you do – in fact, you don't even have to fill up a hopper to get started with this unit. The stainless-steel piston-powered pump has an induction tube that you can pop directly into your bucket of latex paint – no need to measure, pour, or refill a hopper, which means you can spend your time concentrating on applying the perfect coat. The Graco doesn't leave you alone in that regard either, with adjustable feed pressure, spray pattern adjustment, and the ability to spray directly from a one-gallon or five-gallon bucket.
We weren't joking about the Graco's power output either; it runs on 110 volts, supports up to 75 feet of paint feed hose, and yes, it does allow you to use latex paint. We mentioned previously that the Graco loves to work about as hard as you do. This being said, you will be pleased to know that the Graco doesn't enjoy long clean up times either, so simply plug your garden hose attachment directly to the pump unit and turn it on for easy cleaning!
PROS
Powerful pump
Easy to clean
Versatile applications
Very portable
Easy to use
CONS
Storage can be difficult
Piston pumps are noisy
Limited hose length
No pressure readout
These features, ease of use, and the fact that you don't need a compressor or turbine to operate it are why we feel that the Graco is arguably the best spray gun for latex paint.
Best Performance: FUJI Semi-PRO 2 Gravity HVLP Spray System
We think that spraying latex paint with HVLP sprayers is one of the best decisions you can make aside from using latex paint itself. However, there is something special about the Fuji Semi-PRO 2 that sets it apart from not only other HVLP sprayers in its class but overall.
The Fuji Semi PRO 2 is one of the higher-end models of paint sprayer on this list, and one look at it will confirm this. Featuring a cobalt blue grip, a portable turbine with an air feed line in the same color, and all the gaps filled in with chrome, it feels like you're about to work with a sprayer that's been custom built specifically for you. What really sets the Fuji Semi PRO apart is that the feed configuration can be manipulated, which means that you can have your hopper in the siphon or gravity feed position as the situation demands!
Professional non-bleed adjustable spray gun
Lightweight and portable with a 400cc gravity cup
Includes a metal turbine case with airbrush holder
View on Amazon
If you feel a bit eager to use this sprayer, it is just as eager to be used by you – in fact, you don't even have to worry yourself about threaded attachments, as the Fuji comes with a snap-on hose attachment and pressure regulation valve as standard.
The entire spray gun is made of stainless steel and we aren't just talking about the exterior – the paint passageways and nozzle feed are made of stainless steel too in order to promote better flow of solvents, lacquers, and latex paints. The handle also has a comfortable forward-leaning ergonomic grip to ensure that your hand and trigger finger are always comfortable regardless of the angle you're spraying at.
Adding to an already impressive suite of features, the spray gun comes with multiple air cap sizes and a spray fan pattern control, which means that regardless of whether you are spaying vertically or horizontally, you never have to tilt your gun more than you feel comfortable. Finally, one of the features that will stand out to you immediately when you first see the Fuji is the pressure-assisted gravity feed configurations. Instead of a conventional gravity feed set up, your 400cc hopper is assisted by pressurized air, helping substances with thicker consistencies that need some convincing to reach your nozzle.
PROS
Powerful sprayer
HVLP is good for latex paints
Premium finish
Customizable ergonomics
Quick attach hoses
Pressure regulator
CONS
Turbine is heavy
Expensive
Limited hose length
Limited paint supply by hopper
Difficult to move/transport
The Fuji really does take spaying latex paint with HVLP sprayers to the next level and ensures that you feel comfortable in any situation.
Best Value: WAGNER SPRAYTECH FLEXiO 590 Handheld HVLP Paint Sprayer
The Wagner Spraytech is one of the best sprayers on the market for both beginners and novices of spray paint. Unlike the other units we have covered up to now, the Wagner is an all-in-one electric unit that is powered by a single impeller. This impeller draws from a siphon configuration hopper with a one-and-a-half-quart capacity, which is more than enough for both small and large projects.
The Wagner is graded to spray latex paint and is more than powerful enough to handle thicker substances such as lacquer and resin as well. Although you might find your wrist getting tired being that the hopper is attached to the sprayer, the benefits in both maneuverability and range of motion far outweigh this.
A convenient handheld HVLP paint sprayer for a range of projects
Has two different nozzle sizes for work on large and small scales
Completely adjustable paint flow that is easy to use
View on Amazon
The Wagner has more to offer than you might notice at first glance too, as it offers flow control with an easy-to-use dial, as well as several spray patterns options and removable spray tips so that you can change up both your dispersion and spray patterns mid-project if you so wish. This might not be the best HLVP spray gun for latex paint, but it is versatile, easy to store, easy to set up, and inexpensive compared to other two-piece units on the market today.
The Wagner is more of a trusted partner than a heavy-duty paint sprayer and will ensure that you are able to spray whatever you wish, whether this be with latex paint or not, although you might have to refill a few times in the process. This is perfect for the weekend warrior looking to update some old furniture or if you simply wanted to respray a small bedroom or your kitchen cupboards. The truth is that the Wagner will do whatever you set your mind to, despite not coming with as many bells and whistles as some of the other sprayers on this list.
PROS
Lightweight
Portable
Airless
Variable turbine speeds
Easy to use
Inexpensive
CONS
Not very powerful
Can get heavy when spraying
Feed configuration is not adjustable
Can be challenging to clean
The Wagner makes a run at being the best HLVP spray gun for latex paint simply by being uncomplicated, reliable, easy to use, easy to store, portable, and airless.
What to Look Out for When Buying a Latex Paint Sprayer
There are a few things you should look out for when purchasing latex spray guns. We should point out that the term "latex spray guns" seems oddly specific considering that most paints sold today are latex-based and therefore arguably every paint sprayer on the market is capable of atomizing and dispersing latex-based paint to some degree. There are, however, a few things that make a sprayer able to spray latex paint effectively. Let's have a look at these key features.
Power
Your sprayer's ability to adequately atomize materials is what sets a good sprayer apart from a bad sprayer. When it comes to latex paints, electrical or airless sprayers are considered the best as latex paints are typically thicker than oil- and water-based paints, and therefore need more pressure for the substances to be atomized. Airless sprayers do not rely on a compressor or a turbine in order to make their pressure, therefore the pressure into the spray gun can be a lot more consistent with these types of sprayers.
This means that the chance of your sprayer producing splatter or orange peel is virtually non-existent.
Capacity
Another good reason why an electric sprayer is often chosen over conventional HLVP sprayers is due to the greater capacity. You see most HVLP sprayers and even some handheld electric sprayers have a hopper that needs to be filled and refilled with paint, which only holds a capacity somewhere between 400cc's and one quart.
This can be quite annoying if you are working on a large workpiece, spraying a wall, or simply doing a number of coats. A larger capacity saves you refill time, and the best part about heavy-duty sprayers is that they allow you to simply put your paint feed line directly into the bucket you buy the paint in! You can even raise or lower the pump stand to suit the height of the paint container, therefore saving you time and elbow grease.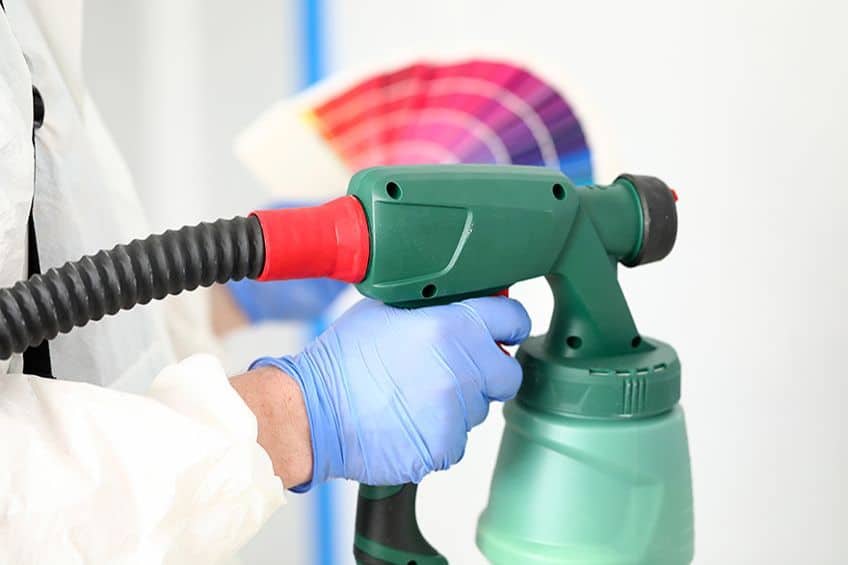 Weight/Size
Spraying latex paint with a gravity feed gun seems like a good idea, doesn't it? How about a siphon feed so the gun isn't that top-heavy? If you said yes to any of these, you would not necessarily be wrong, but you might be overlooking one crucial aspect of your customer spray gun: weight plays a critical role in the way that you apply your paint. Remember that the position of the hopper and its weight affects your range of motion and how long you are able to support the spray gun whilst maintaining control of your trigger finger.
Earlier, we mentioned that there is no compromise for cubic capacity, which means that typically, bigger is always better. And sure, a sprayer that is more powerful and holds more paint sounds great in theory, until you have to lug it around everywhere you go. And in case you didn't notice, they very rarely come with wheels attached.
So yes, spraying latex paint with gravity feed guns is a good idea, but think about which application you will be using your sprayer for the most and just how often both the weight and power will realistically come into the equation in your daily life.
How to Spray Latex Paint
It can be challenging to find a way to spray your latex-based paints when you are new to the game. However, there are some tips and tricks that you can use to make the learning curve less harsh. Here is a quick step-by-step tutorial on how to spray latex paint.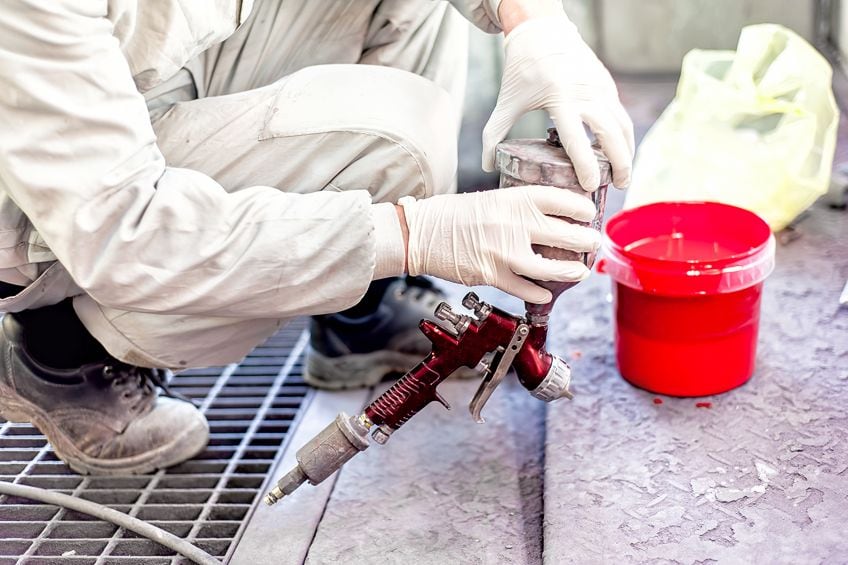 Clean Your Workpiece
Regardless of the type of surface you are working with, you should always ensure that your workpiece is clean of dust, debris, and other particles before you start working. Depending on what the surface of your workpiece is made of, clean it off accordingly, and if wet, allow it to dry off in the sun before taking the next step.
Sanding
Sanding is one of the most important steps in any painting exercise. Take some medium-grit sandpaper and give your piece a once-over in order to ensure optimal adhesion between the latex paint and the surface. Sanding roughens up the surface, providing a grittier texture for the paint to stick to.
Priming
Priming is one of the most important steps in any painting exercise. Take your latex primer and throw the appropriate amount into your hopper or paint canister, depending on what feed type you have. Airless sprayers typically don't need the paint to be watered down, but if are using an HVLP sprayer, you might want to consider adding a cup of water or an equivalent amount based on the volume you added to the hopper/canister. Once you are happy with the flow of the primer, stop the spray gun and the atomization of said primer – it is time to get painting!
Painting
Most people do get a feel for it, but as a nice bit of forewarning, you should know that latex paints are a lot thicker; the flow rate might not be as high in HVLP sprayers, and if you are using an electric/airless sprayer for the first time you might be surprised at the one-to-one relationship between the trigger and the sprayer tip.
The response is immediate due to the consistent pressure provided by the airless sprayer's piston or impeller, and as a result, you should manage your distance from your workpiece and aim for multiple light coats as opposed to fewer heavier coats until you get the hang of it. Developing your technique can take some time, but with patience, persistence, and a little luck you will soon be used to spraying with latex paints.
Now that you know what latex paints are, what type of sprayers are best to use them in, what some of the best sprayers on the market are, what to look for in a good sprayer, and how to put your sprayer to good use and prepare your workpiece, it is time for you to head out and put your knowledge to good use. Remember to always consider the application before purchasing a sprayer, always wear appropriate personal protective gear, and most importantly, safety first!
Frequently Asked Questions
Is Latex Paint Waterproof?
Latex paint is definitely water-resistant, but it will not make an object or workpiece waterproof. There are substances such as wood sealers, epoxies, and resin coatings that can make your workpieces completely waterproof, or you could simply buy a waterproof material that you can coat with latex as an extra precaution.
Is Latex Paint Flammable?
Like most paints, latex paints made these days are not flammable due to the fact that no flammable solvents are used in their production. This does not mean that the surfaces that latex paints are coated to are automatically fireproof, however, as exposure to excessive heat and/or an open flame will cause latex to rubberize and fall away, exposing potentially flammable materials.
Is Latex Paint Toxic?
The good news is that latex paints – whether dry or wet – are not at all toxic, but that does not mean that they can't create serious discomfort if misused. If wet latex paint comes into contact with your skin or mouth, it can cause mild irritation to the affected areas, but nothing resulting in excessive pain. This being said, if latex is ingested, it will cause an upset stomach due to the synthetic-based paint being fundamentally incompatible with our digestive systems. Consuming water and regurgitating or passing these substances normally is a viable solution to accidental ingestion.