How to Remove Spray Paint from Concrete – Our Top Removal Methods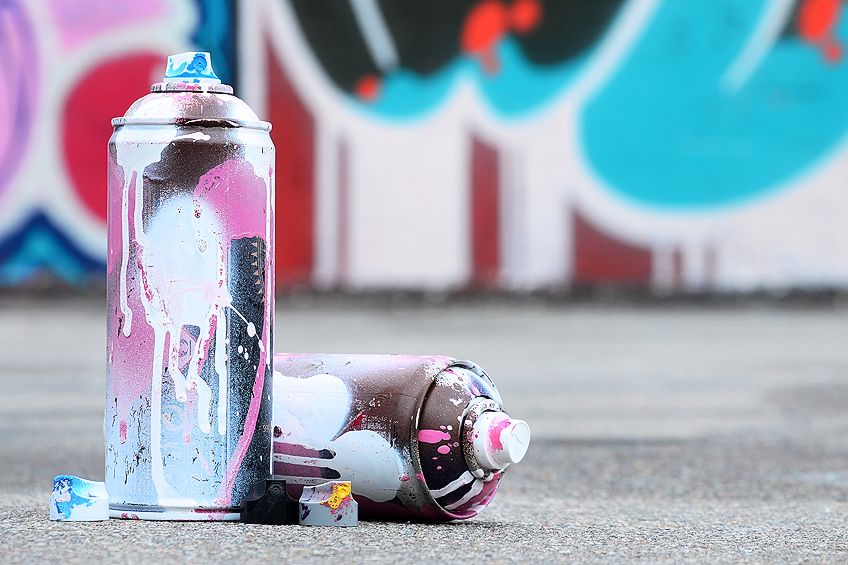 Once upon a time, a group of kids were inspired to create art. Regardless of their skills or choice of wall, they tagged the outside of your wall with spray paint! The scoundrels… In the efforts of trying to remove it, you have found yourself here, reading this article on how to remove spray paint from concrete. You might be thinking that your work is cut out for you, but removing spray paint from concrete is simpler than you may think and we will guide you through the process. From how to remove graffiti from concrete, to how to remove spray paint from concrete with household items! Soon enough, you will know all the tricks to the trade.
How Does Spray Paint Work?
Spray paint is pretty self-explanatory – Its very name gives its purpose. It is paint that comes in a pressurized aerosol canister and sprays in a fine mist. This allows you to apply clean, even lines, making the painting job a lot faster. It also allows for smaller detailed lines and with a bit of practice, artwork like graffiti can be achieved. Another bonus is that spray paint is quick-drying, which also saves you a lot of time.
Different Kinds of Spray Paint
When starting to understand how to get spray paint off concrete, you might want to learn about the different kinds of spray paints available. The type of spray paint will define the method to remove it. Enamel spray paints are oil-based and are a bit tricky to remove – needing chemicals to do so. Water-based spray paint, like latex spray paint, is easier to clean up with only a little soap and warm water.
Do not be disheartened if your first method does not work, you might not know what type of spray paint you are dealing with.
Concrete in a Nutshell
Did you know that concrete is porous as well as highly permeable to vapors? If you get right up close to a slab of concrete, you will see what looks like tiny holes, or pores, all over the surface. Surprisingly, this is not a weakening factor, but what gives concrete its strength. When cleaning, however, this can make things a bit difficult.
What Makes up Concrete?
Cement is the hero ingredient in the mixture that makes up concrete. A combination of water, gravel, and cement makes up the all-mighty concrete that lasts forever. We mentioned earlier the pores in the surface, well, the larger the grains of gravel, the larger the pores will be. The ravel also plays a part in the gradation, which results from mixed-sized grains of gravel. It also plays a part in the concrete's porosity. Low porosity means the grains are all the same size and high porosity means the grains are all different sizes, compacted in.
Importance of Porosity
Highly porous is a good thing, it is what allows the paint to sink into the concrete, through its pores, ensuring it sticks well to the surface. This might be the best thing when it comes to painting, but it does mean the surface has a firm grip on the paint, making removing spray paint from concrete, and all paints for that matter. There is a way to make the pores less porous, that is by layering the surface with a sealant. Concrete sealers are designed to fill the pores resisting the absorption of liquids and vapors, thus, resisting stains in the process.
A word of advice, when learning how to remove graffiti from concrete, make sure the concrete sealer comes off with it.
Specialized Products to Remove Spray Paint from Concrete
Fortunately, a genius has found a market with people learning how to remove graffiti from concrete – those pesky vandals have been running strife. This means there are products out there, designed for one reason – removing spray paint. If you would like to find out which product would work for your graffiti problem, keep on reading.
Ultimate Graffiti Remover: LIFT OFF Spray Paint Graffiti Remover by MOTSENBOCKER'S
If you are sensitive to chemicals in any way, this product by Motsenbocker' is a brilliant option as it is water-based. This makes it a popular choice, not only because of what it is made out of but also because it works to remove spray paint from many different surfaces, not just concrete.
Safely removes old and fresh oil-based paints, primers, and enamels

Works on hard, soft, or porous surfaces like stucco and concrete

Environmentally friendly, low VOC, water-based and biodegradable
View on Amazon
PROS
No chemicals – water-based
Removes many different paints from different surface materials
Friendly on the environment
High productivity
Certified by the Green-cross
CONS
Chemical fumes may burn eyes and skin
More costly than soap and water
Ultimate Graffiti Protection: VandIGuard Anti-Graffiti Coating by RAIN GUARD
As with the most annoying things in life, prevention is better than a cure. How can you prevent random graffiti vandals from tagging your wall, you might think. Well, Rain Guard water Sealers have created the ultimate graffiti protection. It is a transparent, non-yellowing coating that lasts up to five years and it prevents the spray paint from sinking into the concrete – making it tremendously easier to clean.
The graffiti barrier sustains repeated graffiti removal for up to 5 years

Anti-graffiti paint protects concrete, stucco, EIFS, brick, wood, and metal

The anti-graffiti paint is made using non-yellowing technology
View on Amazon
PROS
Lasts up to five years
Application is easy – brushed or rolled on.
Can spread over a 1500 square foot surface
The surface can be painted before application
Does not fade to yellow
CONS
Costly
Only makes graffiti easy to clean, does not remove it
Ultimate Eco-Friendly Paint Stripper: SmartStrip Advanced Paint Remover by DUMOND
If you are a nature lover, this product is particularly friendly to the environment because of its water-based formula. This gives it less of a pungent smell and is remarkably biodegradable. Two more added benefits with Dumond's SmartStrip Advanced Paint Remover, are not needing to neutralize the surface once you are finished removing the spray paint because the formula is of a neutral pH. The other is it can remove a whopping 15 layers of many different kinds of paints.
Environmentally friendly, non-carcinogenic, non-caustic, and toxic
Will effectively remove up to 15 layers of almost any type of paint
Water-based paint can be applied easily with a brush or roller
View on Amazon
PROS
Worth the cost
Fewer fumes
Eco-friendly and biodegradable
Non-carcinogenic and non-poisonous
Application is simple
CONS
When dry it is hard to remove
May harm other surfaces besides concrete
Using Household Items to Remove Spray Paint
You might not be so blessed to have access to a hardware store every day of the week. Possibly because you live in a small town, or your budget just does not permit it. Not to fret, this next section will guide you on how to remove spray paint with household items. These remedies have been around for a while because graffiti vandals have been at this for quite some time.
We do advise first attempting to remove the spray paint from the concrete by using the first method we have listed, no matter what type of spray paint or the state of the concrete surface. We have ordered our recommended methods by how easy it is to remove the spray paint, the first being the easiest.
First Method: Soapy Water
This method should always be your first attempt because you might be surprised by how effective it is. Surprisingly, this method of using warm water mixed with some soap to remove spray paint from concrete might work quite well even with oil-based spray paint.
It is, however, more effective with water-based spray paint that has dried, or has been sprayed on recently so it is still fresh.
 Supplies
Dishwashing soap
Vinegar
Warm water – one gallon
A water faucet, outside
Towel and a cloth
Hard-bristled brush, or scour
Instructions
Warm some water and fill one gallon in the bucket.
Add some dishwashing soap
Hose down the surface you are working with water, or, a mop if you are inside
Using the bristled scrubbing brush, scrub at the spray paint afflicted area in circular motions, with soapy water.
If you are struggling to remove the spray paint from concrete, you can add vinegar to your soapy water – this heightens the strength of the formula and the spray paint will come off in no time
Once the spray paint is completely gone, you can rinse the soaped area
Use the towel to dry the wall.
If you found this to be unsuccessful, you can attempt the second recommended method below.
PROS
Intense chemicals not present
More friendly on the environment
Less expensive
Underrated for its effectiveness
CONS
Hardy, dried spray paint might be resistant to soapy water
High porous concrete is too tough for this method
Needs a lot of scrubbing which can be tiring
Second Method: Trisodium Phosphate (TSP)
Have you ever heard of sugar soap? Well, you have now! Trisodium Phosphate, TSP, otherwise known as sugar soap, is a highly chemically infused concoction that has been the favored formula for interior and exterior cleanups for a long time. Because of the high concentration of chemicals, it is very effective in removing all kinds of paints, so if you were wondering how to get spray paint off the concrete, this product is sure to help.
Ensure you have taken the right safety precautions and set them in motion, including wearing the appropriate protective gear when you are dealing with this cleaning material. This means wearing protective clothing like gloves, an eye mask, and a respiratory mask.
 Supplies
Eye Mask
Protective gloves
Respiratory mask
Protective clothing
One gallon of warm water
TSP
Hard-bristled scrubbing brush
Instructions
First thing is first, put on your protective clothing including your gloves, eye mask, and a respiratory mask.
Read the instructions on the label of your TSP and mix it, accordingly, with the warm water.
Typically, the TSP which is in powdered form is measured by one-quarter of a cup in one gallon of warm water. This is a good mixture if you are needing to clean intensely.
As with the first method, wet the surface before applying the TSP mixture.
Using the scrubbing brush and circular motions with your arm, work the spray paint off.
Before you rinse the TSP off, leave it on the surface for at least thirty minutes for optimal effectiveness.
PROS
Usage is simple
You do not need to be an expert
No machinery needed
Not too expensive
Can be easily found
CONS
Bad for the environment
Not safe to use on steel, glass, or grout
May cause eyes and skin to burn
Third Method: Machine Wash
If your arm is aching from all the scrubbing and no matter how hard you scrub, the spray paint is just too stubborn and will not go away. This means you require a pressure wash to get the job done. If you are living in a drought-stricken area, this is more environmentally friendly as it does not use nearly as much water as the general garden hose. This means that this method might be more recommended for large graffiti works.
Not only does it use pressure to do its work, but also includes heat in the mixture and this makes it highly effective in cleaning most things.
 Supplies
Soapy water, or a chemical cleaning detergent
Eye-mask
Pressure washer
Instructions
We recommend that your pressure washer must flow at a rate of 4 Gallons per minute, GPM
Put on the nozzle which has been recommended by the manufacturer to suit the surface you are cleaning.
Pull the trigger, and last your surface with the pressure
Be careful not to linger in one spot too long, or to stand too close as the high pressure of the machine can cause damage to the concrete.
Your motions should flow smoothly, going from the bottom to the top – up and down.
If you feel it is necessary, you can use a cleaning detergent to increase the effectiveness of this method.
PROS
Highly effective in the removal of spray paint
Water conscious
CONS
These machines are costly
Can be harmful to you and other people, as well as the surface you are cleaning
Professional help might be needed
Fourth Method: Solvents
If soapy water, TSP, nor the pressure washer have managed to remove the unwanted graffiti, you might need to resort to the extreme chemicals – Paint strippers and solvents. If you were wondering what solvents are, another commonly used term for it is acetone which people use to remove nail polish. Turpentine and paint strippers are also highly effective in the removal of spray paint.
Paint thinner is there to make the consistency of paint thinner, whereas paint-stripper is designed to get rid of paint once it has dried.
 Supplies
Protective clothing
Protective gloves
Eye-mask
Respiratory mask
Water-filled bucket for indoor work
Garden hose for outdoor work
Old brush for painting
Wire-bristled scrubbing brush
Solvent or paint stripper of choice
Cloth and a sponge
Instructions
The first step is to use the old brush for painting and smear some of the solvent or paint strippers onto the spray-painted area.
Leave the solvent or paint stripper to sit on the spray-painted area for half an hour
If you see a bubbling effect on the spray paint that means the chemicals are working
If some spots are not bubbling, you might need to scrub the spray paint with the wired-bristled scrubbing brush using a circular motion
When working with solvents instead of paint strippers, remember they do evaporate and disappear quickly so you will have to forgo the half-hour sitting period.
Once the spray paint is removed you can rinse the surface down with whatever method suits you best, either the bucket of water or the hose.
PROS
Not complicated to use
Not expensive
No machinery or professionals needed
Works extremely well
CONS
May damage skin
Intense odors
Protective gear is necessary
Concrete coatings are at risk
Fifth Method: Grinding
If none of the above methods have worked for you and you feel like you are about to burst with frustration, then this last method may be your absolute last option and your best solution. There is no point in breaking your back on the extremely stubborn spray paint stains, you might as well grind the surface down till it looks brand new again.
There are, of course, some suggested ways to use such a machine, inclusive of protective clothing.
 Supplies
Protective clothing
Protective eye-mask
Protective gloves
Respiratory mask
Diamond wheel cup
Grinding machine – angle grinder
hoover
Instructions
Remember, a grinder will not only remove the spray paint, but it will also remove the first layer of the concrete
The diamond wheel will help to control your movements with the grinder
Start over the spray-painted area
Once you have removed the unwanted spray paint, you can suck up the dust with your hoover, or vacuum cleaner
PROS
No chemicals needed in this method
Simple to do if you are experienced
Works well to remove spray paint
CONS
Does not work with concrete that has been coated with a sealer
You need to have experience working with a grinder
Messy job
Spray Paint Removal Tips and Tricks
In order to make your life easier when it comes to removing paint from concrete surfaces, we have compiled a list of our top tips and tricks.
For optimal effectiveness, make sure to leave the paint stripper on the spray-painted area for at least half an hour, but, dried paint stripper is quite a difficult substance to clean so be aware of the time when you apply it.
If you are cleaning up spilled paint, make sure to act quickly – as soon as it has spilled. This increases the chances of it being cleaned up without much of a fuss.
First, start with method one and work your way up the methods as they get more and more intense as they progress and you would not want to unnecessarily cause damage to the surface.
If you are looking for a preventative method to save your efforts, later on, consider a concrete sealer that is highly effective in preventing the spray paint from getting into the pores of the concrete, making it considerably easier to clean up.
Using paint thinners as your chosen spray paint removal method, you must be warned that the thinners simply things out the paint's consistency so it will just make a mess by spreading the spray paint around. To prevent the mess, you could work in smaller spaces first and make sure to mop up your work with a cloth or a towel as the thinners start to work.
If dust is an issue for you, there is something that helps to shroud the dust while you are working – this can be found at your local supply store.
If you are sensitive to TSP, Borax is a better option for it is a non-poisonous and environmentally friendly option that is soy-based.
Hopefully, you are now equipped with all the knowledge and products necessary to remove paint from any concrete surfaces. 
Frequently Asked Questions
When Is a Professional Necessary?
If you are overwhelmed by the scale of the task and your minor efforts just seem futile, you can always call in a professional to do the job. If you are confident in your skill, you might not need to.
Can Graffiti be Spray Painted Over?
The annoying thing about spray paint is that it often starts becoming visible from underneath the new layer of spray paint, should you decide to paint over the graffiti. If this is the case, you can always repaint the entire surface with a few layers to ensure smooth and even coverage.
Can Bleach Remove Spray Paint?
This is not a recommendable idea. Bleach tends to leave stains on the surface you are cleaning because it leaves behind deposits of salt.
Can Spray Paint be Removed From Concrete with WD40?
If you're trying to remove latex spray paint, WD40 works wonderfully. It is an oil-based product that lifts latex spray paint from the surface.
Will Spray Paint be Removed With Nail Polish Remover?
Nail-polish remover is also known as acetone, it can be effective when removing spray paint or graffiti. You must work quickly, however, because it tends to evaporate not long after it is applied to the surface.