Cake Airbrush – Guide to Airbrush Machines for Cakes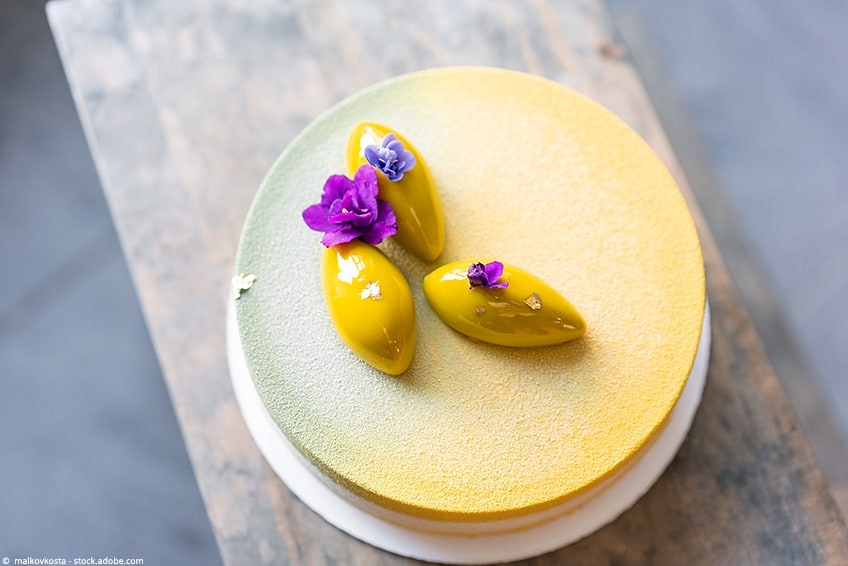 Whether done with or without buttercream, decorated with fluorescent food colors, marzipan flowers, or fondant – a professionally designed cake is a real feast for the eyes. In recent years, a new practice has developed in the field of this art of baking involving cake decorating airbrushing. We are talking about the airbrush for cakes. What exactly this is and how you too can conjure up airbrush cakes with food coloring, we will reveal in this article.

Why Use an Airbrush on Cakes and Pies?
An airbrush pistol is an incredibly versatile tool. It can be used not only to paint body parts, apply make-up or spray a temporary tattoo but even to decorate pastries. Cakes are particularly in the foreground of this art. In principle, all forms of art on cakes are possible. Some things that you can achieve include:
Beautiful color gradients
Subtle shades
Filigree ornaments
3D effects
Patterns and shapes
Complete images such as a skyline in front of a starry sky
All conceivable types of bases can be sprayed, such as roll fondant, flower paste, royal icing, marzipan, and solid ganache. However, the best base for your airbrush is roll fondant in white – just consider it the perfect canvas for brilliant color results.
Using an airbrush kit for cakes and pastries sounds complicated, but it is not. In our airbrush machine for cakes guide we will you everything that you will need to consider.
The Best Airbrush Set for Cakes and Food
We have tested several cake airbrush machines for food for you and have come to the conclusion that the crown clearly goes to the airbrush cake decoration set from Watson & Webb. There are two main reasons for this: Firstly, the price-performance ratio is excellent. Secondly, this cake decorating airbrush kit offers everything a user will need for getting started straight away.
A full set with an airbrush, compressor, colors, cleaning kit
Includes 3 speed compressor settings
Everything packs into a convenient travel case
View on Amazon
The set is handy and even suitable for traveling; a carrying bag is included for better transport

The included compressor is adjustable in three speeds to make the work fast and easy

Apart from that, the compressor works very quietly in comparison, which is especially important for tiny details – after all, this is where the artist needs all their concentration

The cake airbrushing machine is suitable for large areas as well as for filigree details

Thirteen different colors are included and these are perfectly matched to the airbrush gun
A complete cleaning set, consisting of a cleaning pot, brushes, and a cleaning fluid, is also included in the airbrush set for cakes

A special customer satisfaction guarantee rounds off this high-quality product. If you are not satisfied, the full purchase price will be refunded

The set even includes a color wheel, which you can use as a guide when mixing the colors
In fact, we couldn't find a single drawback in our airbrush cake set test – except perhaps the one-time acquisition cost. However, the price is still good, especially since the included colors are really economical and have a high opacity. You really can't go wrong with this set.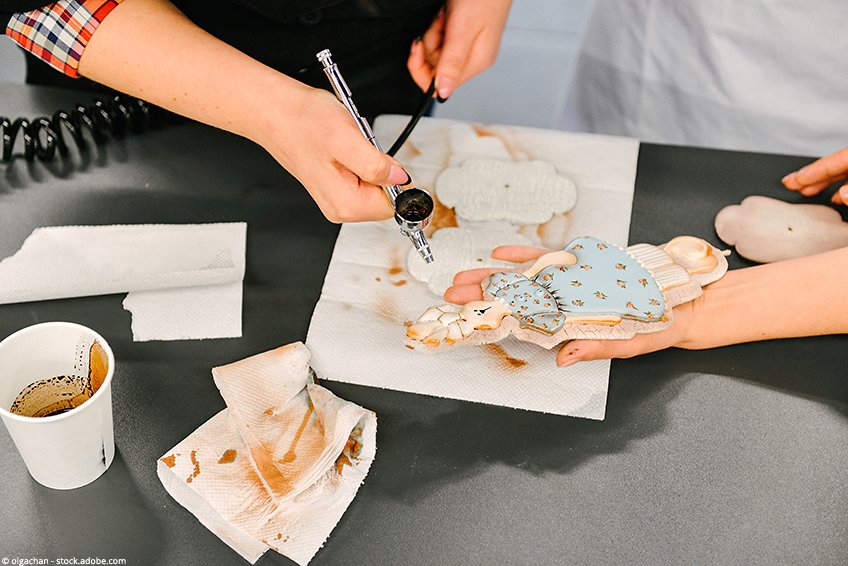 Considerations for Airbrush Food Paints
Airbrush food coloring for cakes has some special properties. The first of these is basically the same as with all airbrush colors, namely the consistency. The paint must not be too thick, otherwise, the airbrush gun will quickly clog. Therefore it must be highly pigmented.
However, if the paint is too thick, it can be easily thinned. Theoretically, it is also possible to dilute food coloring in paste or powder form and use it. In practice, however, we would advise against this, because especially as an airbrush beginner you cannot be sure whether the pigments are really suitable for the airbrush. In the worst case, you may spray a few bursts of paint, only to find that the nozzle becomes clogged. So if in doubt, always use liquid food coloring – preferably one that is really suitable for the airbrush!
The color for airbrush cakes is also a special case because fondant is normally softened by liquid colors. Fondant consists mainly of sugar – there is good reason that many cake lovers like to use it as a cover, but then prefer not to eat it. The sticky sweetness also makes this large quantity of sugar dissolve by liquid paints. The result: the fondant begins to "sweat" and in some cases even dissolves.
With liquid paints applied with an airbrush set for cakes, the look is different because the color is very finely atomized. More intensive colors can be achieved by spraying several layers of paint, which dry in the meantime. Any good quality fondant can handle such a fine spray mist!
But there is a catch: you should not dilute the colors too much with water, because if they contain too much of it, the fondant will be dissolved after all. Also therefore we strongly advise you to use proper airbrush food colors.
Of course, the quality of the colors used is also important. We have chosen the best edible food coloring paints for airbrushes below:
U.S CAKE SUPPLY Deluxe Airbrush Cake Color Set
The food color set from U.S Cake Supply consists of 24 different colors of the most vibrant quality, as well as a color wheel for helping you mix the paints. Using a specialized cake coloring set like this offers distinct advantages, as the colors are easy to work with and come through beautifully.
When choosing colors for decorating cakes with an airbrush, you will need to choose a set that is specifically designed for the purpose. This is why this set is such a good choice. All colors are of the best quality and can be used easily, providing great intensity. From us, this is a clear recommendation to buy!
A deluxe set of 24 airbrush colors for cakes
Highly concentrated and edible food colors
Easy to mix to provide a huge color spectrum
View on Amazon
The opacity of the inks is strong enough to work very economically, and they deliver a high brilliance
The application is very easy; the colors just have to be shaken well and put into the airbrush
They are perfectly matched to the airbrush and do not need to be diluted
Of course, the colors are food safe
Very easy to dose
Why Choose Airbrushing for Baking
One of the great pros of an airbrushed cake is its versatility. Not only can you spray all kinds of patterns and gradients, but you can also mix the colors together to create your own special shade. You can also do this by mixing different colored fondant or by kneading food coloring into it, but this is often very laborious. Anyone who has ever kneaded several hundred grams of fondant until the desired mixture is achieved will understand this point.
The food coloring for airbrushes is very easy to mix with a pipette. In addition, airbrush cakes can be made very colorful and very subtle color transitions are possible, which is difficult when using fondant – usually, you have to limit yourself to one color or you have to decorate it laboriously with further fondant, flower paste, or similar. On the other hand, changing the colors of the airbrush for cakes is much easier.
If you like to make really impressive designer cakes, airbrushing is just the right thing for you. Using an airbrush will also allow you to create particularly great 3D cakes. The shades you can create with an airbrush gun will never be possible with fondant, flower paste, or marzipan.
Apart from that, working with an airbrush is quick and easy. You don't have to create elaborate figures or buy expensive cake toppers, but you can create unique works of art in a relatively simple way with the help of templates or freehand. A small cake covered with white fondant can be turned into a specially designed cake for any event, a cake decorated with flowers is always good for birthdays or a colorful cake for a children's party. And all this with just one tool and without the hours of effort that working with flower paste or fondant would mean!
Airbrush Cake Decorating – Step by Step Instructions
Setup of the Airbrush Equipment
Setting up the airbrush set for baking is child's play. First, you connect the airbrush gun to the supplied hose, and this in turn to the compressor. The latter is then connected to the power supply. The compressor in airbrush sets for cakes often has a three-stage regulation, which makes it very easy to work with. How high the pressure has to be for you depends on your particular project.
Now you can first prepare your work surface and then put the desired paint into the paint container of the airbrush gun. Keep in mind that you only need a small amount of paint at a time, as it is atomized very finely. Usually, two to three drops are sufficient. It is better to take less and fill up as needed instead of using too much and then having to pour away the excess paint.
Preparation of the Work Surface
If you don't have a revolving cake plate in your house yet, you should definitely buy one, because it makes working on cakes much easier. This applies not only to spraying with an airbrush but also to covering with fondant and smoothing. It will save you a lot of effort and the work is twice as much fun.
If you do not have an airbrush extraction system (which you should also consider) and if you plan to work with the airbrush more often; protect your work area very generously with crepe paper or newspaper. Airbrushing creates a lot of fine spray that will not only cover your cake but your entire work area.
As an alternative to an extraction system, you can spray under a switched-on extractor hood and place the cake to be sprayed in a large cardboard box. This should be open at the front and top so that you can work well. The sidewalls and the extractor hood protect your work area quite effectively. However, if you have ambitions and want to airbrush often, the purchase of an airbrush extraction system is definitely worthwhile.
Spray Large Areas and Fine Lines
Before you approach a cake that has already been covered, which you may have spent hours making, you should get a feel for the airbrush gun. To do this, you can use some cardboard or alternatively a cake board and spray the first fine lines, but also larger areas and color gradients. The handling of the airbrush is actually quite simple, but nevertheless a matter of practice.
When you have developed a good feeling for the gun, you can spray your design on the cake. You are welcome to use special stencils for this, but you can also use templates made from cardboard or kitchen paper.
Images: left: © herraez – stock.adobe.com, right: © Alexandr_DG – stock.adobe.com

Special Patterns
Spraying special patterns on cakes with the airbrush requires a steady hand and a lot of skill. Particularly fine and straight lines are not easy to spray. However, ornaments and larger flower patterns are not too much of a challenge, even for beginners, if you keep a few things in mind.
By the way, the airbrush never sprays sharp edges; these will always look a little washed-out. If you want sharpness, you have to use stencils. Even if you want to get to really difficult patterns, it is recommended that you use special airbrush cake stencils.
Use of Stencils
Of course, if you are a gifted artist, you can spray all kinds of patterns on the cake freehand. But it is much easier to use stencils. In principle, these are available in all variations you can imagine. If you can't find one, you can easily make your own airbrush template for cakes by cutting out your desired motif from cardboard. You can't work as cleanly as with a real airbrush cake template, but for the beginner, this little trick is enough. But keep in mind that most airbrush stencils do not cost the world.
More Creative Airbrush Ideas for Food
As for cakes, you can try a galaxy cake or a night sky. A special, but very simple idea is to use a wavy, torn off piece of kitchen paper, over the top of which you can spray blue paint in different thicknesses. This way you can create either clouds or sea waves.
A brush and wipe cake can also be made in this special way. Simply spray colorful gradients over the edge of a cake covered with white fondant, then dab a small sponge in a little alcohol and use it to blur the colors gradient upwards.
Since airbrush food colors are very versatile, you can use them not only for cakes and tarts but also for many other specialties.
A very special idea for Easter is homemade egg-shaped Easter cookies that have been given a pretty color gradient. Or why not try an Easter cake with marzipan bunnies, airbrushed in pretty shades of brown?
Airbrushing for biscuits is also great for small chocolates with food coloring squiggles.
A real eye-catcher is cupcakes whose cream glows in different airbrush colors. You can add glitter particles to these afterward.
Those who are really gifted can try their hand at extremely realistic 3D design cakes like crocodiles, snakes, or even dragons. The latter is almost certainly the hit at every child's birthday party.!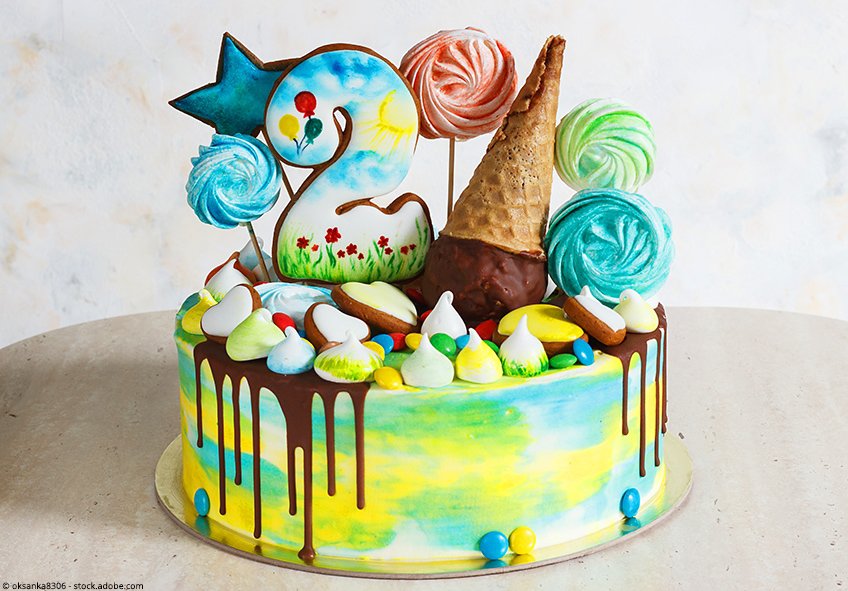 Cleaning the Airbrush After Use
After each use and after each change of colors you must clean the airbrush gun. Cleaning between different colors is necessary to prevent the food color for airbrushes from mixing – otherwise your desired yellow may turn greenish after spraying an intense blue.
A small tip at this point is the purchase of an airbrush cleaning pot, with the help of which you can make quick colors changes without having to carry out a complete cleaning.
However, cleaning an airbrush gun for food colors is very easy, because the colors are water-soluble. So you do not necessarily need a special cleaning medium.
Simply rinse the airbrush gun well under warm water. Then fill the paint container with warm water and operate the lever until only clear water is sprayed out. Now there are no more paint residues in the gun. Afterward, you continue spraying until no more water is expelled.
Do not wait too long before cleaning, but do it while the paint is still wet. Once it has dried up, in the worst case you will not be able to remove it, so that the nozzle of your spray gun will be permanently clogged.
You can use a special cleaning medium for, particularly thorough cleaning. This is often included in airbrush sets for cakes, but it is also available separately. Alternatively, you can use high-proof alcohol. For this cleaning, which you should do after every third or fourth use, you disassemble the gun completely and clean it with small brushes. Be especially careful with the needle, as it is very sensitive and can easily bend. Then you will have to replace it. In this case, it is advisable to always have several replacement needles in stock.
Airbrushing for cakes is not as much trouble as you might think. Learning this art form is not only fun, but will also earn you a lot of admiration. Just give it a try – and don't forget to enjoy the airbrushed cake too!