Best Paint Sprayer for Furniture – A Tutorial on Furniture Paint Spraying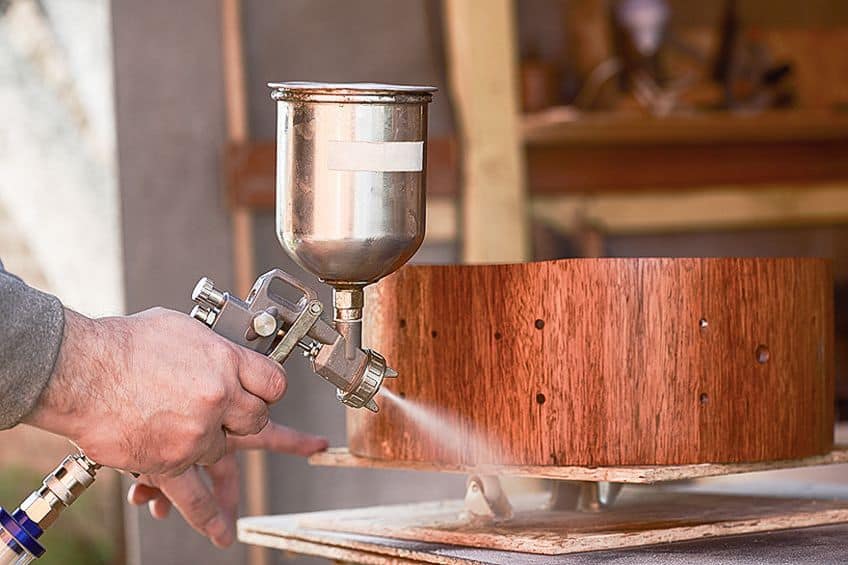 Outdated furniture can have your home looking dull and uninspired. Unfortunately, buying new furniture every time there is a new décor trend can be costly. Luckily, for anyone looking to do a quick revamp, there are many different ways to give your home a quick makeover and color refresh. All you need to do is invest in a furniture paint sprayer and let your creativity take over. Now, we know that buying a paint sprayer is not a simple exercise, which is why we have taken it upon ourselves to create a simple guide on how to select the best paint sprayer for furniture, and more importantly, how to use it.
Why Use a Paint Sprayer for Furniture?
Painting with the classic paintbrush can be therapeutic, however, when it comes to big paint jobs, the novelty can wear off very quickly. Brushes can leave streaky marks, deposit fibers into the paint, and make a big mess in the process. You can, of course, opt for a roller, but that also takes time and effort to set up, can also be messy and does not guarantee a professional finish.
A furniture paint sprayer is a worthwhile investment for any avid DIYer as it makes the painting process quick and easy, reduces spillage and wastage, and provides a smooth finish. This means that paint jobs will no longer be tedious, giving you time to take on more DIY projects than ever before.
Having said all of this, in order to reap the benefits that come with furniture paint spraying, you need to be able to choose the correct product to meet your needs.
When it comes to buying a paint sprayer for furniture, there are so many things that you need to think of before choosing the final product. One of the things you will need to think about and do proper research on is the type of paint sprayer you want to use. That is right, there is more than one type – and that is not even taking the different brands and sub-products that fall within each category.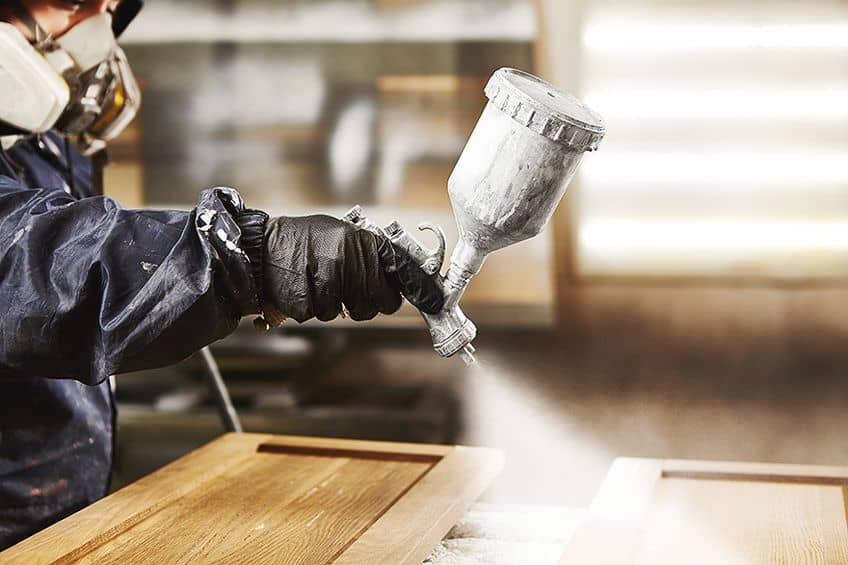 Selecting a Paint Sprayer for Furniture
With regards to choosing the best paint sprayer for furniture, the principal thing that you need to know and understand is how the setup really works and needs to be assembled. Paint sprayers are comprised of a paint holder for the fluid being used. The holder is then linked to a nozzle that is operated utilizing a trigger component. Paint sprayers produce even layers of paint and give a smooth look with ease, which is why countless individuals have begun utilizing paint sprayers for their DIY project painting needs.
Types of Paint Sprayers for Furniture
The four main categories of paint sprayers are compressed air, low-volume low-air pressure (LVLP), high-volume low-pressure (HVLP), and, the current DIY go-to for beginners, airless paint sprayers. We will investigate every one of these options and recommend a product for each.
Compressed Air Sprayers
When it comes to the most commonly used form of a spray gun, it is often powered by an air compressor. These spray guns, while effective, can be bulky and costly to set up as it involves multiple components. A high-pressure hose is connected to the tank of the air compressor. This then provides the force needed for the gun to spray a thin layer of paint. Some hardware stores do have air compressors available for hire, which works out cheaper than buying a complete setup, especially if it is only for one DIY project.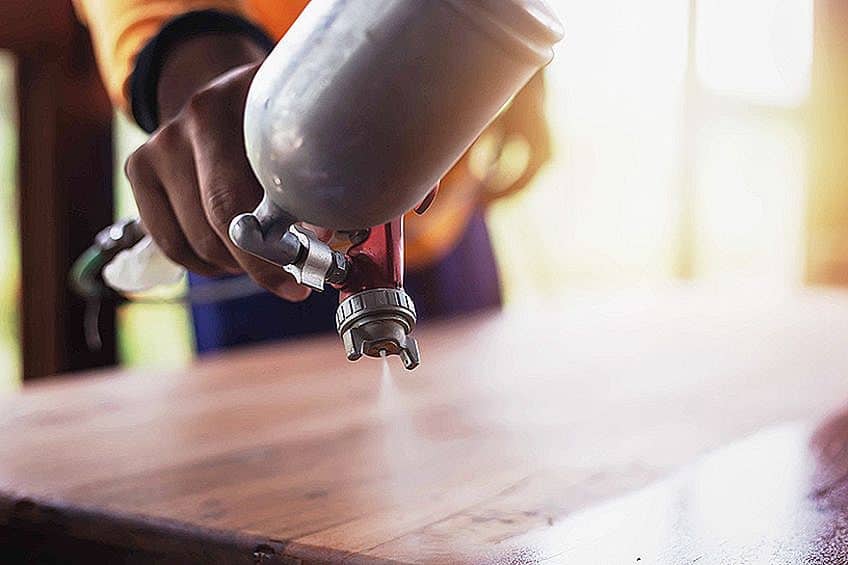 Recommended Handheld Sprayer Gun for Furniture: REXBETI High-Power Paint Sprayer
We recommend the Rexbeti high-powered paint sprayer as the best handheld spray gun for furniture. This device offers a professional-quality finish while being easy to use and beginner-friendly. The high-powered device comes with six nozzles and three different spray patterns. It is ideal for spraying outdoor furniture as well as completing other DIY paint jobs that you may have.
700-watt paint sprayer provides a smooth and superior finish
Offers three smooth spray patterns and six different nozzle sizes

Regulate your paint output by adjusting the flow control knob
View on Amazon
PROS
Professional finish
Easy-to-adjust settings
Lightweight and easy to use
1000ml paint capacity
CONS
Paint occasionally "spits"
Low-Volume Low-Pressure (LVLP)
This paint spray gun uses compressed air to spray paint. These require less power and can use smaller air compressors, which makes them more affordable. Like the HVLP spray guns, the LVLP spray guns take longer to paint a surface due to the smaller spray pattern. This means that there is also less overspray and paint is not wasted in the process. In some cases, depending on the spray gun you buy, the paint will need to be thinned out to be compatible with the sprayers.
Recommended Sprayer for Furniture: ASTRO PNEUMATIC TOOL Spray Gun
When it comes to a sprayer for furniture, Astro Pneumatic Tool's spray gun should be at the top of your list, especially if you already own an air compressor. If you do not, this can become quite expensive – although people have been able to use the gun with a 6-gallon compressor.  It is ideal for using both thin and thick paints and provides professional coverage on most surfaces. The product description reads that it "sprays nearly everything on almost anything", and in this case, we are happy to report that the description is spot on.
All-purpose paint spray gun that is easy to clean

Gun features an exclusive air valve design

Fully adjustable wide fan pattern control
View on Amazon
PROS
Lightweight
Easy to use and clean
Adjustable fan
1-quart paint capacity
Reduced paint wastage
1-year warranty
CONS
Expensive if you do not own an air compressor
High-Volume Low-Pressure (HVLP)
HVLP sprayers do not need an air compressor. Instead, they have an electric turbine that is used to spray and disperse the paint onto furniture. This makes them cheaper to buy and simpler to use as you only need the spray gun and not an additional air compressor. This makes them ideal for a quick furniture touch-up or makeover. The small size of the device reduces overspray, which in turn reduces wastage and spillage of paint. Read the manual before use to see if your paint needs to be thinned out before use.
HVLP Paint Sprayer for Furniture: DICFEOS Paint Sprayer
There are so many options available on the market that it makes selecting the best HVLP paint sprayer for furniture quite tricky. Dicfeos is by far one of the more impressive options when it comes to investing in a spray gun. It comes with several different nozzles to make all your DIY painting dreams a reality. In addition to a range of spray patterns, the product's 6-foot-long power cord will allow you to move about any large workspace freely and easily.
700-watt motor allows for minimal filling, leaving a robust, full look

Adjust the air cap to spray horizontal, vertical, and circular patterns

Long power cord allows you to move freely in large work areas
View on Amazon
PROS
Easy-to-use settings
Versatile
Easy to clean
Long power cord
CONS
Certain paints need to be thinned out
Airless Spray Gun
For any DIY enthusiast looking to take on the world of spraying furniture and other projects, we highly recommend using an airless sprayer. These devices have a built-in motor, which means that you do not need an air compressor to use them. These spray guns use an electric motor to spray and disperse the paint – at pressures of up to 3000 dpi. This means that more paint can be applied a lot faster, getting the job done in less time. In the same breath, however, this power also increases the potential for overspray. Airless sprayers are best suited for bigger paint jobs.
Recommended Airless Paint Sprayer for Furniture: GRACO TrueCoat 360 VSP Handheld Paint Sprayer
The Graco TrueCoat spray gun is one of our favorites when it comes to airless spray guns. It is really simple and easy to clean, use, and unclog. This not only saves you time while painting but also ensures a smooth finish that looks professional. With a stainless steel pump, you will be able to spray unthinned paint at high pressures, and the reversible spray tip allows you to continue spraying when one side gets clogged. In addition, this product utilizes VacuValve technology, which results in a system that will allow you to spray from any direction or angle.
Variable speed allows you to determine

the pace for ultimate control

Piston pump allows you to spray paint unthinned at high pressure

VacuValve technology allows you to spray in any and all directions
View on Amazon
PROS
Easy to clean
Reversible nozzle
Easy to unclog
Has a storage case
Can spray in any direction
Things to Consider When Spraying Furniture with a Spray Gun
While understanding what paint sprayers on the market are important, you also need to understand what these gadgets need to have in order to complete your paint job. This will likewise help you settle on what your requirements are and select the best-fit choice that will make your task achievable. These points will identify the main task, so your plan should be able to help you not only in choosing a spray gun but also in detailing your project's needs and how to meet them.
Project
The primary thing that you need to think about when deciding how to a paint sprayer for furniture is the size of the project and the necessary paintwork. This is because spray guns have paint capacities as well as different power outputs. The last thing you want to do is have to stop mid-spray and top off your canister like clockwork, or have to tidy up because of overspray. If your furniture paint sprayer does not meet your prerequisites, you will end up wasting paint and time.
For simpler paint jobs, we suggest low-volume sprayers that are handheld and simple to utilize.
Spray
You will also need to decide on how you want to control the spray and dispersal of paint. HVLP sprayers utilize customizable air filters while airless spray guns use a tip to spray the paint. The right tip will lessen the risk of clogging and guarantee a more expert-looking completion. You may require some practice with your spray-painting gun before starting your project.
Airless vs. Compressed Air
The next choice that you should make is whether you would like to have compressed air (a traditional sprayer) or an electric one? These two approaches utilize packed air and electric turbines, respectively. While compacted air spray guns offer greater adaptability as far as changing the spray force, compressed air sprayers are simpler to clean and have a higher transfer rate. Both sprayers offer a wonderful finish to any furniture project.
Power Relates to Paint Output
The more force the sprayer has, the higher the yield will be. Sprayers with more force are regularly used for bigger tasks that require a speedy layer of paint because of their capacity to deliver a bigger spray pattern. However, this does not always work on projects of a more limited size, for example, side tables and other small furniture items, as it delivers an excessive amount of paint, coming about in overspray.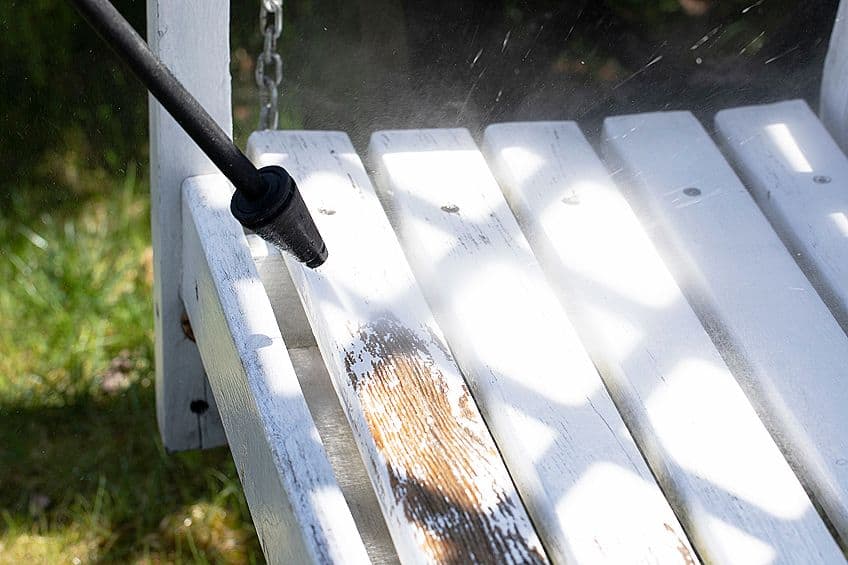 Pressure Needed
Most paint sprayers can control the paint released by the sprayer as well as the pressure. If the pressure factor provided is too low, the paint will be lopsided and messy while an excessive amount of power makes overspray. The general guideline is to give pressure that best fits the furniture being painted. This will be reliant upon the thickness of the fluid. A sprayer with adjustable pressures will make your experience much simpler.
Paint Capacity
For clear reasons, you will need to have sufficient capacity with regards to holding paint, so you do not need to constantly pause and top off the paint sprayer. HVLP sprayers use a cup to store the paint which connects to the sprayer, whereas airless spray guns can suck the paint from the paint can. This implies that as far as the limit, airless sprayers have the most paint capacity.
Easy to Use
With regards to figuring out which sprayer is the most effortless to utilize, HLVP sprayers are generally the most ideal as they are not difficult to use and control. They are ideal for little jobs and do not deliver a great deal of overspray. It is likewise a total setup, which means that you do not need to purchase an air compressor or extra gear to finish the job.
Airless sprayers are incredible; however, they tend to produce overspray, making them more appropriate for larger scope projects. LVLP spray guns, while needing an air compressor, are great for smaller projects.
Furniture Paint Spraying: A Step-by-Step Tutorial
We have covered all that you need to know about choosing the ideal spray gun to paint your furniture, so the next logical step is to talk about how to paint the furniture with your spray gun. We have made a speedy how-to manual to help you on your way.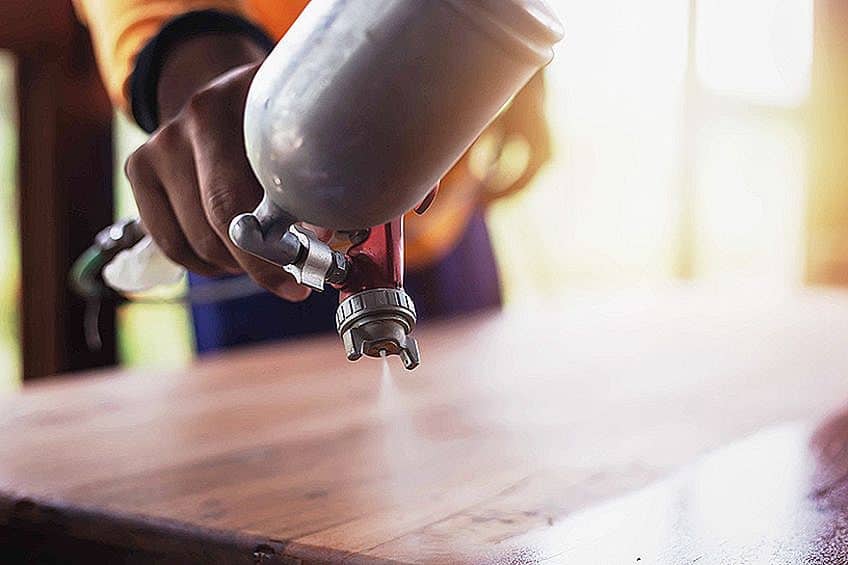 Step 1: Clean
The principal thing you need to do is clean the furniture and verify that the furniture is worth saving. If the cleaning interaction results in more damage than anything else, you are better off buying or building new furniture. Wipe down the piece in an open space using warm water and soap, ensuring that you eliminate any dirt or oil smudges to guarantee that the paint sticks to the furniture's surface. Wash the soapy residue off of the surface with clean water and dry the pieces of furniture.
Step 2: Disassemble
While you are cleaning the furniture, you will need to separate the pieces (to the best of your ability), mark them, and then put them away in a safe space. This will make it simpler and more straightforward to assemble them when you are done with painting them. We suggest labeling the pieces on parts that will not be painted, for example, the hinge. Additionally, you need to ensure that the names do not come off to complicate reassembly at the end of the project.
Step 3: Cover the Area
After you have cleaned the furniture, you should clean the surfaces that the furniture will be connected to. Once cleaned, you will need to cover the ground surface, wall and roof, and light fittings with newspaper, masking tape, or plastic sheeting. Try to be thorough when it comes to covering the floors, ledges, entryways, and windows, as the danger of overspray exists when working with a spray gun – it is best to be as cautious as possible.
Additionally, you will need to guarantee that the area you are working in has appropriate ventilation to prevent the inhalation of paint vapors from developing. It is also a good idea to wear protective gear over your eyes, mouth, and garments to protect them from paint splatter.
Step 4: Repairs
On the off-chance that the furniture has any damaged areas, sand them down to reduce their appearance. Spackling compounds can also be utilized to fix dings, scratches, and openings. Be certain to clean away any residue leftover from the maintenance work, after which you can then apply a primer. You need to prime both sides of the boards, so ensure that you let the initial side dry before flipping it and painting the following side.
Step 5: Sanding
Sand down the wood using fine-grit sandpaper. Wipe away the residue to keep any from settling into the paint on your furniture while painting. You will also have to clean your workspace to keep these particles from being moved to wet paint or getting airborne.
Step 6: Paint Your Furniture
Empty your paint into a container and thin it out if necessary. You can utilize a paintbrush to paint the edges of the furniture and then change to the spray gun once you have done that. The spray gun can streamline any lopsided marks and brush strokes while painting over the unpainted spaces of the furniture.
Step 7: Practice
Before starting to paint your furniture, we suggest testing your method on different surfaces to get the hang of things. It is also worth your time and energy to set up a space to spray the furniture where it will make less mess, and any mess that does occur will not be a problem. Keep in mind that you are not an expert, so it is okay to make mistakes and somewhat of a mess.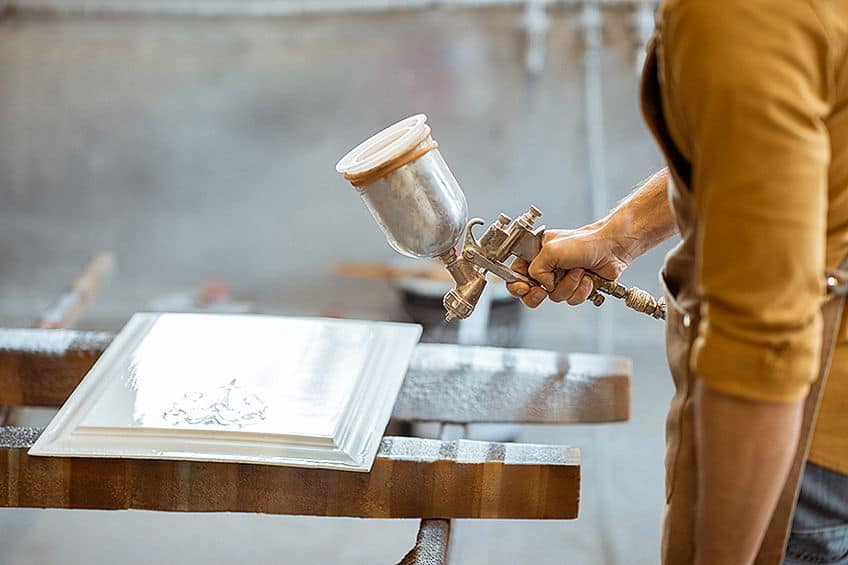 Step 8: Fix-Ups
In the event that you pick up any runs or irregular layers of paint, clean them up and smooth them out before the paint dries. On the off-chance that the paint has begun drying and is tacky, rather leave it to completely dry, sand it, and then repaint the affected area on the furniture. It very well might be worth purchasing a paint pen to store a portion of the paint, as this will make speedy fixes simpler should the need emerge.
Step 9: Reassemble
Once you have completed expertly painting your furnishings, you should reassemble everything to see the completed item in the entirety of its wonderfully painted magnificence. Be cautious with regards to reattaching as you would prefer not to scratch the recently painted surface. Try not to worry if there is a scratch or two – it is not difficult to fix.
In all honesty, using a paint sprayer to give your furniture a quick makeover is one of the simplest yet most effective ways to add color and life to your furniture. A paint sprayer is a worthwhile investment, especially if you enjoy taking on DIY projects around the home. We hope that our easy-to-follow guide has got you excited about your next DIY project. Perhaps you will even be taking on a furniture project. Regardless, we wish you the best of luck as you take on the world of spray painting and enjoy it just as much as we do!
Frequently Asked Questions
How Can I Prepare the Furniture for Painting?
The first thing on your to-do list should be disassembling the pieces of furniture and cleaning them off. Clean off dirt marks and grease smudges properly, as failure to do so will prevent the paint from sticking to the surface. Sand down the area needing painting, fill any imperfections, and then apply a coat of primer. Once done, you can use your paint sprayer to paint your furniture. Leave it to try properly before reassembling and using.
What Size Tip is Best Suited for Furniture Paint Spraying?
Use a small tip to reduce overspray, preventing it from ruining the paint job and surrounding areas. Sprayers with caps will need to be adjusted a few times until the result is what you were looking for. Some kits come with multiple fittings – try them all before you start your project to see what will work best.
Why Must I Use a Spray Gun to Paint Furniture?
Paintbrushes and rollers are effective for small-scale jobs, but when used on bigger paint jobs, they can create blotchy, uneven surfaces that can be unsightly. Additionally, they can be tricky to use in tight spaces, providing uneven coverage. Spray guns provide even coverage, can get into tight spaces, and create a professional finish. All you need to do is choose the correct settings and let your creativity take over. When in doubt, practice your technique on an offcut or hidden part of the furniture.
What Is the Best Tip for Amateur Painters?
Without going off on a tangent and writing a completely new article, our best tip is to get to know your spray gun before tackling DIY projects. This article has given you everything you need to know about selecting and using a spray gun to paint your furniture, so give it a read and come back if you are unsure. Another pro tip is to mix your paint before use – it can settle while standing and affect the overall color and finish of your project. Before reaching for the paint, make sure that the surface has been properly cleaned and prepared to ensure maximum coverage.
How Often Must I Wash My Spray Gun?
You need to wash your gear after each use, the only exception being if you plan on painting for two or three days in a row, in which case you can pack your gear into a plastic bag and store it in your fridge overnight. This will slow down the drying process between uses. You will need to warm up the gear again before continuing with the painting job.
What Paint Is on My Furniture at the Moment?
If you cannot tell what is currently on your furniture, some cotton wool and rubbing alcohol can tell you. Simply dip the cotton ball in some rubbing alcohol and then wipe the wet cotton ball across the surface. If there is residue, this will indicate latex paint, while no residue indicates an oil-based paint or finish.
Can I Paint Over Existing Paint?
Well, this depends on what is currently on your furniture. Remember, the new paint needs to be able to stick to the surface, so any existing paint or finishes need to be able to facilitate this, or you will simply be wasting your time. Painting over existing paint can also result in an uneven coat of paint and highlight imperfections. We recommend doing it properly and removing any existing paint to ensure a beautiful finish.