Best Gold Spray Paint – A Guide to Selecting a Metallic Gold Spray Paint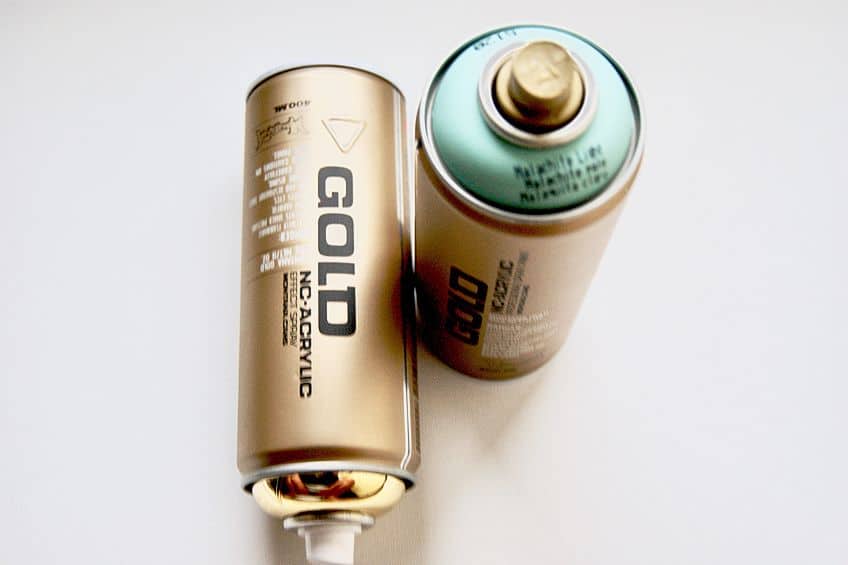 Gold has driven our species forward since the first nugget was pulled from the earth. Ever since then, we have been fascinated not only with the wealth it can bring but with the magnificence of its color and the status associated with it. In modern times, we have made this color accessible. Gold objects are a dime a dozen, but contrary to popular belief, not all gold colors are created equal. Let's have a look at some variations of gold available, some of the best ones you can buy, and ultimately what you should look for when buying gold spray paint.
What Are the Different Types of Gold Paint Available?
Like most colors, the variations of gold are essentially only limited to the imagination of the paint designer. There are roughly 33 common variations of gold that are often produced, sold, and used. Below is a table detailing the most common of these variations along with their color code. Gold colors are often used to achieve a certain feel or aesthetic, therefore choosing the perfect color for your intended application can be tricky.
| | | |
| --- | --- | --- |
| Gold Variation | Color Code | Shade of Gold |
| Metallic Gold | #d4af37 | |
| Old Gold | #cfb53b | |
| Gold | #ffd700 | |
| Golden Yellow | #ffdf00 | |
| Golden Poppy | #fcc200 | |
| American Gold | #d3af37 | |
| Aspen Gold | #ffd662 | |
| Bungalow Gold | #ad8047 | |
| Caduceus Gold | #ffee66 | |
| Christmas Gold | #caa906 | |
| Cream Gold | #dec05f | |
| Dull Gold | #8a6f48 | |
| Faint Gold | #b59410 | |
| Harvest Gold | #da9100 | |
| Vegas Gold | #c5b358 | |
| Gold Deposit | #e0ce57 | |
What Are the Best Gold Spray Paints?
Gold has always been associated with status in one form or another. It should therefore come as no surprise that it has often been paired with the color purple. Purple, blue, and gold have historically always been associated exclusively with royalty due to the difficulty in creating these colors, and this form of posturing still rings true today. In many facets of society, gold is still associated with wealth, greed, achievement, good luck, and salvation. Here are some of the best gold spray paints available on the market today.
Best Overall: RUST-OLEUM Pure Gold Universal All Surface Spray Paint
Rust-Oleum is one of the most popular brands of spray paint on the market today and for very good reason. This spray paint has incredible customer reviews and is one of the leading legacy spray paint brands in the world. Rust-Oleum gold spray paint is no different – it still retains the brand quality much like the rest of the products under the Rust-Oleum brand, and as usual, both the quality of the paint and the spray can make it an absolute pleasure to use.
Not only is do the ergonomics of the can and trigger make this product easy to use, but the paint is ever so slightly thicker than other spray paints in this class (and price range). Rust-Oleum gold spray paint is one of the more versatile products we have come across and will stick to virtually any surface. This is no exaggeration; in fact, according to the Rust-Oleum team, their gold spray paint will stick to metal, ceramic, wood, glass, cement, fiberglass, and even rubber if you go about it the right way.
Oil-based formula with excellent adhesion prevents rust

Prevents rust and corrosion for enhanced durability

Provides an attractive, rich, shimmering metallic look on surfaces
View on Amazon
Since Rust-Oleum gold spray paint is oil-based, it seeps into wood fibers pretty easily and makes it resilient to water and rather difficult to scratch. If you think that is impressive, this paint also prevents oxidization and corrosion in metals and rot in wood. Therefore, simply by applying this product to a surface, you increase the lifespan of your workpiece by more than five years!
What we feel most people will love most about Rust-Oleum gold spray paint is the finish it provides. If you have ever longed for the appearance of hyper polished gold that exudes a premium sheen finish, then this product is exactly what you're looking for. Sure, you could mix your own color and you might even do a really good job, but not everyone has the time or the skills to pull this off, and this is why the convenience of a high-quality store-bought aerosol can spray paint simply can't be beaten.
Still not convinced? Rust-Oleum dries and sets completely in 30 minutes, making it the weapon of choice for all of those time-sensitive projects that you simply don't have the luxury of waiting for them to dry.
PROS
Versatile
Premium finish
Prevents oxidization
Ergonomic can
Reputable brand
Oil-based
Best Finish: DUPLI-COLOR Ceramic Universal Gold Engine Paint
Sometimes the best products are not intended for what we use them for, and a perfect example of this is Dupli-Color's Ceramic universal gold engine paint. Much like Rust-Oleum, this brand is one of the most renowned in the world, but unlike Rust-Oleum instead of it being pretty good at painting a variety of surfaces, Dupli-Color is exceptional at painting just one surface. As you have probably guessed by the name, this spray paint is typically used to refurbish engine blocks and cylinder heads made out of aluminum.
Aluminum is better at distributing heat, but it does scratch and warp easier than iron, which is why many people tend to use high-heat spray paints in order to protect these surfaces from scratches, make them look a lot better, and increase the efficiency of heat distribution. These properties make this spray paint perfect for a number of uses outside of the engine bay, and thanks to the high adhesive quality, it can stick to most other surfaces, providing a flush, metallic gold finish when properly set and dried.
Resists temperatures up to 500 degrees Fahrenheit

Contains ceramic resins for maximum heat dissipation

Superior high gloss finish 

will not chip, flake, crack or peel
View on Amazon
The can and nozzle are not anywhere near as ergonomically friendly as the Rust-Oleum brand of products; however, it does provide you with the patented EZ spray button, which means you never have to look for the right pressure for the aerosol to be released. In fact, just touching the EZ spray button will release more than enough spray for about one and a half passes of the can.
We mentioned previously that this spray is heat-resistant – as most ceramic paints are – however, this particular brand will take temperatures anywhere up to 500 degrees Fahrenheit with absolutely no warpage, bubbling, or flaking. This spray is perfect for outdoor items such as your grill, metal fencing, garden ornaments, light fixtures, and similar items, making Dupli-Color the best gold spray paint for robust applications.
Remember that although most spray paints are multi-purpose, sometimes a metallic gold spray paint is exactly what you want, and nowhere will you find a higher quality over-the-counter aerosol spray than with Dupli-Color. This is arguably the best gold spray paint for metal.
PROS
Reputable brand
Heat resistant to 500 degrees Fahrenheit
Specialized for use with metal
Superior finish
EZ spray button
Good for outside uses
CONS
Limited effect on non-metallic surfaces
Only one variation of gold color
Limited delivery radius
Finish not conducive to some woods
Best Value: KRYLON Diversified Brands Gold Spray Paint
Another brand renowned for its brand presence is the Krylon range of paints, primers, and sealers. While many may not consider Krylon's to be the best gold spray paint, it is extremely versatile and appears well-reviewed by a number of satisfied customers.
Krylon has a wide range of specialized products and if you have ever had a look at what they have to offer, you might have come to the realization that, if you were so inclined, you could walk into a Krylon retailer and walk out with everything you need to paint an entire house. This is a big part of what makes this particular metallic gold spray paint so popular – it can be used on just about any surface with bare minimum preparation.
One peeve that some reviews seem to have with this particular Krylon variation is that when the color is actually applied it does not completely resemble the one shown on the cap of the can, which is typically a decent guide to what your spray paint should look like once applied. The spray cap indicates that the can should provide you with a tin-like reflective finish when applied to metal or wood, but for some reason, the finish is not quite as refined as most would like it to be.
High performance with a b

rilliant metallic finish

Very easy to use and d

ries in 15 minutes or less

Smooth, durable finish is great for use on various surfaces
View on Amazon
This is not to say that the finish is not satisfying; in fact, it is one of the more refined finishes out of products we have reviewed so far, and looks arguably as good as the Dupli-Color. One might even go as far as to say it resembles a rose-tinted gold in certain lighting, and it is for this reason and the fact that it is quite affordable that lands the Krylon on our list for the best gold spray paint.
At this point, you are probably wondering what sets Krylon apart. After all, we have already covered everything from metallic gold spray paint to gold paint for wood and even gold paint for car engines! Well, Kyron's golden 12oz aerosol can provides a tin-like metallic finish, as we mentioned previously, but it is made from a xylene base. This means that even though the finish is nice and shiny, it is also quite thick, giving you confidence that it will stick to most surfaces without the hassle of using multiple coats.
Using this gold paint for wood, metal, plastic and even ceramic will not leave you disappointed, especially if you are on a budget and don't want to splurge on the Rust-Oleum.
PROS
Versatile
Easy to use
Affordable
Good value for volume
Tin-like finish
Reputable brand
Thicker than most paints
CONS
Poor ergonomics on can
Finish does not completely resemble the cap
Can be purchased with primer of the same brand
Wide variety of gold variations available
What Should You Look for in a Gold Spray Paint?
There are a few things that you should look at when deciding on which gold spray paint to buy. One of the more important things is adhesion probability, but there are some other characteristics you should look at when searching for the best gold spray paint for your next project.
Value
Whether you are choosing a good gold paint for wood or any other material, you should ensure that you are always getting your money's worth. There are many brands out there and a lot of the time they will either focus on the versatility of their product or on specializing their product for a particular application.
Specialized products will often focus on adhering to a certain surface extremely well and therefore, due to the cost of research development, they tend to cost a bit more than versatile "all-purpose" gold spray paints. Ensuring that you are not overpaying or underpaying for either type of gold spray paint is important, as manufacturers could overinflate the effectiveness of a product, especially if it claims to be versatile.
Surface Texture
Whether you are looking for metallic spray paint colors, muted spray paint colors, or just something that is capable of getting the job done, it is important to ensure that the texture matches the surface it will be applied to. We've all seen teenagers try to spray paint their cars, often with a texture that is incompatible, leaving you to wonder how bad it might have looked before the botched spray job.
This is what you are trying to avoid in the general sense, as selecting metallic spray paint colors where you should have selected a matte, sheen, or muted color could result in you spending hours undoing your hard work, and quite literally watching your money flow down the drain.
Always check the nature of the spray paint you will be purchasing and double-check before you hit the check out button. Alternatively, have a look at customer reviews or simply type the name of the brand and the color you are using into YouTube to get a more practical demonstration of its texture.
Dry Time
As we mentioned previously, dry time is critically important when selecting your spray paint. It is easy to get caught up in-store or online when you see that all too alluring bottle of gold chrome spray paint, and before you know it, you're waiting for your brand-spanking-new bottle of premium gold chrome spray paint to dry for 45 minutes. Crafting, woodwork, and engineering are all time-sensitive crafts, and in the commercial industry, in particular, time can quite literally mean money. Thus, ensuring that your spray paint dries in a timely manner always benefits you in the long run.
As always, check the manufacturer's instructions and recommendations on dry time as well as the optimum conditions for your paint to dry in. Dry time is also affected by the material that you are coating, as even the best gold spray paint will dry on wood far faster than it will on a sheer piece of metal due to the paint being absorbed into the wood fibers. In this instance, choosing a paint that has been designed for your surface application – such as gold spray paint for woodwork – will not only increase the quality of your finish but will also likely decrease your dry time.
Finish
This is the metaphorical icing on the cake for most people. Spray painting is a superficial art – nobody is going to be asking themselves about the deeper meaning behind your orange peel, splatter, or even worse, your poor finish. There are many brands out there claiming they have the best gold spray paint for woodwork or even the best gold spray paint for metal, but the proof is ultimately in the pudding when it comes to finishing quality.
Finish quality can only be determined by sampling, and the next best thing would be a video tutorial/review of the paint. Therefore, you should practice taking manufacturer advertising with a grain of salt.
Once you are sure that you have good paint in your cart, ensure that the finish will suit the overall tone of your workpiece. If you are working with hardwood or engineered wood, there are certain finishes that look better on each. Thus, you should envision what you would like the overall tone of your workpiece to be well in advance. This being said, it is important that you have a good idea of what you would like the finished product to look like and be able to visualize this in your mind's eye before you pick a paint. There are loads of resources online if you would like to reference woodwork or artwork in specific colors.
How to Use Gold Spray Paint on Common Surfaces
Spray painting might seem like a fairly straightforward practice. Although there are varying techniques and skills you can learn through experience, knowing how to prepare a surface before you start painting can drastically increase the adhesion and the quality of the finish. Let's have a look at some of the most common surfaces you might find yourself using gold spray paint on in the future.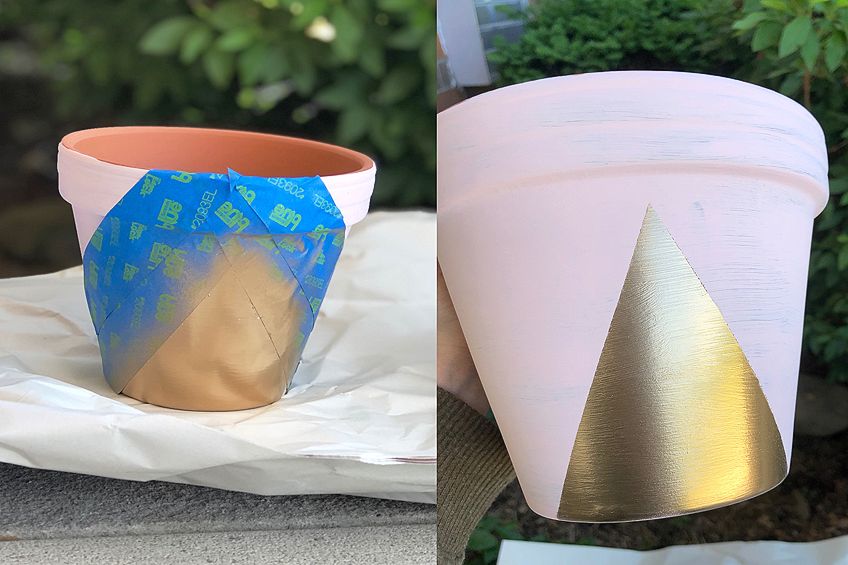 Wood
Preparing wood for spray paint is one of the more commonly asked questions. Wood is one of the easier surfaces to prepare due to it naturally taking to spray paint pretty well. Regardless of the type of wood you are spraying, you should always sand your wood down to expose the fresh wood fibers on the surface. Once you have done this, you should apply a wood primer and allow it to set in for the recommended amount of time.
Once your primer has set into the wood, you can begin to apply your first coat of gold paint and allow it to dry. Then repeat this process until you are satisfied with the intensity of the color and the finish.
Plastic
Spray painting plastic is not very common as plastics are often manufactured with dye, since it is a mass production material. If you do find yourself spray-painting plastics such as PVC, you should not be too worried. Spray painting plastic is a simple exercise, and the best part is that most aerosol paints on the market today are plastic friendly, meaning that you won't have to go hunting for them. Much like you would with glass or metal, clean your surface with a soapy cloth or diluted detergent and allow it to dry in the sun.
Once dried, load up your fine-grit sandpaper and give it a once-over to ensure  that there is enough surface friction for the paint to adhere to.
At this stage, you can apply a primer, but this is entirely up to you, as you will see that most commercially available aerosol paints take pretty well to plastic. You may now begin to apply your paint, allowing it to dry between coats. You might want to consider using acrylic spray paint for this project as oil-based paints are thinner and might run off, even if a primer has been applied.
Glass
Glass is arguably one of the more aesthetically appealing surfaces you could spray paint gold. Unlike even some of the best gold spray paint for metal, glass spray paint (particularly gold) has a mesmerizing effect once the finish has set in. This is largely due to glass not being commonly produced in this color. To prepare your glass workpiece to receive spray paint, you will need to clean the surface (a good habit to get into) and allow it to dry, preferably in sunlight. Once the surface has dried, you should apply a glass primer.
This is an important step – keep in mind that glass is a sheer surface and therefore has virtually no surface friction, which means that there is nothing for the paint to adhere to. Glass primers are alcohol-based, so when applying primer to glass you should always work in a well-ventilated area. Glass primer dissipates pretty much immediately, which means you will waste no time getting into painting.
Apply as many coats as you see fit, but keep in mind that you might have to balance your gold finish with the amount of light transparency you want your glass to have. Put simply, more coats of paint mean less light will be able to travel through your glass workpiece.
Metal
Spray painting metal is also a fairly common practice and is often done to restore or re-color a given surface. Preparing metal for spray paint is much the same as preparing wood, although there are other factors to account for before you get spraying. Ensure that your metal is clean simply by wiping down the surface with a common detergent or a soapy cloth. Once you are sure the surface is clear of particulates, ensure that it is completely dry, and then apply a metal primer.
There are various primers for different types of metal, so ensure that you get the right one for the metal you will be painting. Once your primer has been set, you can roughen the surface a bit with fine-grit sandpaper and clean the residue. Once your workpiece has been cleaned, apply your spray paint to your satisfaction, although when working with metal you should keep in mind that multiple coats are often required. You should therefore allow each coat to dry completely before applying your next coat.
Safety When Using Aerosol Paints
When working with aerosol paints there are a few safety precautions you should follow, regardless of your skill level or experience. Inhaling aerosolized paint particles can result in serious discomfort and could potentially lead to respiratory illnesses or sudden asphyxiation. Here are some precautions you can take to ensure that you are safe while creating your next masterpiece.
Wear a Mask
If you feel like you are above this, keep in mind that professional paint sprayers who coat aircrafts in micro-thin layers of paint refuse to work without a mask. Understanding how potentially damaging paint particles can be to your health could very well save your life. This being said, invest in a good quality mask with interchangeable or wash-safe filters.
Work in a Well-Ventilated Environment
This goes hand in hand with the first safety practice we covered above. Working in a well-ventilated environment will not only reduce the chances of you inhaling or coming into contact with aerosolized particles, but it will also ensure that none of these particles find their final resting place on your belongings.
When working indoors, always cover up belongings that you do not want to be ruined by stray spatter or particles.
This can be a chore as space comes at quite the premium these days and you might have no choice but to work outdoors or in a cramped space. Regardless, it is a good habit to develop for your safety and the wellbeing of your belongings.
Wear Gloves
There are those that feel gloves hinder your ability to measure pressure with your fingertips, and this may very well be true, but it does protect your digits from those icy cold paint particles. Prolonged exposure to aerosolized particles can damage your skin and clog your pores, not to mention the practice of using chemicals to remove paint from your skin can cause even more damage, and may even incite the growth of calluses on your skin.
Now that you know how to use gold spray paint, which are objectively the best spray paints, and how to prepare your surfaces for use with gold spray paint, it is time to test your new-found knowledge. Remember to plan your projects well in advance and as always, safety first!
Frequently Asked Questions
Can You Spray Paint a Lamp Gold?
You can spray-paint your lamp gold, but painting the globe might not be such a good idea. There are a variety of gold spray paints available for several applications and the possibilities are endless when you put your mind to it. Simply check the material your lamp is made, choose your shade of gold, and apply the appropriate spray paint.
Does Spray Paint Stick to Metal?
Spray paint does stick to metal. If you would like to ensure adhesion, there are a variety of primers available to ensure that your spray paint sticks to the metal surface of your choosing. Ensure that you prepare the metal surface adequately before you prime it, though.
Is Gold Spray Paint Waterproof?
There is pretty much an infinite amount of spray paints out there and if you looked hard enough, you probably could find waterproof spray paint. However, most gold spray paints are water-resistant rather than waterproof, as these are commonly oil-based paints. An easy workaround for this issue is to simply apply a waterproof sealer to your sprayed workpiece for weatherproofing.