Airbrush Spray Booth – Guide to Portable Airbrush Spray Booths
Airbrushing offers the user a variety of possibilities to be creative and is suitable for many different art forms. However, it has a rather serious disadvantage: working with atomized airbrush paint can have health consequences. For this reason, it is not only recommended to wear a breathing mask but also to use an airbrush spray booth. What should you pay attention to when buying an airbrush spray booth? Do you geta portable spray booth? And how can you build an airbrush spray booth yourself? We will reveal all this and more in our airbrush spray booth test below.
What is an Airbrush Spray Booth?
An airbrush gun atomizes the paint contained in it with compressed air. The user, therefore, applies the atomized paint to a painting surface at the push of a button. Of course, not 100% of the paint ends up on the surface – there are always particles of it in the room air. Therefore, the use of a breathing mask and protective goggles is generally recommended.
However, during this work, paint always settles on objects – or, even worse, on your artwork – or it continues to whirl around in the air for a relatively long time. To prevent this, or at least to reduce the number of paint particles in the air, a spray booth system should be used when airbrushing.
A portable spray booth consists of a small cabin that is easy to set up. The object which you are spraying gets placed in the middle of this booth. Usually, there is a turntable in the middle, which makes working with small objects more comfortable. During the spraying process, the air containing the spray mist is extracted and filtered.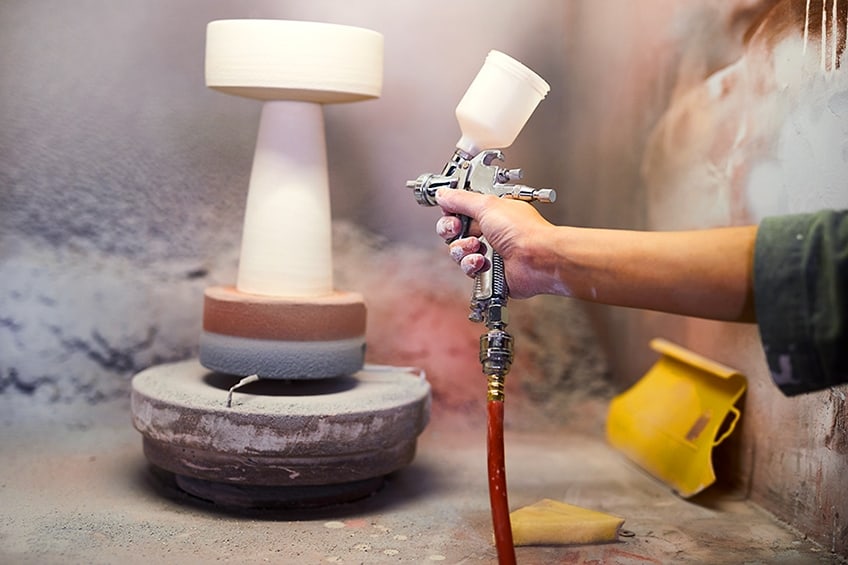 Pros and Cons of an Airbrush Spray Booth
Pros
Spray mists generated during work are effectively sucked out of the air, minimizing potential health hazards
No unwanted paint landing on the art object and surroundings
The work is considerably facilitated since no household items in the vicinity have to be cleaned
The – usually integrated – rotary table also makes work much easier, as it ensures optimum spraying of the models from all sides; there is no need to use a separate stand
Cons
The price of such a system is relatively high, but this is related to the size and performance of the spray booth
Electricity costs incurred during use should also be taken into account; these can have a significant financial impact, depending on the output and service life of the spray booth
Of course, a small extraction unit also takes up space – even if it can be folded up. Especially if you have only a little space available, this should be considered
A standard airbrush extraction booth only offers space for relatively small objects. Large surfaces cannot be placed in them
Nevertheless, the advantages of a spray booth usually outweigh the disadvantages, especially if you plan to work with your airbrush gun often. Fans of model making particularly benefit from the use of such a system.
Considerations When Buying a Spray Booth
When buying an airbrush spray booth, you should pay attention to different characteristics. This is because not every spray booth is suitable for every purpose.
Size: The first consideration is the type of application on which, among other things, the size of the airbrush spray booth depends. These booths are available in different sizes. You will need to choose one according to your specific painting requirements. It makes a difference whether you want to paint body parts or airbrush objects in model making. Still, remember that the size of an extraction booth is limited – of course, it should not take up a gigantic space.
Extraction strength: Another question to be considered is the performance of the spray booth when airbrushing. This should be strong enough to reliably suck up any paint mist produced. However, it is not possible to specify this value exactly, as it depends on the paint used and your other equipment. The type of paint application also plays a role here. In general, it can be said that about three cubic meters per minute are sufficient. If you need a higher capacity, choose a spray booth that produces five to seven cubic meters per minute.
Quality: The materials of the airbrush paint booth should be of high quality and resistant to various paints, including solvent-based paints, thinners, and cleaners. The spray booth should be easy and quick to assemble and disassemble and, if you have limited space, it should be collapsible.
Turntable: A good idea is an integrated turntable that allows you to spray an object from all sides. It saves you a lot of work and ensures an even surface because you don't have to constantly touch the object and turn it yourself.
Lighting: Does the spray booth have sufficient lighting? The best airbrush spray booths will have LED lighting systems to allow you to see what you are doing better.
Power source: Take a look at the type of power source that the spray booth requires. More powerful fans and extraction systems will need more power. This is an important consideration based on what is available to you and whether you want a portable airbrush spray booth.
Budget: Of course, budget is always an important consideration. Spray booths can range quite a bit here, from simple designs to complex ones. Just remember that you do get what you pay for. Be sure to know what your needs are, and how much you are willing to spend when finding the right product.
Airbrush Spray Booth Recommendation: MASTER AIRBRUSH Portable Spray Booth
The Master Airbrush portable spray booth is a premium option for keen hobbyists. This well-designed unit comes with many functions that will make your life easier. The convenient spray booth folds up into a briefcase for easy portability. It is quick to pack up and set up. There is also an effective turntable included. With a four cubic meters per minute fan extraction system, this booth performs really well even though it is so compact.
25 watts and 4 cubic meters/minute fan extraction
Includes a revolving turntable
Fully portable - folds into a suitcase
View on Amazon
Pros
Low noise operation
Has good extraction power 
Fully portable and easy to carry around
Great value for money
Simple assembly
Good quality LED lighting
Easy to clean and maintain
Cons
Not a very big spray booth
Does not have a quick connect
Best Price-Performance Booth: PAASCHE Hobby Spray Booth
The Paasche airbrush booth is our best value for money option. It is easy to set up and operate. This unit, despite its attractive price, offers everything a sprayer needs for the best results and safety in a model paint booth. The Paasche spray booth is perfect for beginners. The workmanship is solid and the suction power is completely sufficient. It is particularly suitable for spraying smaller objects, but for those that need more space, two suction units can be combined with each other, so that spraying larger works of art or models are also possible. For the price and performance, the Paasche Airbrush suction unit is unbeatable!
Compact and easy to assemble
115-volt fan and fiberglass filter system
Includes a turntable and exhaust hook up
View on Amazon
Pros
Good value for money
Low noise levels
Easy handling
The assembly and disassembly is fast and easy
A rotary plate is available for easy spraying from all sides
Durable
Cons
No LED lighting is integrated
The suction power could be stronger, although it works well for simple, small jobs
Setting Up an Airbrush Spray Booth
Setting up an airbrush booth is child's play, as everything is all very intuitive. Usually, the body of an airbrush paint booth can be opened easily by unfolding the side panels as well as the lid. This creates a small space that does not allow the spray mist to escape, but at the same time gives you an optimal view of your art object. Usually, the ceiling of the booth is sloping.
In the middle of the airbrush paint booth, you will find the turntable, if the extraction unit has one. This makes working more comfortable. The fan and the air filter are located at the rear of the unit. Some airbrush paint booths – for example, our premium unit presented above – have an additional hose, with the help of which the sucked-in air can be led out of the room.
DIY Airbrush Spray Booth
You can either buy a booth or build a hobby spray booth yourself. If you want to build a DIY airbrush spray booth, you will have to expect a lot of work on your own. This is not complicated; however, you will need some material and above all time and skill. We will reveal how to do this below.
If you have a lot of space, you can build a very simple model by putting together a wooden body and connecting it to a fan. However, we would only advise you to do this if you do not need to fold the extraction system. If you want to save space when storing your unit, you have to fix the sidewalls and the top with hinges to the body.
Cut a hole in the rear wall of the body and attach both the grille for the air filter and the fan. As a filter, you can cut a standard filter mat to the size of your requirements.
For each fan you install, you will need three connecting cables. Normally, each fan is supplied with 20 watts. Make sure to equip the fans with a rocker switch so that they can be switched off at any time.
You can also attach LEDs, as you need them, for optimal lighting. You can switch them independently from the ventilation, so you can work without a fan but with light.
Maintaining the Airbrush Spray Booth
To make sure that you get a good long lifespan out of your airbrush spray booth, you will need to regularly check and maintain the equipment. The filter will need regular checks and changes if it gets clogged up. This is necessary for the filter to effectively clear the air. When changing the air filter, consider the type of paint used, and how often the spray booth is used. If you do not use the filter often, it will not require frequent changing.
A sign for when you need to change the filter is the fan making a noise as though it is struggling to properly pull through the air. There could also be less airflow happening, or even the paint slightly changing in color when it is being released. These all result from a buildup of paint over the filter. Be sure to change the filter of the airbrush spray booth if this happens.
Tips and Tricks for Airbrush Paint Booths
These paint booths are pretty straightforward items to work with. However, there are a few important considerations to make when using them. Follow these tips below for achieving the best results.
Dont Use Aerosol Spray Cans
There are various harmful fumes and chemicals present in aerosol spray cans. When using a hobby spray booth, try to avoid using these cans. Rather, use this type of spray paint outdoors, or with a specially designed aerosol spray paint ventilation system.
Spray in the Right Direction
You will need to spray the paint in the direction of the airflow that is leaving the booth. This is important for the effective use of the ventilation system, as well as achieving better paint results. The turntable will really help here.
Be Safe
Although a spray booth helps to reduce the paint fumes involved in airbrushing, it is best to still wear protective gear. For your safety, you should still wear a respirator mask when doing airbrush art. Also, try not to get your face too close to the spray booth. Although the paint is being extracted, there will still always be some overspray involved.
Watch the Overspray
An airbrush spray booth is there to help protect the artist and surrounding surfaces from overspray. However, you will still want to limit this as much as possible. Maintaining the lowest pressure that you can for the airbrush to operate at its function is best. Make sure to point the nozzle directly at the item being sprayed, and hold the airbrush about 3 to 6 inches away from the item.
Frequently Asked Questions
Is an Airbrush Spray Booth Necessary?
You don't have to have an airbrush spray booth. However, using one makes the job much more clean, safe, and practical. For any frequent airbrush artists, a booth is highly recommended.
Why Do You Need Negative Pressure in a Spray Booth?
Negative pressure results from the extraction fan. Basically, more air leaves the booth than goes in. This is what is needed to suck out the paint fumes and any particles in the booth to keep the job clean and safe.
A hobby spray booth can either be bought or built by yourself. If you decide on the second option, however, you should have a little craftsmanship and plenty of time available. Whether building your own model paint booth is financially worthwhile depends on the equipment of the airbrush spray booth and on the question of which model you would have chosen if you had bought it. No matter which option is the right one for you: An airbrush spray booth is always a good idea.