Airbrush Tattoo – Guide to Airbrush Tattoos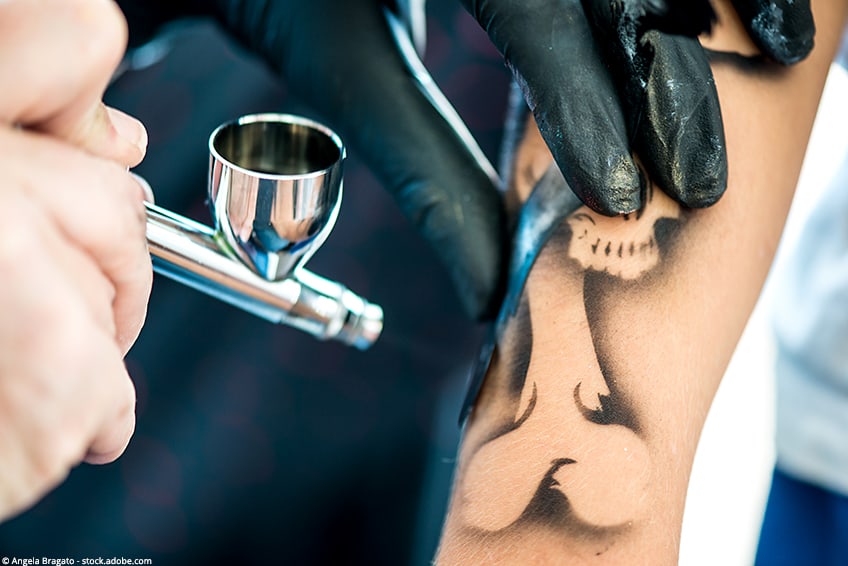 In the past they were considered unpresentable, today almost everyone has them – we are talking about tattoos. But some people are afraid to have their bodies permanently beautified because of course, a real tattoo is irreversible. Although it can be removed again, then there is the threat of unsightly scars. An alternative to this is the so-called airbrush tattoo or temporary tattoo – what this is and how you can make spectacular tattoos yourself, you will learn in this guide.
What is an Airbrush Tattoo?
As mentioned in the beginning, a real tattoo is in principle irreversible, because the color is injected under the skin. It is completely different from an airbrush tattoo because this is nothing else than a fake tattoo. It is applied to the skin with the help of a spray gun, special paint, and possibly also stencils and can be removed again. Wondering how long do airbrush tattoos last? The airbrush tattoo color lasts only a few days.
There are no limits to creativity when spraying, because not only prefabricated motifs can be used. The artist is completely free in his design and those who have a really artistic hand can conjure incredible works of art on the skin. The resulting tattoo looks like a real tattoo. But even beginners can try this art form because spraying with the help of airbrush tattoos stencils is not difficult.
Do you dare to get a fake tattoo? In the following, you will learn how to do it.
Make an Airbrush Tattoo yourself
You can easily make airbrush tattoos yourself. You don't even need a lot of experience as an artist, but simply the right tools and colors. Since thousands of different airbrush tattoo stencils are available and they can even be combined with each other, you can let your imagination run wild – or even create your motif freehand, if you are talented.
Of course, you should pay attention to the right colors, especially if you have sensitive skin or want to spray the tattoos also on children's skin. The colors must be dermatologically tested, fragrance-free, and highly compatible.
An airbrush tattoo offers you, besides the artistic design possibilities, the unique opportunity to try out whether a real tattoo would suit you. Since it can be removed again or disappears after a few days, you can test in this way without any risk whether a permanent tattoo would be suitable for you.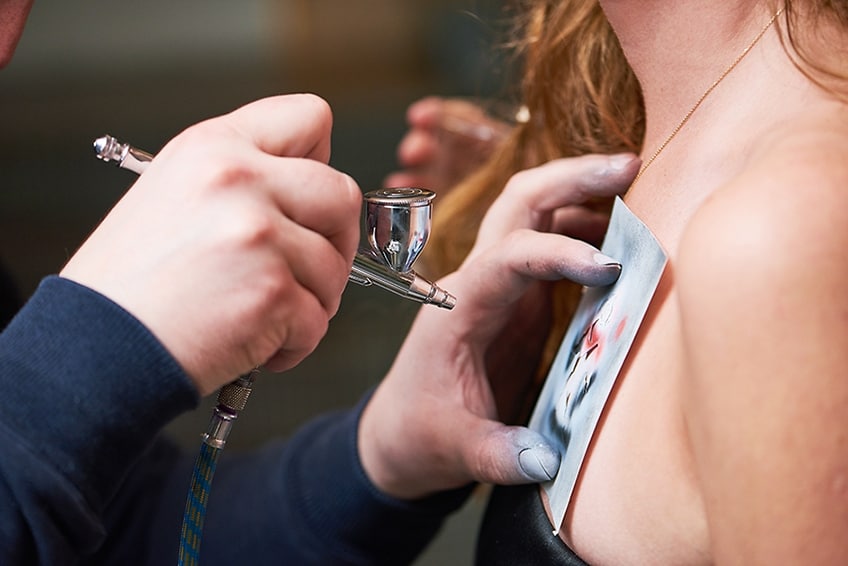 Airbrush Tattoo Set
We have tested various airbrush tattoo sets and found a clear winner: the GANZTON Airbrush Set. It comes with a Double Action Airbrush Gun and contains besides the essential things for spraying also a set of cleaning brushes. We can tell you the following advantages of the GANZTON set:
High-quality materials and solid processing of all components
Handy and visually appealing airbrush gun
User-friendly three-stage regulation of the airflow
Double action airbrush gun that lets you spray fine lines and great detail
Low weight, both of the pistol and the compressor, and therefore very pleasant ease of work
The set is small and compact and therefore ideal for traveling
It is universally applicable, thus also suitable for nail art, illustration, the decoration of cakes, and other applications
Good price-performance ratio
Tools and a basic cleaning kit are included
The only drawback we could fix is the relatively easy clogging of the airbrush gun. For this reason, it is very important to clean it regularly and to use really only highly pigmented paint. Diluting the paint is also recommended.
We have a clear purchase recommendation for the GANZTON Airbrush Tattoo Set!
Airbrush Tattoo Color
To spray a temporary tattoo, special airbrush tattoo paint must be used. This should not only be highly pigmented so that it can also be sprayed with a small airbrush nozzle – but it should also be absolutely non-toxic. Bodypaint is best suited for this. This is available either water-based or alcohol-based. The difference is that water-based paint only remains on the skin until you actively wipe it off – for example, until the next shower – whereas alcohol-based paint is smudge- and water-resistant and therefore a little more durable. If you want the water-based color to last as long as the alcohol-based color, you can cover the temporary tattoo with foil before the next shower.
Airbrush tattoo color is available individually or as a set.
Airbrush Tattoo Stencils
Stencils are not an absolute must for the airbrush artist; however, they are recommended for airbrush tattoos, because it can be difficult to capture the respective motif freestyle on the skin. If you have a really gifted hand, you may of course do without stencils. Remember, however, that when spraying without stencils or Masking Tape no sharp edges are possible; these are always a little washed out.
For fake tattoos there are stencils in all imaginable motifs:
Flowers and floral patterns
Tribals
Classical tattoo motifs like anchor, suns et cetera 
Animal stencils
Far Eastern characters or also runes and other characters
Various trend motifs
Motifs for child tattoos
If you reach for an airbrush stencil set, you can actually do nothing wrong, since this is often quite cheap and offers you a rich selection of motifs.
It is also possible to create a motif yourself and have a template made from it. Especially for company or club parties, this kind of promotion is worthwhile, if visitors can have the company or club logo sprayed on their upper arm.
Other Accessories for Airbrush Tattoos
Besides the airbrush set and the colors, you need a few other things to spray a nice airbrush tattoo. First of all, you have to think of a skin-friendly cleaning agent because the skin area has to be cleaned thoroughly before spraying. For this purpose, you usually use a swab or cotton wool and isopropanol.
Furthermore, your airbrush set should either include a cleaning set or you should purchase one later because the thorough cleaning of your airbrush gun is essential.
A thinning medium for your paints is also an advantage, especially in hot weather or if you want to work with a very fine nozzle.
Airbrush Tattoo Step by Step Guide
Making airbrush tattoos yourself is not as difficult as it may sound. We show you with our step by step instructions exactly how it works.
The skin area must be free of grease for application, therefore it is cleaned with a swab and isopropanol
Now shake the airbrush tattoo color well on, so that the settled color dissolves and the pigments are mixed optimally
Put the airbrush tattoo stencil on the spot and spray the color from a distance of about three to five centimeters
It is important that the paint is sprayed very thinly so that none of it collects under the stencil and the tattoo runs
Remove the stencil immediately from the skin while the ink is still wet and clean the surrounding skin from possible spray mist; you can also use isopropanol for this
Now you use Setting Powder to powder the tattoo
Afterward, you can apply Tattoo FIX thinly on the tattoo; in this way, you increase the durability
Let the area dry for one minute and powder the tattoo well once more
After the spraying follows of course the cleaning of your tool
Remember that you must also clean your airbrush gun every time you change color, otherwise, the colors could mix unintentionally – for example, if you have used a yellow color and want to spray in blue afterward, it is possible that without intermediate cleaning a greenish spray burst will appear first
Of course, you don't necessarily have to use a template if you prefer to work freehand. However, you should be aware that in such a case you cannot spray with the airbrush pistol exactly sharp edges. If sharp edges are desired, you have to mask the corresponding areas. Without a stencil, great color gradients are possible.
The motif you want to spray without a stencil should be sketched out in advance. Before that, the skin is cleaned as described above and after spraying it is of course well powdered.
You can also make an airbrush tattoo stencil yourself. Cut it out of cardboard and glue it in the designated place. However, an airbrush tattoo sprayed with a cardboard stencil will usually not look very professional. It is better to make a suitable stencil with the help of a printer and a suitable foil, preferably Mylar.
Tips and Tricks
When airbrushing a temporary tattoo, there are sometimes difficulties that are not easy for the beginner to solve. Our airbrush tips and tricks should make your life a little easier:
For example, if you have problems removing the airbrush stencil, or if it sticks together, you can powder it a little or do a quick cleaning with isopropanol in between.
If the tattoo sticks, this may be due to temperatures that are too hot. Maybe the skin was not cleaned properly before. In any case, it can help to spray the airbrush color very thin. After the application of the color, the tattoo should always be powdered well, because only then the color holds optimally.
To prevent condensation water from being mixed into the ink, you should use a compressor with a water separator. Otherwise, there is a possibility that the paint will lose its brilliance, not dry properly or that unsightly speckles will appear.
If you want to save money, you can use airbrush tattoo stencils several times by cleaning them after use, and instead of self-adhesive disposable stencils, you can use plastic ones. You can treat them with special spray glue for better adhesion.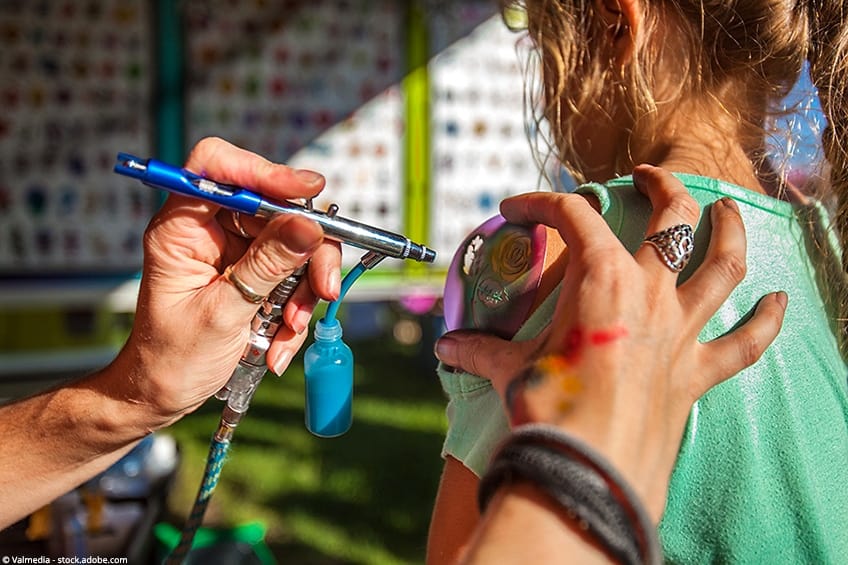 Dilute Airbrush Tattoo Color
It is often necessary to dilute the airbrush tattoo color. You should do this with the help of a high-quality medium. Please do not use any inferior alcohol, otherwise, the color brilliance could suffer considerably!
Especially in summer temperatures, thinning is unavoidable, as otherwise the colors may thicken and stick together. These then quickly clog the nozzle of your airbrush gun.
Airbrush Stencil Sticks – Airbrush Stencil cleaning
After use, the airbrush tattoo stencil is naturally covered with paint. Then it has a sticky surface and must be subjected to a thorough cleaning. If the paint on the stencil is already dry, the best way to clean it is to loosen it with a painting knife and simply pull it off. However, you should be very careful when doing this, otherwise, you could damage the stencil's fine webs and transitions.
A good tip is to use a special tool cleaner with which the airbrush stencil can be dabbed. Often the colors dissolve by themselves when using this tool.
However, do not rinse the stencils with water, otherwise, the inks could dissolve and become even more sticky. Do not place wet stencils on top of each other, otherwise, they will stick together and you could damage them when removing them.
If your stencils are very sticky, you can soak them in 99% isopropyl alcohol and then dab them gently but thoroughly with a kitchen towel. Then let the stencils dry on a piece of newspaper. Do not place them on top of each other until they are completely dry.
By the way, for storage, we recommend a transparent cover for each stencil. This way you can store many stencils one after the other in a folder without them getting stuck or sticking together.
Child's Tattoo – what is to be considered?
Children love hardly anything as much as make-up or a fancy tattoo. With airbrush tattoo kits for children, it is to be considered that the used stencils must be very small of course. It is best to use special motifs for children.
The colors used must be particularly kind to the skin and under no circumstances should they be suspected of causing allergies. They must also be durable and easy to wash off. Water-based paints are best suited for airbrush children's tattoos.
Tattoos should not be applied to the hands of small children, as children up to the age of three often put their fingers in their mouths.
Another small hint: If you want to offer to airbrush for children professionally, pay attention to possible allergies – test each child with very sensitive skin you want to spray an airbrush tattoo on an inconspicuous area of skin. Ask the parents if their child has any known allergies. And: Think about good insurance against personal injury and property damage. This way you are covered in case something goes wrong.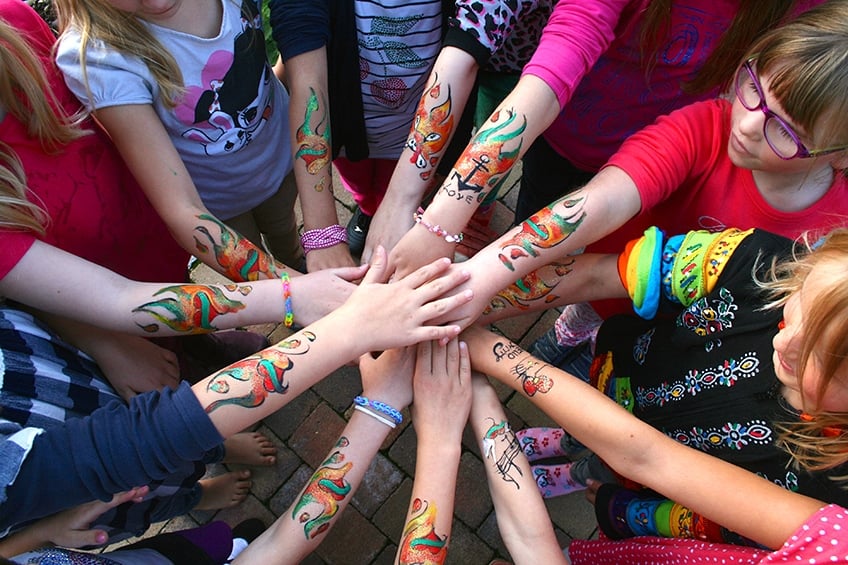 The Durability of Airbrush Tattoos
The durability of an airbrush tattoo depends on the color used. Water-based colors can be removed relatively easily so that the tattoo is usually wiped away at the next shower. Alcohol-based colors last longer – up to seven days.
How does an Airbrush Tattoo last longer?
For an airbrush tattoo to last as long as possible, you need to pay attention to several things:
The colors you use should be of high quality – you can save a lot of money, but please do not save on the color
The skin must be optimally cleaned before you spray the paint
The paint must be applied thinly
Afterward, you should powder the tattoo generously
Tattoo FIX does not carry his name for nothing: With his use, you fix the tattoo even better
When taking care of it, it is important not to rub the tattoo. When showering you can cover it with some foil. In any case, it should not come into contact with soap, because this could damage the tattoo. When drying you should not rub the tattoo with a towel, but leave out the corresponding area or, if it is not covered with foil, dab it gently dry.
Heavy sweating, for example during sports activities, can also affect the life of the temporary tattoo. Body lotion or sun cream should also be avoided in the skin area because greasy or oily substances can also reduce durability.
Remove Airbrush Tattoo
Fake tattoos generally last a few days at most. But if they fade or start to look unattractive, you might want to remove them yourself. This is easily done by soaking a cotton ball with baby oil or 99% isopropanol and rubbing the temporary tattoo well.
Have an Airbrush done by the Studio
Unfortunately, there are not many tattoo studios that offer temporary airbrush tattoos. This service is more likely to be found in beauty salons. Usually, these offer fake tattoos for any part of the body. Of course, high-quality, dermatologically perfect colors should be used there. The costs for an airbrush tattoo in a studio are often somewhat higher than for example at street festivals. Nevertheless, they keep within limits.
Airbrush Tattoo Costs
An airbrush tattoo is very cheap. With most artists at street festivals or even on the beach you can get a successful tattoo for a few euros. Smaller motifs are often available for four to five euros.
In a professional studio, a temporary tattoo is of course correspondingly more expensive.
If you want to do an airbrush tattoo yourself, the price depends on the colors used and your equipment. In general, however, it can be said that the amount of material used for self-spraying is very limited – if you do your fake tattoo yourself, it will cost you around thirty cents.
All you need for a successful fake tattoo are the right colors and stencils with the appropriate motif. With a little practice you can easily make an airbrush tattoo yourself.