Airbrush Stencils – All about Airbrush Stencil Kits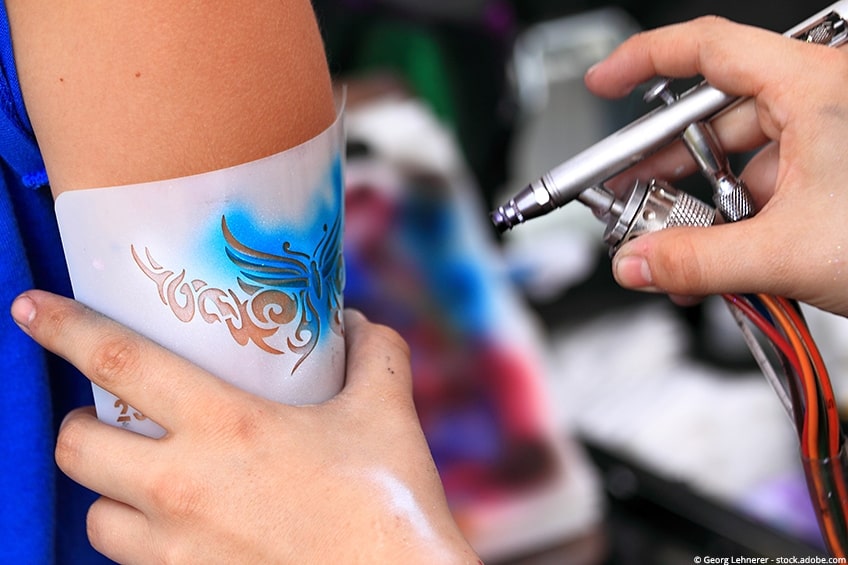 As an airbrush artist, you have the choice of whether you prefer to work freestyle or use templates. Many artists combine both possibilities. In this article, we will tell you where you can find airbrush stencils kits to print out for free, how you can make them yourself, and how to clean the stencils properly.

What are airbrush stencils?
Airbrushing is a wonderful method to let off steam creatively. With a solid airbrush gun and the right color, you can create fascinating works of art that will captivate the viewer. But there is a catch: Mostly the edges of the motives are a little blurred. This is often intentional, for example when the artist wants to capture soft color transitions on the painting surface. Sometimes, however, one would rather create sharp lines. This is not possible with the airbrush alone.
There are two solutions to this problem: Either you spray the background first, as it may be washed out often, and paint all motifs with a fine brush afterward, which require a sharp edge. However, this is usually very cumbersome and especially for a beginner, the risk of making mistakes shortly before the completion of the artwork is quite high.
Fortunately, there is a second way and this is where airbrush templates, also airbrush templates, come into play. They can be stuck onto a suitable painting surface and ensure razor-sharp motif edges. Their handling is very easy and they are available in an almost unlimited variety. They are generally made of polyester, which also makes them easy to clean.
Other reasons to prefer to use an airbrush stencil are the following:
Maybe you don't have a steady hand, so your motive would get a little shaky
You like ready-made motifs or want to combine them with your own creativity
Inventing your own motifs is too time-consuming, but you still want to create beautiful art
Product recommendation follows
Not only are airbrush templates available for free, for example on the Internet for downloading and printing, but also professional templates. With a little skill you can also make airbrush stencils yourself. We explain how below.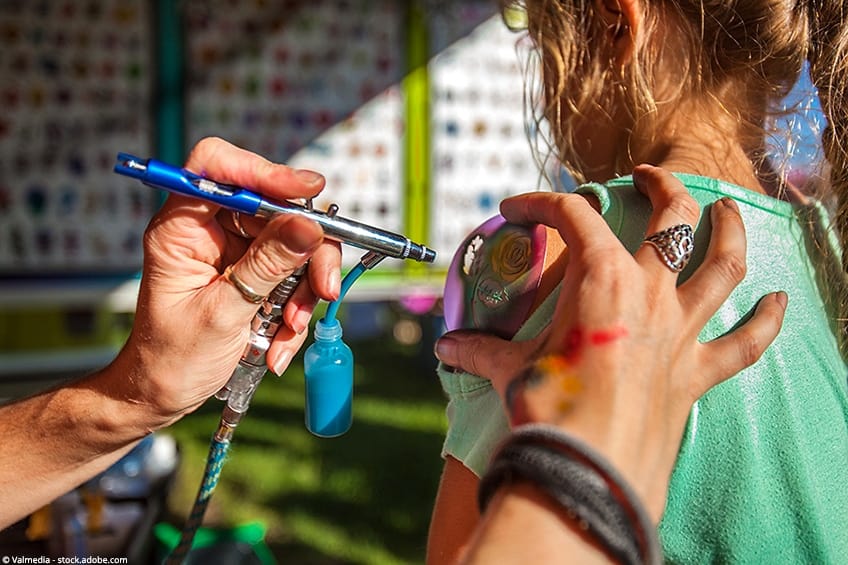 What can airbrush stencils be used for?
In principle, airbrush templates can be used for all conceivable airbrush applications. Depending on the size, they are used for:
Temporary Airbrush Tattoos
Airbrush Makeup
Painting of cars, motorcycles, and their accessories like helmets
Photorealistic murals
Body and face painting
Stencils are even suitable for spraying cakes and other foods. A cake with a sprayed-on floral pattern can be the highlight of any wedding or confirmation.
Pros and cons of stencils
An airbrush stencil offers the artist various pros, but also has some cons:
Pros
We have already mentioned the perfect subject edges
You don't have to be an airbrush professional to create truly beautiful art, because with the help of a stencil you can create the perfect picture
A high-quality film can be reused often and for a long time because the film makes it washable and very stable
With a stencil, even very large areas, such as walls, can be easily sprayed
If you use a complete set, it often consists of several stencils and detailed instructions that will help you create an accurate and stunning piece of art
A simple stencil can be produced with little effort
Cons
A good quality airbrush stencil has its price – a single stencil doesn't cost the earth, but if you want to get a large selection, you have to dig a little deeper into your pocket
The motif is, with all its variety, of course predetermined, which could disturb especially stubborn or very creative artists; however, in addition to the motif stencils, pattern stencils are also available, which give you more freedom
If you are not careful enough, the still fresh colors on your artwork can smudge
The stencils must be cleaned after each application, which of course means additional effort
This should be considered when buying airbrush stencils
An airbrush stencil consists of several layers of foil. For you to work with it optimally, it should be of high quality and stable, but at the same time have the necessary transparency so that you can place it well on your artwork. It must be flexible so that you can apply it on any surface.
High-quality airbrush stencils kits are resistant to solvents and easy to clean. Therefore they have a long life and can be reused many times.
Before you buy one or more stencils, think about what exactly you expect from them. If you only want to spray simple motifs, you can make an airbrush stencil yourself. However, there are also complete sets that allow you to create photorealistic images or highly complex works of art. These also include detailed instructions. Especially for beginners, who want to achieve quick learning success with their airbrush gun, such a set can be an alternative to simple stencils. By the way, you can not only use such sets according to the instructions but also combine the stencils in different ways and thus spray new pictures over and over again.
Tips and tricks for use
Especially with the above described Airbrush Template Complete Sets it is very important to arrange the templates in the right order, but also in the right position. Otherwise, there is a risk of unsightly mistakes in the finished work of art. Therefore, please follow the instructions provided. Of course, this only applies if you really want to spray the work described in the instructions. As already mentioned, you may of course combine the stencils differently.
Allow yourself a short break after each spraying, so that the sprayed colors have enough time to dry. This does not take too long, but just in case – you do not want to smear your colors with the stencil.
Think about your safety when airbrushing. Use not only a respirator but also disposable gloves when using airbrush templates. Since the templates sometimes need to be held in place when spraying, your fingers will come into contact with the paint. Of course, this is not so tragic with food colors, but it is with solvent-based colors.
Cleaning stencils – Instructions
To ensure the longevity of your airbrush templates, you should maintain them, just like your airbrush gun and compressor. Regular cleaning should therefore be part of your standard program.
Cleaning stencil for airbrush is very easy. The only thing you have to consider is the compatibility between the airbrush colors used and the cleaner. This means that for solvent-based paints you also need to use a suitable cleaner. For water-based paints it is often sufficient to wash the stencils with warm water; if in doubt, you can also use isopropyl alcohol or a special airbrush cleaner.
Proceed as follows for airbrush stencil cleaning:
Fill a bowl with a suitable cleaner; if you have applied the stencil to your art object with spray glue, you must add isopropyl alcohol
Prepare the bowl and some kitchen paper
Place the stencils one at a time in the bowl so that they are covered by the cleaner/isopropyl alcohol
Leave the airbrushing stencils in the liquid for about thirty minutes to dissolve the paint and any adhesive residues
Lay the kitchen towel on the table in two layers in front of you and place the airbrush stencils on top
Soak a piece of kitchen paper with the cleaner and dab all ink and glue residues from your stencils on both sides until they are clean; do this gently and take care not to damage the edges, otherwise, the stencils could become unusable
Dry the stencils and store them in a dry place where they cannot be damaged
Making airbrush stencils yourself
If you do not want to buy ready-made motifs, you can also make a stencil for airbrushing yourself. In this way, you are creative and can decide how your work of art should look later. The self-made airbrush stencils are also free. To make an airbrush stencil yourself, you only need a few materials:
An editor
A cutting mat
Stencil film
Paper and pencil
You are now completely free in your design options. First, imagine the motif you would like to create and ban it on paper with a pencil. Now stick your drawn motif onto your cutting mat with adhesive tape. Use the cutter and stencil film to cut out your idea. Stick the stencil film over the design. Then trace the contours with the cutter.
The variant presented here is of course a little more professional. If your requirements are not quite so high, you can also use thick cardboard to make an airbrush stencil. However, such a stencil is not quite as accurate as a stencil made of foil, as its edges never become as smooth.
Airbrush stencils for printing and cutting
As described in the last section, you can design an airbrush template yourself if you don't want to buy one. You can also download free printable airbrush stencils from the internet and use them, just like above, to create a stencil. This way, you can get airbrush stencils for beginners quickly and easily, just as you need them, and don't even have to spend money on them. To do this, print out the motif and continue exactly as described in the last chapter.
Especially airbrush stencils for beginners are a wonderful opportunity to be creative and see quick results at the same time. But advanced users can also benefit from templates. In our opinion, a basic set of airbrush stencils should not be missing in any studio.