Best Paint Sprayer for Cabinets – A Complete Guide to Spraying Cabinets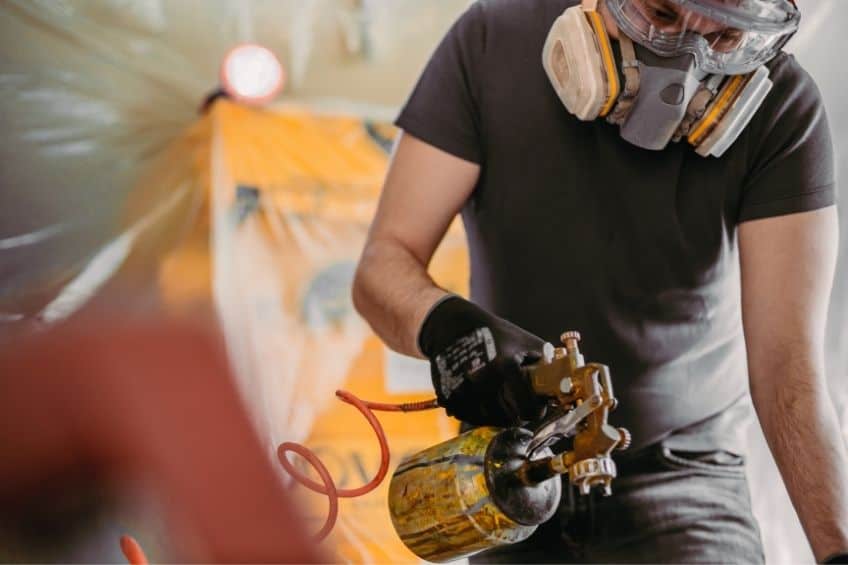 Cabinet painting can be a tiresome task. There are many steps and specific requirements involved. A spray gun will make your work a lot easier because you will be able to achieve a much smoother, faster, professional paint finish. Interested in painting your cabinet the most efficient way possible? Then follow our complete guide below on the best paint sprayer for cabinets, and how to spray paint cabinets. 
Considerations for the Best Cabinet Spray Painters
If you are a newbie to paint spraying and looking for the best paint sprayer, we have all the information you need in this guide. Before spending money on a paint sprayer, you will need to make sure that you choose the best product available for your needs. There are many different considerations to make when choosing the best paint sprayer for cabinets. We have outlined some of the most important things to look out for below.
Turbine Power
Paint sprayers draw their strength from a turbine. The turbine generates levels of pressure that send the paint to the spray gun. The type of motor will determine the type of paint to be handled by your machine. So, it is best to get a paint sprayer that can generate a lot of pressure while painting.
Even though professional paint sprayers produce more power, they use a lot of energy and are not very cost-effective. A good balance between energy and power is important for any household project.
Tips and Nozzles
The best paint sprayer for cabinets should allow you to adjust the spraying patterns. This means that the machine should be flexible enough to allow you to customize how the spray gun ejects the paint.
These spraying patterns can either be vertical, horizontal, or circular. So, it is advisable to get a machine that has these features built-in, or one that comes with extra nozzles and tips. The ability to switch nozzles will make painting much easier and it will allow you to achieve a better end result.
Paint Container
A good reservoir on your paint sprayer will eliminate the hassle of refilling paint all the time. A small paint container may be a challenge because it can only store small amounts of paint which makes the work more tedious. The best paint sprayer for cabinets should hold enough paint for your project.
Most cabinet paint sprayers come with a paint cup that can carry 35-40 FL Oz of paint. This will be more than enough if you are working on a standard project. If you want to use your paint sprayer for larger professional projects, then consider a bigger cup than this. Gravity feed paint cups generally allow for more volume.
Weight
The best handheld paint sprayer for cabinets must be easy to use and move. It must also be portable enough to use while painting your cabinets. A lightweight paint sprayer will be far easier to work with, which will enhance the end result. Using the best handheld paint sprayer for cabinets saves time – making life easier. Reaching the trickiest corners of your kitchen will also be easier with a lightweight device.
Cleaning
Cleaning a spray painter is one of the most important factors. A regular cleaning process is essential to maintain the best paint sprayer for cabinets! Failure to thoroughly clean your paint sprayer after every use will result in clogging, which will stop you from being able to use the tip. Purchase a paint sprayer that you can clean and maintain without much hassle. This will require the unit to be easy to take apart and assemble. You can use clean soapy water to clean your spray gun after dismantling it.
Proper cleaning and maintenance will enhance the lifespan of your machine. This will allow you to save money over the long run. Set a proper cleaning schedule whenever you are done with your projects. Always do a proper check to ensure that every part of the machine is functioning properly after use.
HVLP Spray Guns for Cabinets
A spray gun is the most useful tool for a professional painter or DIYer. HVLP spray guns are the best when it comes to details and versatility – which often makes them the best paint sprayer for cabinets. These paint sprayers work very efficiently for a range of projects, saving valuable time. They use a low-pressure system to atomize the paint at a high volume. Using the best HVLP sprayer for kitchen cabinets offers perfect, professional results.
Gravity will pull the paint into the barrel of the spray gun from the cup. The paint will then meet the air being sent from the air compressor. This pressure will then atomize the paint, creating a fine mist and finally an even, beautiful finish. HVLP spray guns offer more accuracy for detailed work. This makes them a great choice for things like cabinet painting. However, they are not well suited for things like painting a house.
You will need to understand all of the settings on these types of spray guns and how they affect your project when learning how to spray paint cabinets. A professional-grade air compressor is recommended when using an HVLP spray gun. Look out for the specific features and psi settings for the HVLP spray gun. For normal paint, you can use at least 70 psi.
Overall Best HVLP Sprayer for Kitchen Cabinets: FUJI Semi-PRO
This is a professional paint sprayer that prevents bleeding and comes with a controllable fan. The controllable fan can change the spray patterns. The paint sprayer uses a 400cc gravity cup that is very portable. It has an effective hose that reduces over spraying.
This spray system is suitable for a hobbyist or a professional painter looking for excellent results. It is also great for beginners learning how to spray paint cabinets. You can use it on cabinets, doors, shutters, and so on. You can disassemble it for a quick cleaning and maintenance process. It is suitable for either solvent-based or water-based coatings. Being lightweight, this is also the best handheld paint sprayer for cabinets.
Professional non-bleed adjustable spray gun
Lightweight and portable with a 400cc gravity cup
Includes a metal turbine case with airbrush holder
View on Amazon
PROS
Easy to use and clean.
Adjustable spraying pattern
Disassembles very quickly
Lightweight and portable
Excellent accuracy and non-bleed spraying
CONS
The paint cup may be a bit small for bigger projects
Best Budget Sprayer: TCP GLOBAL Professional Gravity Feed HVLP Spray Gun
This is an excellent spray gun for cabinets. It is easy to use, efficient, and fully adjustable. This machine has a lot of different features that can be adjusted easily to help you perfectly customize the way you spray. This makes it more suitable for cabinets and small projects. This machine will reduce the problem of over spraying with its accurate nozzle.
A high-performance HVLP spray gun
Includes a 1.4mm fluid tip and a 1L aluminum gravity feed cup
Fully adjustable knobs for paint flow and spray settings
View on Amazon
PROS
Great value for money
Easy to use and clean
Superior spray pattern
Fully adjustable settings
Includes a large aluminum paint cup
Lightweight and durable
CONS
The user manual is not good for beginners
The sprayer can leak after cleaning
Airless Paint Sprayers
These sprayers work efficiently when they pump paint for at least 3000 PSI. This pumping is done through a hose and the paint will pass through a tip where it is diffused into droplets. These are the most powerful paint sprayers that are powered by an electric motor. They produce thick paint coats, minimizing the number of layers to be applied.
They come with several tips and have the ability to shorten the time required to work on certain projects. If you are looking for a large and powerful sprayer, then the airless type is your best bet. Airless sprayers are suitable for large projects. You can use them for smaller projects like painting cabinets, but you must find a small enough tip to use with the sprayer.
A 311-tip size is ideal to use for smaller objects. This size allows a buffer in-between the cabinet and sprayer when painting, avoiding thick coats. These sprayers are perfect for you if you plan on using a sprayer for a variety of projects.
Factors to Consider When Buying an Airless Cabinet Paint Sprayer
There are certain factors that you must think about before you choose an airless paint sprayer. Taking these into account will help you make the best decision on the type of paint sprayer to fit your project and expectations.
Size of the Project
The size of the project will determine the size and type of sprayer you must buy. Do not buy a sprayer that is too powerful for the project to be undertaken, or else it might end up causing an extreme situation of over spraying
Any overspray will lead to a mess in the work area and paint being wasted. Over spraying also affects the environment, where paint particles will be released into the air causing a hazardous and dangerous working environment. So it is best to choose sprayers that can easily be controlled.
Size of the Tip
The size of the tip determines the amount of paint to be sent through the machine, including the shape and size of the spray pattern. You can decide on the perfect size of the tip while using a simple mathematical calculation. The sizes of the tip are packaged by a three-digit code. If you multiply the first number of the three-digit-code by two, you can get the size of the tip. This assesses the distance of 12 inches on the wider part of the spray.
If you want your projects to be successful, consider the tip size carefully. Besides getting a tip of the right size, it is also vital that you understand how the tip will work and its compatibility with the paint sprayer. When dealing with lacquers and stains, always opt for a tip that ranges from .009 to 013 inches. When using primers opt for a tip size that is large which ranges from .025 to .035. If you are using oil-based paints, then you need a wide orifice. Choosing a tip that is too small for the project you want to undertake, may result in clogging. A large tip can also cause overspray problems.
Overall Best Airless Paint Sprayer for Cabinets: GRACO Magnum
This is a high-quality airless paint sprayer with amazing features. This is the best airless paint sprayer for cabinets, fences, and more. The brand has been known for years for producing the best high-quality sprayers on the market.
This paint sprayer is very flexible and versatile. You can easily control the paint flow by adjusting the pressure. You can also spray unthinned paint using the piston pump. You can spray straight from the paint bucket using a suction tube. This suction tube is flexible enough to accommodate any amount of work. It comes with a hose of about 75 ft, offering extra reach when working on any type of project. You can connect your garden hose to the power flush adapter for easy cleaning.
Fully adjustable pressure and paint flow for easy use
Allows you to spray unthinned paint at a high pressure
A suction tube allows you to spray paint straight from the container
View on Amazon
PROS
Easy to use and clean
Easy for beginners to use
No clogging and can spray unthinned paint
Great value for money
It is sturdy and durable enough to stand wear and tear
Can spray paint straight from the can
Reaches those areas that not easily accessible
Requires minimal effort for great results
CONS
Setting up and cleaning can take a long time
The following are some of the features associated with this brand:
Airless Technology
This Magnum sprayer works well with the True Airless system which performs above par. If you are looking for the best airless sprayer, then this is the perfect one. Most airless paint sprayers are best suited for large projects, so if you are a serious and passionate DIYer, then you must consider this machine for your projects. Not only will it work on most of your projects, but it will also give you an amazing experience because of the smooth technology that enhances its functions. Learning how to paint kitchen cabinets with spray guns like this offers a perfect finish.
Pressure Variables
There is a piston of high-pressure that works very well in allowing you to spray paint from a 5-gallon container. This will save you the time of pouring paint into small containers first. This avoids thinning the paint or adding more steps to the painting process.
Well-Built and Sturdy Components
The materials of this paint sprayer are top-ranked because of their quality. It has a 25-foot DuraFlex hose that is highly flexible and durable. When you are using this machine, you are guaranteed to spray at least 50 gallons of paint every year. There is a 563 stainless spray gun that is quite easy to maintain and has a high level of strength.
Compartments for Storage
This machine is ideal for both indoor and outdoor painting. It comes with several storage compartments where you can store your other tools. This makes it easier for you to carry all your tools together in one box.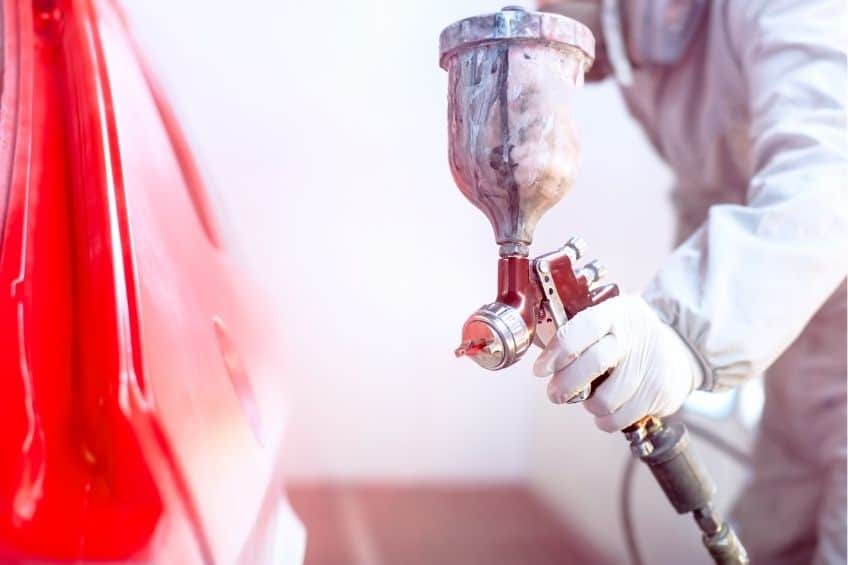 Rollers vs. Paint Sprayers
Paint sprayers can make thin layers of paint, avoiding the problem of running paint or thick coats. But you need to have a few good techniques to achieve the best results. Without a good technique, you will end up with thick spots or paint runs on your cabinets.
A lack of good painting techniques can also lead to poor equipment care. The tips of the sprayer can be affected if you do not maintain the sprayer or use it properly. This can also lead to paint wastage and over sprays of at least 50%. Sprayers use about 20 to 40% more paint compared to rollers. But it all depends on the type of paint sprayer that you have.
A roller usually places a thicker layer of paint on the cabinet, then you must thin it out as you continue rolling. This can cause a lot of runs which will result in an uneven and inconsistent finish. If you are not careful enough, your cabinets will end up with roller marks. For best results, it is better to stick to a paint sprayer than a paint roller.
Paint Sprayers vs. Paint Brushes
A paint sprayer is effective enough to produce splendid results after one coat. Paint sprayers use the atomization method to spray droplets of paint on cabinets. This paint spraying method saves a lot of time compared to using a paintbrush. One pass of paint spay is equal to at least 3-4 passes using a paintbrush.
You can finish your cabinets in one afternoon when using a paint sprayer. Besides having good coverage and saving time, the paint also dries faster when you use a paint sprayer. You also avoid the problem of uneven paint coats, especially on cabinet corners and nooks. The paint sprayer also works well on edges, unlike the paintbrush.
When using a paintbrush, you require extra time to redo and fix any messed cabinet surfaces. The whole process will take more time than usual. It is better to use the best paint sprayer on your cabinets so that you can get splendid and professional results faster and easier.
HVLP Spray Guns vs. Airless Paint Sprayers
An HVLP spray gun may be the best option for newbies because it does not require a lot of experience to handle it. You just need to understand the manufacturer`s instructions then you will be good to go. An HVLP spray gun also prevents a lot of mess because it uses low pressure to spray the paint.
An HVLP spray gun produces smooth and even finishes because of the low pressure. It also has the ability of painting varnishes and stains to produce professional results. It is ideal for small projects and compatible with water-based materials. These sprayers allow for more accuracy and efficiency when painting detailed areas.
On the other hand, an airless paint sprayer requires a bit of technical experience and works well on a wider range of materials like primer and latex. An airless paint sprayer uses more paint because of the high pressure which is about 2000 PSI, causing more paint pollution in the air. You must buy more paint if you are using an airless paint sprayer compared to an HVLP spray gun. The advantage is that these sprayers paint faster, and can cover larger areas with greater ease.
How to Get a Smooth and Even Finish When Painting Cabinets
There are a few procedures that must be followed to achieve a smooth and even finish on your cabinets. You should have a spray tip that is suitable for the job, you should perform a thorough sanding on your cabinets to remove any dirt and blemishes. The process will need a top-rated primer and the correct paint type. For the best finish, we recommend sanding between coats and making sure that you give the paint enough time to dry.
You should also buy a paint sprayer that you can operate and use without much difficulty. You have to decide whether the airless paint sprayer works for you or the HVLP spray gun. Use the paint sprayer together with some good painting techniques and this will enhance the shine on your cabinets.
Always use a primer that is compatible with your paint to obtain a good, even, and smooth cabinet surface.
How to Paint Over Painted Cabinets
It is extremely easy to paint over painted kitchen cabinets! First, know that you do not have to strip your surfaces first before you start repainting. This also goes for those cabinets that have been stained or varnished.
To begin the process, you must remove grease from the cabinets. Use sandpaper to scuff the cabinet surface very well. This sanding process will enhance the adhesion properties of the primer. When you are done with the process of cleaning and sanding, then you can start spray painting.
How to Sand Cabinets Before Painting
Sanding is an important process that must be done on the surface before paint is applied. You should properly sand your surfaces whether it's wood or not. Ignore online tutorials that advise against sanding before painting. Sanding before painting is important!
If your surfaces have existing paint or stains, you should use 150-grit sandpaper to properly sand and clean your surfaces. Use 80-grit sandpaper if your cabinets have varnish. Every time you complete a sanding session, inspect your surface for flaws before you start spray painting. If you notice any scratches gouges, you should use a wood filler that is suitable for cabinets to make an even and smooth surface.
Avoid sanding deep scratches because this will create more uneven surfaces on your cabinets. Remove the residue using a wet, clean cloth. Avoid using a paper towel. You can apply the primer once you are done with the sanding process. Choose a primer that can block stains on the surface. When priming is done, you can now start spray painting your cabinets.
How to Prime Your Cabinets
Priming is an important process when it comes to the art of painting. If you want to get pro results, then you should do your priming properly. Priming enhances the bond that links the paint and the primer. This will enable you to get a smooth finish with various durable colors.
When working on your cabinets, always start from the top. This will help you to prevent paint runs. To smoothen the surface after priming, use a paintbrush/roller.
The primer that you use on your cabinets should match the type of paint you will be using. If your priming is done, then you can start your painting session.
When you are priming your cabinets stick to at least two layers of primer because the paint sprayer makes the paint bit thinner and it will dry very fast. Two coats are enough to fully cover your cabinets evenly. However, if you are trying to cover a darker stain you can opt for 3-4 coats of primer.
Leave the primer on for at least 1-2 hours before painting. Before you start the painting process, test the paint first before moving on to the second coat. Also leave the first coat to dry before applying the second one as this might lead to peeling, bubbling, and so on. Your project will take asome time because you can only paint on one side of the cabinet doors at a time.
How to Paint Laminate Kitchen Cabinets?
If you are using a high-quality primer, you will be also able to repaint laminate kitchen cabinets. You can find out more in this tutorial about painting laminate kitchen cabinets.
Best Primer for Kitchen Cabinets
Before you spray your kitchen cabinets, you must prime them first. This is a must! This process prevents stain bleeds caused by humidity, steam, and other variables. Always prime your surfaces before spray painting.
Best Overall: KILZ Premium High-Hide Stain Blocking Primer
This is a water-based formula that can seal surfaces, producing a uniform and even finish that is free from stains and any other previous colors. This primer enhances the adhesion properties of the paint to the surface.
It seals porous surfaces with the right consistency giving a leveled finish that is free from imperfections. It also protects the surface from mold and mildew. You can use it on either interior or exterior surfaces. It can seal light to medium stains by covering at least 300-400 sq. ft. You should use this primer on well-prepared surfaces that are free from dust, mold, chalk, and so on. It has a low odor and it is suitable for household cabinets. The water based formula is also easy to clean up with soap and water.
A high hide stain-blocking primer and sealer
Suitable for indoor and outdoor use on various surfaces
Offers excellent durability and adhesion qualities
View on Amazon
PROS
Easy to clean
A primer and sealer in one
Great value for money
Suitable for interior and exterior use
Excellent stain blocking qualities
Offers full coverage and dries easily
CONS
Can be quite thick and a bit messy to use
Masking Cabinets Before Spray Painting
Masking is important because it protects other surfaces and items from getting paint sprayed-on unnecessarily. This means that you must tape countertops, ceiling, appliances, and so on. The process is quite easy. You do not have to stress yourself by buying plastic sheeting, even newspapers will do a perfect job.
If you are not planning on painting the inside part of the cabinet box, you should tape that part as well. Ensure that you have a separate area to paint your doors. You can opt for garage space if you have one.
Tips and Tricks for Cabinet Spray Painting
You must use a small nozzle and a fine tip to get the best smooth and even finish.
Do not use high pressure as this causes the paint to be ejected with too much velocity, leading to overspray and messes.
Always prime your surfaces with the right primer that is non-flammable.
Read all instructions and guidelines before you start spray painting. Put on the proper safety gear before you begin the process. Personal safety is your priority!
Make sure you spray paint your cabinets in a well-ventilated area.
Airless paint sprayers can be dangerous because they use a lot of pressure that can pierce the skin.
Before you begin spray painting, practice on a piece of cardboard first so that you adjust and modify your spraying techniques and patterns.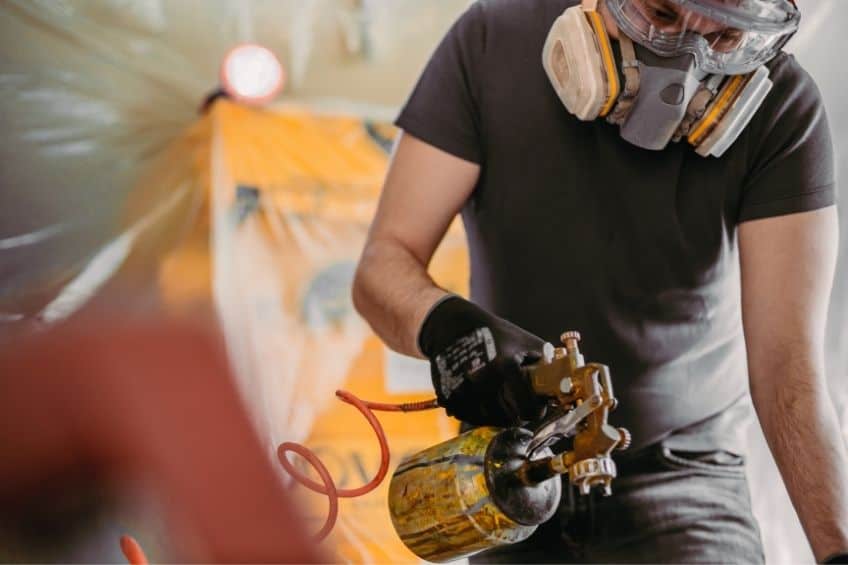 Frequently Asked Questions
Is it Possible to Use a Paint Sprayer to Paint Cabinets?
Yes, you can use a paint sprayer. The process is much faster than using a brush or roller and you will get the best finish.
Can You Finish Cabinets Without Sanding?
No, it's not possible. Sanding is a must! You should sand your surfaces properly even if the material is not wood. Sanding is important because it ensures that your primer sticks to the surface.
Can You Use a Brush or Roller to Paint Cabinets?
Yes, it is possible to use a brush or roller to paint your cabinets. However, a paint sprayer is the best choice because it prevents paint runs, thick coats, uneven surfaces and it quickens the process.
Painting cabinets can completely refresh your home, providing you with a brand new finish to be proud of. Follow our guide above for choosing and using the best paint sprayer for cabinets and you will be sure to end up with great results. Happy painting!