Best HVLP Spray Gun – Your Guide to the Best HVLP Sprayer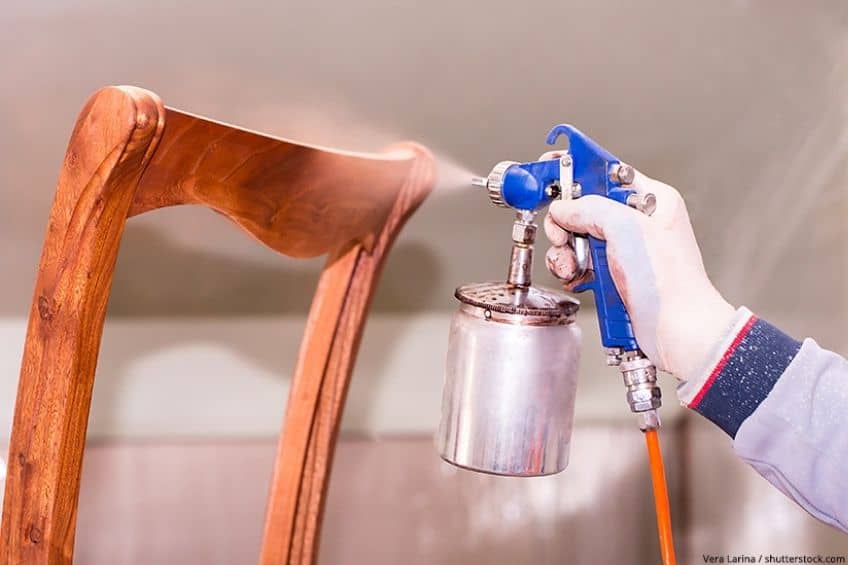 High-volume, low-pressure (HVLP) paint sprayers are becoming increasingly in demand by DIY enthusiasts – and we can completely see why. As the name suggests, these sprayers produce a high volume of paint while working at lower pressure. In simple terms, this means more precision, when it comes to spraying your paint coatings over the targeted surface. Let's explore some of the best HVLP spry guns out there to use for your next project.
What Is an HVLP Spray System?
An HVLP gun uses a compressor to supply it with air – just like a regular paint gun. However, an HVLP spray gun kit is different in that it needs a lower pressure to operate. A higher volume of air is then used to spray the paint. So, you get a lower pressure but a higher output volume.
The best HVLP spry guns are available in two different versions. There is a conversion system that converts the high-pressure from a compressor to a lower pressure for greater control. A turbine is also used to make sure that the paint comes out perfectly. These systems differ from regular spray guns in that it is far more accurate. Usually, paint sprayers are seriously high powered by a compressor, which leads to paint spraying everywhere – with most of it missing the target. With an HVLP gun, you get less overspray, a finer finish, and less paint is wasted.
The Pros and Cons of an HVLP System
Pros
Less overspray compared to regular paint guns
Reduces paint wastage
Greater accuracy when painting
Less pollution – more environmentally friendly
Portable and compact
Easier to control
Many different types available
Cons
Runs slower than traditional paint sprayers
Best HVLP Spray Gun
Looking for the best HVLP paint sprayer? We have listed some of the best choices from our HVLP spray gun reviews.
Overall Best HVLP Spray Gun: FUJI Semi-Pro 2 HVLP Paint Sprayer
The Fuji Semi-Pro 2 is fully adjustable with fan control. This means that you can change the diameter of the spray – giving you excellent flexibility while painting different sized objects. This HVLP sprayer is also non-bleed – meaning that it is much neater to use with hardly any mess. There is also absolute minimal overspray when using it.
Another big advantage of this paint sprayer is its durability. The paint sprayer is made out of strong metal, and it features a metal turbine case. While this means that it is really strong, it is also pretty heavy. Yes, there is a carry handle on top to make it easier to transport – but some wheels might be a nice addition. This also may not be the cheapest HVLP sprayer out there, but it certainly offers excellent quality in terms of price.
Professional non-bleed adjustable spray gun
Lightweight and portable with a 400cc gravity cup
Includes a metal turbine case with airbrush holder
View on Amazon
Pros
An adjustable fan for more flexibility when spraying
A quality and durable metal build
Non-bleed, minimal overspray, and easy to clean
Cons
This paint sprayer is pretty heavy
Most Portable Sprayer: EARLEX HVLP Paint Sprayer Station
This is the best HVLP spray gun for anyone that needs to move around a lot, as the unit is compact and lightweight for maximum portability. In fact, it weighs half the weight of other comparable paint sprayers. To make it even more portable, the spray gun has a hose, cord, and carry handle. This doesn't limit its power though, as it has a 650-watt turbine engine that generates 2.2 PSI. This is ideal for medium-duty jobs.
This Earlex HVLP spray gun kit also offers great flexibility through its spray pattern changing design. You can easily control the paint volume to meet the needs of different projects, surfaces, and materials. Overall, this product is convenient and works really well – everything you need in a paint sprayer.
Includes a 650-watt turbine for a superior finish
Easily adjustable flow control settings
Suitable for use with a wide variety of different paints
View on Amazon
Pros
Lightweight and portable
Flexible with changing spray patterns
The paint volume can be easily controlled
Durable
Cons
Doesn't hold the largest amount of paint
Best HVLP Spray Gun for Beginners: WAGNER Spraytech Flexio Sprayer
Out of all our HVLP spray gun reviews, this HVLP spray gun kit is best for beginners. This is because the Wagner 890 has been designed to make each process easy and very user-friendly – including the set-up, paint spraying use, and cleaning. Its size also makes it a convenient choice for home use, as it is compact and easy to store. With a 1.5-foot air hose though, the paint gun can be easily extended.
For a compact HVLP spray system, it still gets the job done. This unit can spray up to 8 gallons per hour and can hold up to 1.5 quarts of paint. This should give you enough paint to cover a 10-foot wall in about 5 minutes with absolute precision.
There are a couple of unique patented features that come with this Wagner paint gun. These include the iSpray nozzle which can be adjusted to a variety of spray patterns using un-thinned paint. There is also a detailing finishing nozzle that has its own 20-ounce store of paint. You can change the spray patterns between horizontal, vertical, or round, and easily control the air supply level. For increased power, you can also use the X-Boost feature, which drives up the spray speed and pressure.
A convenient handheld HVLP paint sprayer for a range of projects
Has two different nozzle sizes for work on large and small scales
Completely adjustable paint flow that is easy to use
View on Amazon
Pros
Clever integrated storage to save space
A very user-friendly and intuitive design
Pretty lightweight while still being sturdy
Cons
The nozzle requires a fair amount of wiping
Overspray can still occur
Best HVLP Spray Gun Value: HOMERIGHT Finish Max HVLP Paint Sprayer
Looking for superb value for money? This paint sprayer by HomeRight would be the model to pick. Even though the price is low, this paint sprayer still provides high-quality performance. There are adjustable spray options and different spray patterns. However, this model is best suited for smaller jobs as it is a rather small and portable unit.
This paint sprayer is also easy to clean thanks to its simple design, and comfortable to use. The only possible downsides are that you have to thin out some of the paint before spraying and that the seal could be improved. Besides this, you get a great little paint sprayer at an attractive price.
Easy to use, handheld electric paint sprayer, perfect for indoor use
Features easily adjustable spray settings for a variety of surfaces
Easy to clean and suitable for a wide variety of paints
View on Amazon
Pros
A comfortable and convenient size and weight
Adjustable spray control with different spraying patterns
Easy to use and clean
Considerations for Buying the Best HVLP Spray Gun
As there are so many different products available, it is important to choose one that meets all of your needs. Here are some important features to always look out for when buying the best HVLP spray gun.
Try to get a model that has adjustable spraying rates. It's also incredibly useful to be able to change the different nozzles and tips. This gives you greater flexibility and versatility while painting.
Different models offer different levels of versatility. This is due to the paint thickness it can take, size, pressure, and so on. Choose a paint sprayer that suits your needs here in terms of where and how you will be using it.
The hose length is important as this is what determines where you can spray. The hose will be fixed to the reservoir, so make sure that it is long enough to reach the spaces you need to. Also, consider the length of the power cable.
Capacity always needs to be considered. Make sure that your paint sprayer can hold enough paint for the tasks you need it to do.
Most sprayers are suitable for outdoor use, but it is not always the case. Make sure that the model you choose is outdoor friendly if you plan on using it for work outside.
Types of HVLP Paint Sprayers
Paint sprayers come in a wide range of different options, sizes, and styles. The typical HVLP paint sprayer is a handheld unit with a spray size of 6 – 8 inches. However, there are plenty of other size options out there, such as 8 – 10 inches, and the 14-inch airless spray. Then there are also different sizes on the tip of the gun.
0.5 -1.0mm – Most standard HVLP spray guns come with a tip this size. This is the minimal tip for high precision and small amounts of paint.
1.2 – 1.3mm – This tip size is great for touch-ups and thin layers of paint, such as a base coat. This makes it easy and efficient to apply quick layers of paint.
1.4mm – A 1.4mm tip is good for things like painting cabinets. This tip will provide a nice thick coating on objects of such a size.
1.5 – 1.6mm – This is a nice standard size for base coats and single coats. It also works well for primer application.
1.7 – 1.8mm – A bigger hole is great for priming, coloring, and doing interior and exterior painting. Bigger holes make larger jobs easier and faster, but they lack precision.
Advantages of HVLP Sprayers
As mentioned earlier, the main advantage of an HVLP paint sprayer is its use of pressure. The low-pressure system means less waste and enhanced precision. This results in much less overspray compared to regular air compressor paint sprayers. HVLP sprayers are also adjustable with a variety of spray levels. This makes them useful tools for a wide range of jobs.
Safer: HVLP models offer increased safety benefits compared to compressor-powered versions. This is because there is no high-pressure involved, resulting in less room for accidents and error. HVLP sprayers can be used by people with minimal DIY experience and knowledge.
Easy: These paint sprayers are easy to use and control. Usually, you will have an adjustable spray rate which gives you more control over the finish. You can also get changeable nozzles and tip sizes – giving you easy access to a wide range of different painting results.
Maintenance: HVLP paint sprayers require very little maintenance. They are easy to flush and clean and are made using long-lasting components. Reliability is important.
Eco-Friendly: HVLP sprayers produce less waste and don't create as much of a pain cloud as regular sprayers. This makes them safer to use for your health, as well as being more environmentally friendly.
Great Results: The low-pressure painting system produces amazing results when it comes to applying the paint finish. You get good precision, a manageable painting rate, and the best possible paint finish.
Disadvantages of HVLP Paint Sprayers
While HVLP paint sprayers offer numerous benefits, there are also a couple of reasons that prevent people from using these tools. Below are the common issues that HVLP sprayers sometimes bring:
Paints Require Thinning: The HVLP paint sprayer doesn't work too well with high-viscosity paints, but rather it needs a thinner paint for spraying. This differs from model to model, but generally speaking, these systems need a lower-viscosity paint for best results.
Slower: While the lower pressure system provides greater accuracy, it does mean that the speed becomes slightly affected. These systems paint a bit slower than regular high-pressure compressor systems.
How to Use HVLP Paint Sprayers
The first thing to do when you get your paint sprayer is to set it up properly. It is recommended to give the system a clean before you use it. This is because the sprayers are often coated in a chemical to avoid corrosion in the box – something that can affect the way the system works if not cleaned off.
Once cleaned, you will need to run through the setup. First, take note of the adjustment knobs. There are usually two – one for the air and one for the paint. Try to get the paint spraying out to resemble something similar to a football. This should be highly concentrated in the center where you spray, with the paint fading out on the edges. This allows for greater control and smoother coatings.
When getting the spray pattern right, open the valves full, and do a test spray. Slowly close the valves until you reach the right pattern and size. Always just be careful when changing the airflow, as certain spray guns are specifically made for an optimal cubic foot per minute (CFM) flow rate. This is generally between 9 – 14 CFM.
Maintenance and Cleaning
Making sure that your paint sprayer is well maintained is important. Luckily, these units are often pretty easy to maintain and keep clean. When you first get your paint gun, try to clean each part and inspect each bit. This will make it easier to reassemble the gun between uses. Cleaning out the paint, and making sure that each part of the gun stays clean and in good working order is important for a long lifespan of the product.
Tips for Using an HVLP Sprayer
Each product is different and operates uniquely. It is important to follow the instructions before use. However, here are ten basic steps that should generally apply to using any HVLP paint sprayer.
Make sure that you paint somewhere that is well ventilated so as not to inhale fumes and paint.
Always check and clean the filters between uses.
Painting like this can be messy. Always make sure that anything you don't want to be painted is covered or moved away.
Make sure that the connections of the unit (power and hose) are clear and don't offer any snagging issues.
The paint used must be the right viscosity. Often, the paint will need to be thinned.
Ensure that you are using the right air nozzle for your specific requirements.
Ensure you have the right pressure from the air hose. High pressure = higher speed.
Have the paint control is set correctly. This should be done according to how thick you want the coating if you will be spraying vertically or horizontally, and so forth.
Consistently apply the paint in a specific pattern.
After use, make sure that the different parts of the paint sprayer have been cleaned thoroughly.
When to Use an HVLP Paint Gun
While these paint sprayers are generally used for smaller DIY projects that require details, they do have a wide range of uses and are great for any project that requires detail and precision.
Painting Walls
HVLP paint sprayers aren't designed for covering very large areas, so they aren't always the ideal tool for painting large buildings. However, they are great for doing finishes, and details where a more precise and accurate paint spray is needed. This could be done when painting around smaller interior areas, around windows or woodwork, or adding color details.
Painting Furniture
As long as you have good ventilation, HVLP paint sprayers are the perfect tool for finishing furniture and items inside your house. This could be for repainting cabinets, tables, door frames, chairs, beams, and more.
Car Finishes
Automotive painting is best done using an HVLP sprayer – especially when it comes to detailing. Color blending, detailed graphics, or any fine details on a car are best achieved with these tools as there is minimal overspray or misting.
Painting Boats
Just like painting cars, boats and watercraft also need paint spraying. HVLP tools are perfect for getting the job done with maximum precision. This is not always just decorative painting though, these sprayers are great for adding special finishes and maintaining waterproofing – especially in small spaces.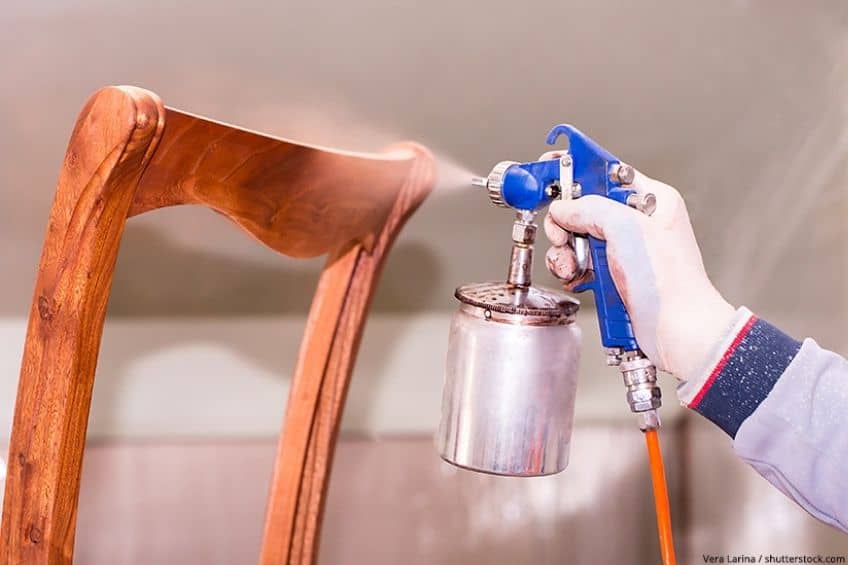 Frequently Asked Questions
Want to find out more about these paint spraying kits? Below are answers to some of the most common questions.
Why Does Paint Need to be Thinned for HVLP Sprayers?
The spraying tips for HVLP spray guns are often smaller than regular paint guns. This means that thicker paints don't always work so well, and restrict the spraying. In order for them to be evenly and efficiently sprayed, thinning the paint out is often necessary.
Why Are HVLP Sprayers More Efficient?
You get reduced air pressure and increased concentration of paint sprayed. This means that you can express more paint while maintaining better aim and precision in comparison to regular paint sprayers.
HVLP vs. LVLP Sprayers?
LVLP sprayers are faster to use, but often trickier to handle. HVLP sprayers are easier to use and often result in a superior finish.
Do You Use an Air Compressor With an HVLP Paint Sprayer?
You can use HVLP guns to do all kinds of professional and DIY work. If using an air compressor, make sure that it is set to the correct PSI and CFM for the spray gun.
How Much Air Does a HVLP Gun Use?
The volume of air pressure for most guns is 10 – 14 SCFM at 40 PSI. A good air pressure setting would be from 28 – 29 PSI for a clear and powerful flow.
Can HVLP Paint Guns be Used to paint Cars?
Yes. HVLP sprayers are ideal for painting cars as they provide better accuracy and precision in comparison to regular spray guns. They also have better transfer efficiency.
What Safety Precautions to Take When Using a HVLP Paint Sprayer?
Even though these guns run at a lower pressure, the tip can still be the cause of injuries. Make sure to wear eye protection to avoid paint getting in your eyes, and wear gloves to protect your hands against the paint. You might also want to wear a mask or breathing protector if you are spraying indoors or somewhere restricted.
If you are looking for the best HVLP spray gun, then we hope that this guide has helped you find it. These tools are incredibly useful and are gaining more and more popularity as people realize just how handy they can be. Investing in the best HVLP paint sprayer can help you with many different jobs, and provide top-notch results. Happy spraying!