Best Gravity Feed Spray Gun – How to Find the Best Air Spray Gun
Choosing the best paint sprayer for your needs can seem a little bit confusing at first as there are so many different options available. One of the most popular options for any type of painting job is a gravity feed spray gun. These models have many unique advantages and are a good choice for a wide range of applications. If you are looking for the best gravity feed spray gun, there are some important considerations to keep in mind. Follow our complete gravity paint gun guide below to help you find the perfect product for your application.
What is a Gravity Spray Gun?
First things first, what exactly is a gravity paint gun? When you look at different paint sprayers, there are two distinct types of guns. These are gravity feed guns and siphon-feed guns. The difference between them comes down to how the paint is released into the airbrush spray gun. Gravity feed paint sprayers have a paint cup that sits on top of the gun. The paint uses gravity, as the name suggests, to fall into the airbrush sprayer. This is how the paint loads into the nozzle to be used.
This is different from a siphon feed gun in that the siphon-feed models use a paint cup located underneath the spray gun. Here, the paint is pulled up into the spray gun using pressure. Siphon feed models can take a larger amount of paint and are generally preferred for bigger painting jobs.
So, the main difference between these two airbrush guns is how the paint loads into the nozzle. Although this may seem like a small detail, it plays a major role in how the different products work, and what type of jobs they are best suited for. Let's take a look at the best gravity feed spray gun, and why these are such great units to work with.
HVLP Gravity Feed Spray Guns
When shopping for a gravity spray gun, you will often come across the term "HVLP". This refers to High Volume Low Pressure, and it is a common working system for this type of unit. HVLP gravity feed spray guns work at a lower operating pressure, but they expel a higher volume of paint. This allows the painter to gain greater precision and control over the airbrush. Less paint is oversprayed, and finer details can be created. Due to the lower pressure, this is not the best option for large-scale projects. However, it works really well for smaller, more precise applications.
Why Choose a Gravity Feed Paint Sprayer
The best gravity feed spray guns offer a number of distinct advantages. These airbrush types are generally used for smaller jobs and are preferred by hobbyists and people doing basic DIY jobs around the house. Below are some of the main advantages that you can enjoy when working with the best gravity feed spray gun:

Gravity feed paint sprayers use less pressure to operate. This makes them easier to handle, and more suitable for beginners to use. Having a lower operating pressure on the air compressor is also safer.
As gravity spray guns use less pressure to atomize the paint, they also tend to be less wasteful. Less overspray is produced, which means less paint is wasted. This can make them a more economic choice over the long run.
Less overspray also means less mess. Using an airbrush to paint can be a messy task, and having a more precise gravity feed sprayer makes the job much cleaner. This is particularly attractive for people that work indoors.
HVLP gravity feed spray guns also offer a greater level of precision when it comes to painting. The painter has greater control and can handle the airbrush better over finer details. This usually means the sprayer will provide a better finish. This also makes these spray guns more suitable for smaller objects and models where more detail and fine painting is required.
Changing paint colors is easier with a gravity feed paint sprayer. Simply empty out the top-loading cup, spray the gun clean of the color, and add in your new paint.
Not only changing new colors is easier, but you also mix colors better. This allows you to create better color transitions and more intense color details while airbrushing.
Cleaning gravity feed paint guns is easier than a pressure gun.
This style of paint sprayer is usually smaller and easier to carry around. They are more portable, more efficient for packing away, and versatile in how they can be used.
Gravity feed systems are efficient when it comes to applying a small amount of paint. If you want to do quick touchups or paint models and miniatures, you can easily load a very small amount of paint into these devices. With larger scale paint sprayers, this can be difficult to achieve.
Drawbacks of Gravity Feed Paint Sprayers
Although the best gravity feed spray guns have many clear advantages, they also have a few setbacks and limitations. Here are some of the disadvantages to using a gravity feed unit:
The paint cup is generally smaller, so it cannot take larger volumes of paint when compared to siphon-feed systems. This makes this type of airbrush less suitable for painting large projects -like entire walls.
Gravity feed guns work better with thinner paints, but they are not a very good choice for heavier paints. This often means that paints will need to be thinned down or diluted a bit.
It is also difficult to spray at various angles with a gravity feed gun, as the paint needs to fall down from being on the top. Spraying upside down or from the side is often not possible with these designs.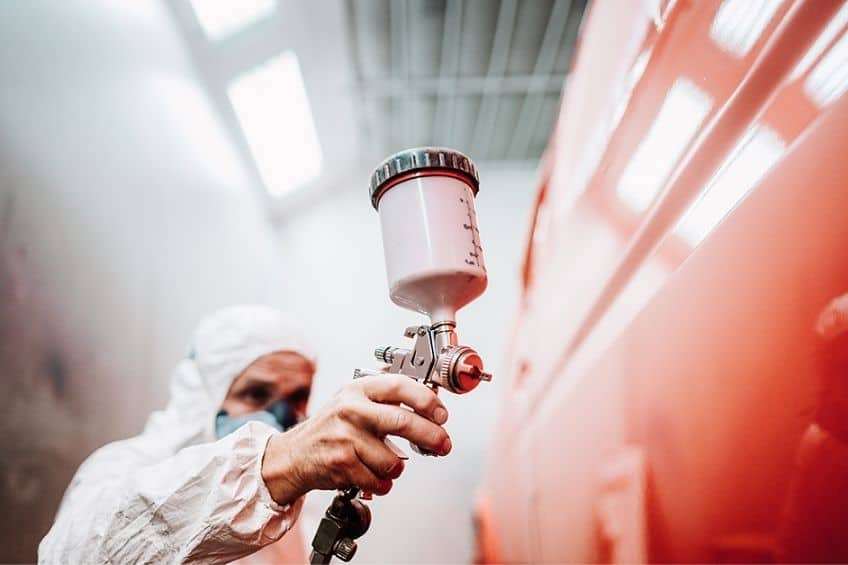 The Best Gravity Feed Spray Guns
As this is such a popular style of paint sprayer, there are loads of different gravity feed spray guns available. This can make choosing the right product a difficult decision. To make things easier, we have selected three of the best gravity feed spray guns available for all kinds of users.
Overall Best: DEWALT HVLP Gravity Feed Spray Gun
Dewalt is one of the most trusted names when it comes to tools, and this HVLP gravity feed spray gun is no exception. This gun is small and compact, lightweight, and very easy to carry around. This doesn't mean that it lacks features though. The sprayer has a mini air regulator and is made with quality aluminum parts. The high-volume low-pressure design is well balanced and perfect for accurate use.
The sprayer has a 600cc paint cup with a lid. This is big enough to handle fairly large jobs, while still keeping the spray gun small and convenient. The nozzle size of this paint sprayer is 1.5mm which is a good choice for versatile use. This gun operates at a pressure between 15 – 30 PSI, so it is best suited with a pretty low-pressure compressor.
A quality high-pressure low volume design
Small and lightweight with a mini air regulator
600cc aluminum paint cup with lid
View on Amazon
Pros
A very efficient and even spraying HVLP system
The paint cup is a good size
This spray gun is really durable
Lightweight and easy to handle
Includes a mini air regulator
A well-balanced design
Cons
Doesn't work very well with thicker paints. Paints will likely need some thinning
Best DIY Spray Gun: GRACO-SHARPE HVLP Paint Spray Gun
This high-quality paint sprayer by Graco-Sharpe is the ideal tool for any avid DIY painters or home renovators. The paint gun offers an unmatched spray pattern size and performance. This model is available with a 1.4mm spray nozzle, which is a great all-around choice. However, you can also get this unit in a 1.0mm, 1.3mm, 1.5mm, or 1.8mm option. This spray gun is light and compact, and perfect for easy use.
This is an HVLP gravity feed spray gun, so it offers improved precision and less overspray. The model is durable, being built from stainless steel, aluminum, and engineered plastic. The kit comes with a 600cc aluminum cup, a cleaning brush, and a wrench – everything you need for keeping this spray gun in good condition. In case of an emergency, there are also repair kits available.
Overall, this is a fantastic HVLP gravity feed spray gun. It is lightweight and easy to handle, built with quality materials and offers a beautiful, consistent spray pattern. Thanks to the various nozzle sizes, this is also a versatile paint sprayer for all kinds of users. It is also a pretty large sprayer in terms of paint volume and can handle many bigger jobs.
A 1.4mm HVLP gravity feed spray gun
A lightweight and compact design
Excellent precision with very little overspray
View on Amazon
Pros
Available in a wide array of different spray sies
Lightweight and easy to handle
Includes a cleaning brush
The paint cup is a pretty good size
Works really well with all sorts of low-pressure compressors
Sprays accurately and efficiently
Cons
Does not include an air regulator
You also need to purchase a hose separately
Best Professional Choice: FUJI SPRAY Gravity Spray Gun
The Fuji Spray Gravity Spray Gun is one of the top choices for any serious painter. This professional spray gun features a side pattern control knob to accurately adjust the size of the fan pattern. This can be changed from small to large to suit your project. This is also one of the best gravity feed spray guns in terms of accuracy. The non-bleed design makes sure that there is less unnecessary air blowing around, and a more accurate paint stream is produced instead.
There is a high-efficiency air cap installed to prevent overspray even more. This also helps to achieve perfect atomization of the paint. All fluid components are 100% stainless steel for better durability. The handle uses a special stay-cool nylon material placed over the metal tube.
Basically, every part of this gravity feed spray gun is carefully designed to create the best possible painting experience. This includes the high-efficiency air cap, the fluid control knob, the easy trigger, and so on. All of these parts work together to create a flawless, lightweight, and easy to use spray gun.
A 1.4mm HVLP gravity feed spray gun
A lightweight and compact design
Excellent precision with very little overspray
View on Amazon
Pros
This spray gun offers an amazing spray finish with accurate spray patterns
An easily adjustable pattern control knob
Includes stainless steel fluid passages
The high-efficiency air cap helps to produce a perfect paint stream
Lightweight and easy to handle
Cons
A more expensive spray gun
Considerations for Buying the Best Gravity Feed Spray Gun
Choosing the best gravity feed spray gun should depend on your specific situation and requirements. While these air spray guns may all look the same, the individual parts that make them up differ greatly. It is important to understand the different air spray gun parts when choosing the right product for your needs.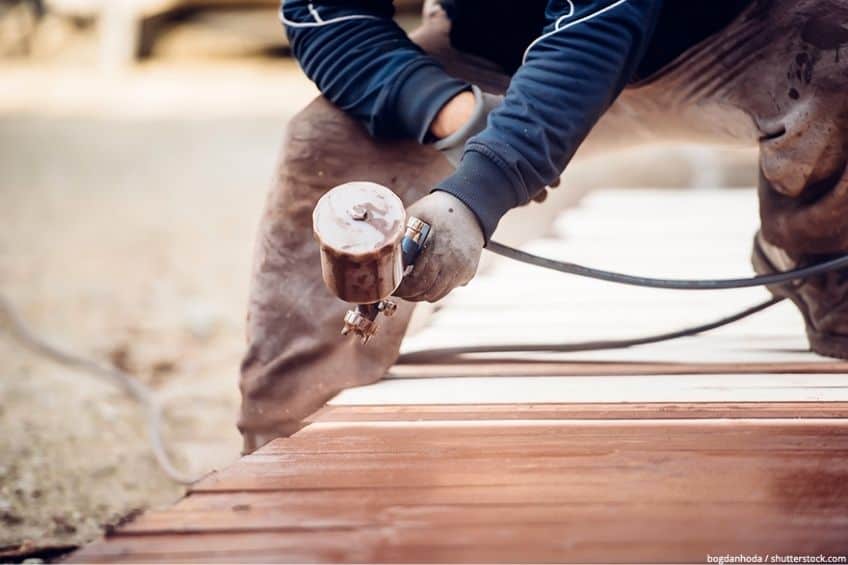 Cup Size
The whole idea behind these spray systems is based on the paint cup used. The size of the cup determines how much paint you can use, which results in how long you can use the spray gun. One of the biggest features that sets different gravity feed units apart is the size of the paint cup attached. The generally recommended paint cup size is 600cc. This offers a good balance between being able to hold a lot of paint, while not being too big to struggle to manage. However, some painters prefer a smaller cup (for smaller applications), and others prefer a larger paint cup for bigger jobs.
Nozzle Size
The nozzle is what expels the paint, and its size really matters. Different nozzle sizes will affect the size of the paint stream, and how the paint is atomized. The basic idea is that bigger nozzles are more suitable for bigger applications, while smaller nozzles are better for finer details and thinner lines. The nozzle size that is most recommended would be between 0.3mm to 0.5mm. These sizes offer the most versatility. However, you can also get nozzles in various other sizes. Some models have an adjustable spray nozzle for those wanting to have greater versatility from their spray gun.
Airflow Adjustment
Does the spray gun let you change and control the flow of the air? This is an important consideration as it can really affect the way your spray pattern comes out. Easily adjustable airflow makes the spray gun easier to work with, and it allows you to get more precise results.
Single-Action or Dual-Action Trigger
The trigger of the spray gun can come in two forms: single or double-action. The single-action design can only be pulled one way, and it delivers only a fixed amount of paint spray. The double-action trigger can be pulled in two directions, and it adjusts the size of the paint flow. Dual-action triggers provide a greater amount of versatility and control of the spray pattern. This is generally preferred by painters, although it does require a bit more practice to get used to.
Size and Weight
When working with an air spray gun, the weight of the unit is a really important thing to consider. Although this may seem silly as these items are pretty small, working with a heavier model can really take its toll when doing larger painting jobs. Try to choose a paint sprayer that is as lightweight and compact as possible to make the painting process much easier to handle.
Internal/External Mixing
When looking for the best gravity feed spray gun, you can choose between an internal or external mixing system. This refers to the point where the paint mixes with the air to atomize the paint and spray it. Usually, sprayers use an internal mixing system, which is generally preferred by more serious users. However, external mixing is fine for smaller paint applications.
What Are Gravity Feed Spray Guns Used For?
This type of paint gun uses a lower pressure to spray the paint, so they are not very suitable for large painting jobs – such as painting houses. Gravity feed models are better suited towards smaller paint applications, touch-ups, and DIY jobs. Of course, this does also depends on the size of the paint cup. For normal home users and painters, gravity feed spray guns are the top choice.
Cleaning the Paint Sprayer
A really important part of using a gravity feed spray gun is keeping it clean. You will need to clean the spray gun at the end of each session. You will also need to do a quick clean between different paint colors. Luckily, one of the advantages of a gravity feed system is that they are easier to clean.
When doing a big clean, you will need to take all of the pieces of the gun apart and clean them individually. This needs to be done with an airbrush cleaning medium as well as a special cleaning kit. The importance of a cleaning kit cannot be underestimated! When looking for the best gravity feed spray gun, this is another really important feature to consider, as you will certainly have to use the cleaning kit often.
When changing the paint to a new color, you will also need to do a quick clean. This is done to avoid unwanted color mixing in the paint sprayer, which could result in strange colors being expelled. This clean can be done by simply spraying water or cleaning solution through the airbrush as if it is paint until the spray comes out clean. Then you can add in the new color. With paint cups on top of the unit, this is much easier to do quickly.
Frequently Asked Questions
Is Spraying Latex Paint With Gravity Feed Guns Possible?
Spraying latex paint with gravity feed guns is certainly possible. To do this though, you will just need to make sure of two things: whether the paint is the right consistency, and if the particular manufacturer recommends using latex paint. Gravity feed guns can generally spray just about any type of paint, as long as the paint is of a similar consistency to milk. If your paint is too thick, you can use a special paint thinner or distilled water to reduce the viscosity.
What is a Pneumatic Paint Sprayer?
A pneumatic paint sprayer is a system that uses compressed air to expel paint from the sprayer to the surface. These systems produce a good even finish and are pretty easy to use. Pneumatic paint sprayers are also cheaper than HVLP or airless paint sprayers.
Are Gravity Paint Guns a Better Option?
When it comes to finding the best paint sprayer, there is not necessarily a better option. The best choice depends on the personal preferences of the painter, and the type of application being used. Gravity feed spray guns are certainly a better choice for smaller projects and less intensive paint applications. For big jobs, such as house painting, they are not recommended.
Why is the Spray Gun Not Spraying?
There are a couple of reasons why your spray gun may not be working. There might be a buildup of paint clogging the nozzle, or a clogged passage somewhere inside the paint sprayer. Another possibility is a loose air nozzle not supplying enough air to the gun. The best thing to do is to disassemble the sprayer, clean each part thoroughly, and carefully reassemble it.
The best gravity feed spray gun will add numerous benefits to your project, and make painting an absolute pleasure. These units have many advantages and are the perfect choice for most home painters and DIY enthusiasts. We hope that our guide has helped you to find the best HVLP gravity feed spray gun for your project. Happy painting!