Best Fence Stain Sprayer – Our Easy Stain Sprayer Guide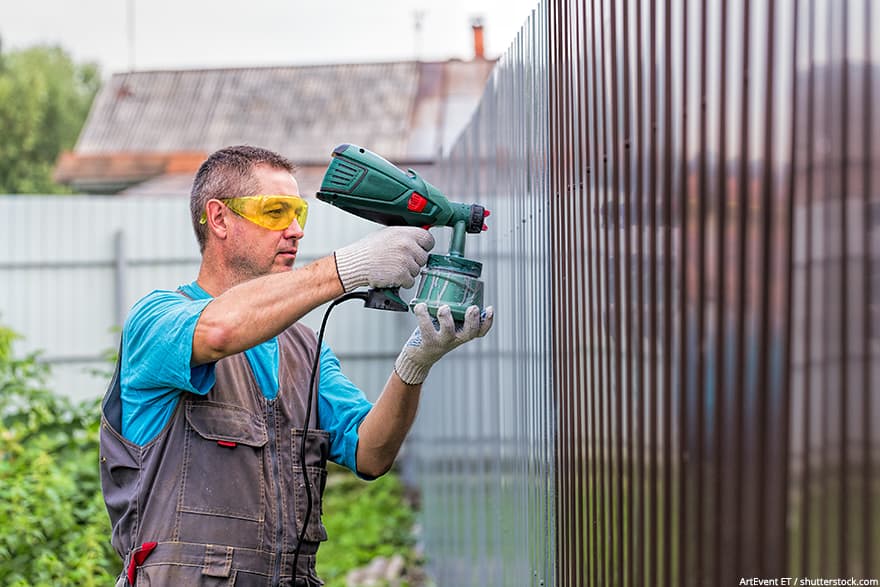 If you are looking for the most efficient, fast, and easy way to paint fences, then a paint sprayer is your best option. This allows you to get a professional finish in half the time it takes to brush the paint on. There are loads of different paint sprayers available which can make finding the right one for the job a difficult process. To make things easier for you, we have completed a full guide below on how to find the best fence stain sprayer for your needs.
Types of Fence Paint Sprayers
When looking for a fence stain sprayer, you have two main options to choose from. The first type is an airless sprayer. These spray the paint out of the gun without using compressed air. They are very fast and efficient to use, but they can be quite messy with lots of overspray.
Airless Paint Sprayers
Airless models are the best stain sprayers for larger outdoor jobs. They work much faster which makes them a great choice for this type of work. There are various different styles of airless sprayers available. This includes handheld models with easy portability, or one on a cart or stand if they are heavier.
HVLP Paint Sprayers
The other option is High-Volume Low-Pressure sprayers, abbreviated as HVLP. These use air to expel the paint, and as you can guess from the name, use a high volume of air at low pressure. This gives you a fine mist pattern that allows for excellent detailed work. HVLP paint sprayers are slower to use, but they offer much less overspray and are great with details. This makes them a top choice for smaller jobs that require more precision.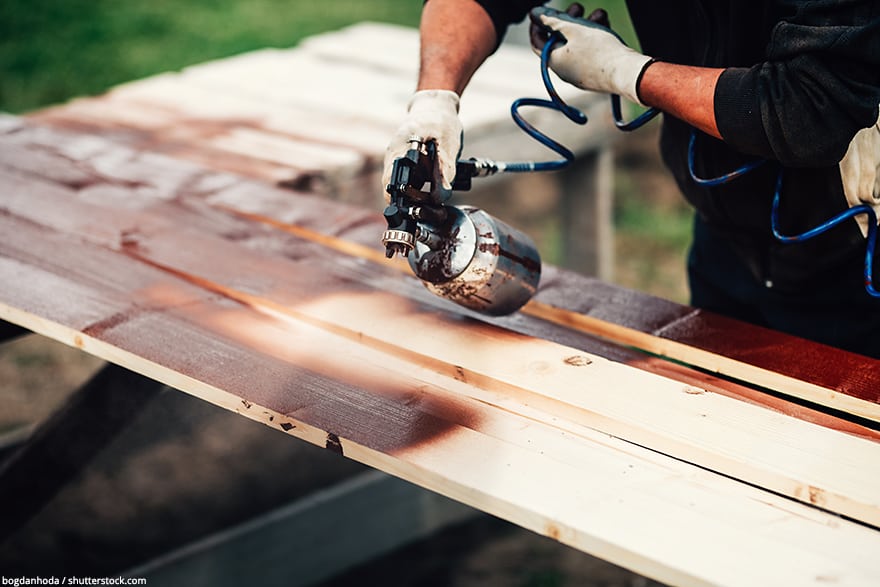 Pump Sprayers
When looking for a fence stain sprayer, you could also even use a pump garden sprayer. This can make the job pretty fast, but it will probably require back-brushing as you apply the stain. Staining fence with pump sprayers may be quicker, but it doesn't offer enough pressure to get the stain deep onto the pores of the wood. This is why brushing is still a good idea when staining fence with pump sprayers.
Best Paint Sprayer for Fences
If you will be staining a fence, then you will need the best stain sprayer for fences for a more efficient, easy job. We have uncovered some of the absolute best stain sprayer options below to make it easier for you to find the right product.
WAGNER SPRAYTECH HVLP Paint Sprayer
Wagner is one of the top brands when it comes to fence stain sprayers. This model by Wagner is a premium option for serious painters and DIY enthusiasts. This comes highly recommended by us as one of the best stain sprayers for fences out there.
The fence stain sprayer includes two paint cups – one plastic and one metal. The metal cup has a 1-quart capacity, and the plastic one is 1.5 quarts. This gives you some good options to best customize the sprayer with your painting job. Using the metal cup is probably best for stains.
This fence stain sprayer comes with air filters to make sure that the stain is released cleanly and easily. When applying stain, you won't get any air bubbles, rough finishes, or drips forming. This is a very efficient, accurate paint sprayer to make jobs less wasteful and less messy.
A great thing about this fence paint sprayer is that it offers two different spray patterns. This allows you to paint both vertically and horizontally for more options and easier work. The sprayer is also notably easy to clean as it disassembles very quickly. This is a big bonus when it comes to maintenance. Unfortunately, the cord is rather short which will limit your room for movement. You will need a good extension when staining fences with this model because of this. This also means that you will require more movement and effort when working on a fence or large surface.
An efficient HVLP paint or stain sprayer suitable for interior use
Fully adjustable paint flow and pressure settings
Includes a versatile spray nozzle for various applications
View on Amazon
Pros
Provides a professional-quality smooth finish
Includes a choice of two large paint cups
Easy to clean and disassemble
Paint cups have a large volume
Fast and efficient
Cons
Has a short cord that limits mobility
HOMERIGHT Super Finish Max Paint Sprayer
This fence stain sprayer by HomeRight provides a good combination of power and performance. The sprayer is very user-friendly and it works very efficiently – allowing you to get large-scale jobs finished in no time. This HVLP sprayer is also particularly quiet to work with which is a huge bonus for home users.
The Super Finish Max stain sprayer offers a choice of three different spray patterns to choose from. These patterns include round, horizontal, and vertical. The sprayer also comes with a choice of three different nozzles, these are in the sizes 1.mm, 2mm, and 4mm. This gives you a good amount of options to choose from for greater versatility.
It is also quite an easy process to clean the Super Finish Max stain sprayer. It comes with a cleaning needle that helps to effectively clear out any paint in the system. The unit assembles and disassembles easily enough. The downside to this fence stain sprayer is that working with it can be a messy business. A lot of paint poured into the cup actually drops down in front of the gun when in use. This can result in a lot of paint being wasted.
Easy to use, handheld electric paint sprayer, perfect for indoor use
Features easily adjustable spray settings for a variety of surfaces
Easy to clean and suitable for a wide variety of paints
View on Amazon
Pros
A large-sized paint cup
Multiple nozzles available
Three different spray patterns
Easy to clean
How to Choose the Best Paint Sprayer for Fences
There are many different options out there for fence stain sprayers. Each one has its own unique characteristics and benefits. So, how do you know which one is best? We have listed some of the key considerations below when choosing the best sprayer for staining a fence.
Stain Compatibility
Of course, the best sprayer for staining a fence needs to be able to work well with stains. In order to be compatible with thin stains, the sprayer should have adjustable settings and a variety of nozzle sizes. You should be able to change the nozzle to be able to spray thick or thin substances.
The Finish
The finish is one of the most important aspects of any paint sprayer. This should be smooth and evenly coated with little overspray. When sprayed, the stain should come out completely uniformly to make the fence look brand new. The benefit of using a fence stain sprayer is that you get a completely even, smooth coating.
Capacity
How much stain the sprayer can hold is another very important feature. This is determined by the size of the paint cup. Some sprayers have different paint cup sizes and some are limited to a single size. The smaller the cup size, the less you can spray. This will mean more topping up. The bigger the paint cup, the more you can spray. For bigger paint jobs, you should use a larger cup, around 1.5 quarts. Just remember that bigger paint cups are more difficult to manage and heavier to use.
Best Pump Fence Stain Sprayer
Choosing the best pump fence stain sprayer requires a few important considerations. The first thing is the volume. Pump sprayers are very limited by volume, so you need to know the volume you are working with before you start a project. The best sprayer for staining a fence needs to have a large capacity to avoid constant reloading with stain. This can be a very time-consuming and exhausting process.
Pump sprayers sometimes have adjustable pressure that allows you to handle different volumes with the same consistency. This is a good feature to look out for. You also need to consider the weight of the pump sprayer. Of course, heavier sprayers are more difficult to carry around which makes the job harder to manage. The big difference here is aluminum or plastic. Plastic sprayers are significantly lighter. The volume of the stain will also make a big impact here. Then cleaning is another very important consideration. You will need to find a sprayer that is easy to clean up, assemble, and take apart. This makes maintenance a much simpler process.
CHAPIN Industrial Sprayer for Concrete
The Chapin industrial sprayer is not specifically designed for spraying stains. However, its high level of power and durability makes it a great option for this. One of the best things about this product is that it can reach much higher pressures than other pump sprayers. This allows you to reach difficult places and spray with greater force. You can also achieve wide sprays for faster painting. This model is more expensive, but anyone seeking a higher pressure solution will do well in choosing this.
A 3.5-gallon tri-proxy tank for better durability
Compatible for most professional concrete applications
The Viton seals and gaskets can handle a wide variety of chemicals
View on Amazon
Pros
The sprayer offers excellent high pressure
A very durable pump sprayer
Efficient to work with
Can handle all sorts of chemicals
Suitable for concrete applications
Cons
A more expensive option
Not everyone wants as much power from their pump sprayer
How to Stain a Fence With a Stain Sprayer
Now that you have a better understanding of what to look for when buying the best fence stain sprayer, you will need to know the basics of how to use it. Here is a simple beginner guide to staining fences with a sprayer.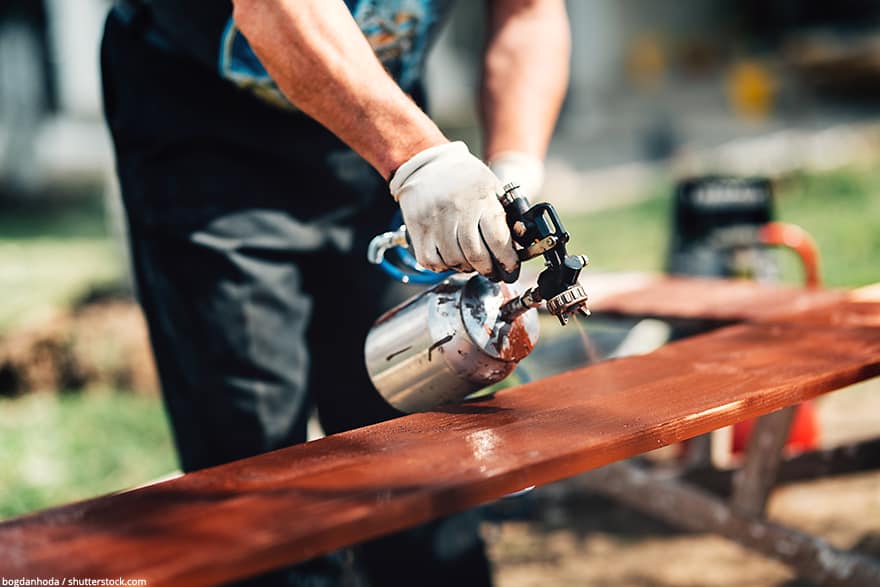 Inspect the Wood
Start by taking a good look at the wooden surface. You will need to check for any nails, screws, staples, or broken areas. Remove these properly before staining, as this will end up affecting the finish in a big way. Make sure that you are working with a smooth, clear surface. Then get all of your tools and supplies together. Being well-organized will make a big difference when it comes to doing the job.
Clean the Wood
The next step is to make sure that the fence is properly cleaned and ready for the stain. A good option is to use a deck cleaner for this process. Take some time to do this properly, as it will make a big difference to your end result.
Always wear the appropriate protective clothing first before you start to use cleaning solutions. This should include gloves and possible goggles. You can use a bristle brush or mop to scrub away any stubborn areas of dirt. Then rinse the fence completely, and make sure that it is fully dried before proceeding with the stain.
Staining the Fence
Now the wood is ready so you can start to apply the stain. This should be a simple process that can be done by anyone at home. Your options are to use a brush, a roller, or a fence stain sprayer. As you can guess, we recommend the sprayer option because it is much easier and you achieve a far superior end result.
When spraying, fill your unit up with stain and use a continuous motion to coat the fence. Dont take any pauses while spraying to avoid areas of buildup or runs. Just spray evenly and slowly, moving your sprayer in an even pattern the whole time. Cover the entire fence with stain and leave it to dry.
Drying
Once the stain has been completely applied, you will need o leave the fence to dry. Make sure to leave it completely alone without touching it for 24 hours. The drying time may even take longer than this – up to 48 hours. Understand the product you are using and environmental conditions when drying the stain. Humidity can slow down the drying process, so it's best to apply the stain during low-humidity if this is possible.
Maintaining the Stained Fence
It's that simple – the staining process is finished. Stains offer a pretty good level of durability so you can just leave them and enjoy your handiwork. However, stains will require reapplication every once in a while. You probably need to clean the fence thoroughly about once a year and reapply the stain when it starts to fade away.
Safety Tips for Using a Fence Paint Sprayer
This job is done outside which does make things better in terms of fumes.  However, there are still a few important safety considerations to bear in mind. Paint fumes are still present, so you must always wear a respirator mask when spraying paint or stains to avoid inhaling the fumes.
You should also wear vinyl or latex gloves to help protect your hands against potentially harmful chemicals in the stain or stripper. Then there is also the issue of static electricity build-ups, electrical shorts, or fire hazards. Make sure that the electrical extension cord is properly grounded and safe before use. If staining the fence from a ladder, be cautious. Make sure that the ladder is stable and won't sink into the ground or topple over. This is especially important when working with a heavy paint sprayer.
Frequently Asked Questions
When Can You Pressure Wash a Fence After Staining?
This depends on how long the stain takes to dry. In hot, sunny, and dry weather, the stain should be washable after 24 hours. To be safe though, you may want to wait 48 hours before pressure washing to ensure a fully dried stain.
Must You Sand a Fence Before Staining?
Sanding is important to remove any loose paint or chipped surfaces. Sanding is also a good idea to roughen up the surface a bit to allow for stronger adhesion of the paint.
How Many Layers of Stain is Best to Apply?
This depends on the type of stain you are applying. Often, just one coat is all you need for most stains. However, two coats are often best for a semi-transparent stain.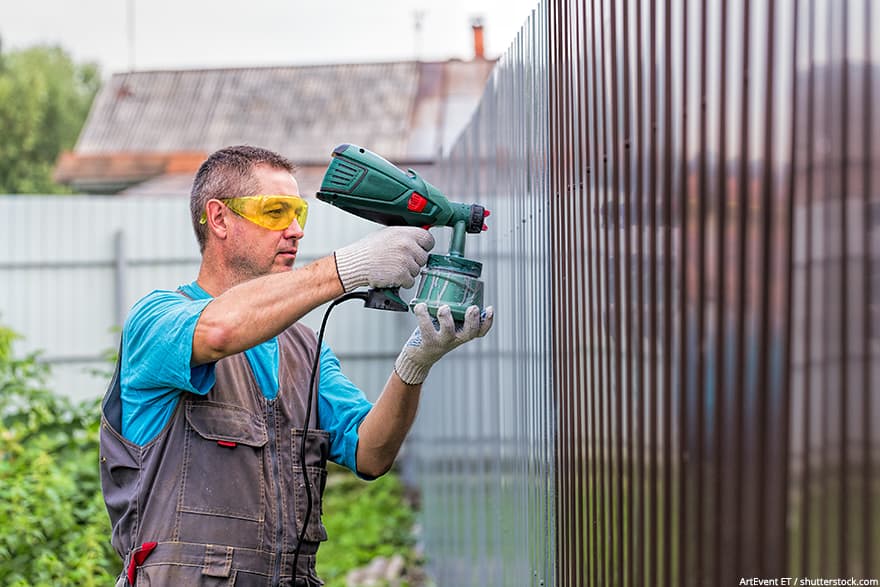 How Long Do Stained Fences Last?
This depends heavily on the type of stain used and where it is applied. Generally, a stain should last up to 5 years. Some stains may last 2 to 3 years, but they shouldn't be less than that.
Can You Apply Stain to a Fence That is Already Stained?
If the existing stain is a topcoat then you can't stain that wood. This will need to be removed first with a stripper or by sanding it down. Then you can apply a new stain to the exposed wood.
How to Seal a Fence Using a Pump Sprayer?
Open the sprayer up and fill it with the stain. Then seal the lid properly so that you can build up pressure while pumping. Pump the vacuum until enough pressure is created, then spray the stain over the fence.
Can You Use an Airless Sprayer for Stains?
Of course, an airless sprayer is a very efficient solution for spraying stains. Just make sure that the sprayer has the right tips and settings to be able to apply the stain effectively without any issues.
How Much Stain is Necessary for a Fence?
A general rule of thumb is to use 1 gallon of stain for up to 175 square feet of fence. If the fence is bigger than 550 square feet, you will need 2 gallons of stain. Understanding how big the fence is and how much stain you need is important because you really don't want to run out halfway through a project.
At What Temperature Should You Stain a Fence?
Different stains vary here, so be sure to look at the product's specifications when figuring this out. Generally, between 50 to 90 degrees Fahrenheit is ideal. Try not to apply wood stain in high humidity or any wet conditions.
When looking for the best fence stain sprayer, there are a few important considerations to make. Our guide above should have cleared up everything you needed to know to help figure out what the best paint sprayer for fences is. We hope you enjoy using this helpful tool!