Best Automotive Paint Gun – Buyers Guide to Automotive Paint Sprayers
Before you can go about and slap a fresh coat of paint onto your car, you will need to ensure that you have the best tools for the job. This is a delicate process, and the quality of the tools that the painter is using will determine how well the job will be done. Investing in a high-quality automotive paint gun will help you to achieve the perfect smooth, durable finish. Getting the best auto paint gun makes a massive difference when painting cars, and it should never be a piece of equipment that gets overlooked. Follow our guide on the best automotive paint sprayers to help you find the perfect product for your needs.
Different Types of Automotive Paint Guns and How They Work
Like any trade, there are a variety of types of automotive paint sprayers. Most painters, especially those that have been doing it for a long time, prefer using airless systems or siphon-feed conventional spray guns. However, some painters prefer to have more control and they usually opt for a gravity feed system.
HVLP Spray Gun
High-Volume Low Pressure (HVLP) automotive paint sprayers have become an extremely popular choice and are preferred over conventional automobile paint sprayer systems. This is our recommendation due to the superior finish and maneuverability that this system provides. It is also a great choice due to the strict environmental regulations that forbid the use of conventional automobile paint sprayer systems. Even though HVLP systems are not as effective as gravity feed systems over large areas, we still prefer to use them.
Any sprayer that has a high transfer efficiency or (TE) is one that we would recommend as the cost of high-quality automotive paints can be significant. This will help you to save money and avoid paint wastage, and HVLP guns are the best fit for this. By using these airbrushes, you will avoid experiencing any bounce back or overspray. The HVLP gun and its parts can be easily adjusted or replaced. This will ensure that waste is minimal and that the quality of the finish is never compromised.
Siphon-Feed/Conventional Spray Gun
The most common type of spray gun, the siphon-feed system uses a well-known cup-on-the-bottom design. This allows the air and the paint to be combined from an air compressor at the nozzle. These were the only available variation of spray guns for a long time, but this changed during the mid-1980s.
Gravity Feed Spray Gun
The gravity feed spray gun gets its name from the cup-on-the-top style. Unlike other spray guns, it does not have a suction tube, as the cup on top of the spray gun releases the paint into the gun chamber. It is there where it is combined with the pressurized air and then it is atomized when it is released. The main benefit of gravity feed guns is that they are easier to control and they require less air pressure. This makes them very popular tools at automotive restoration workshops.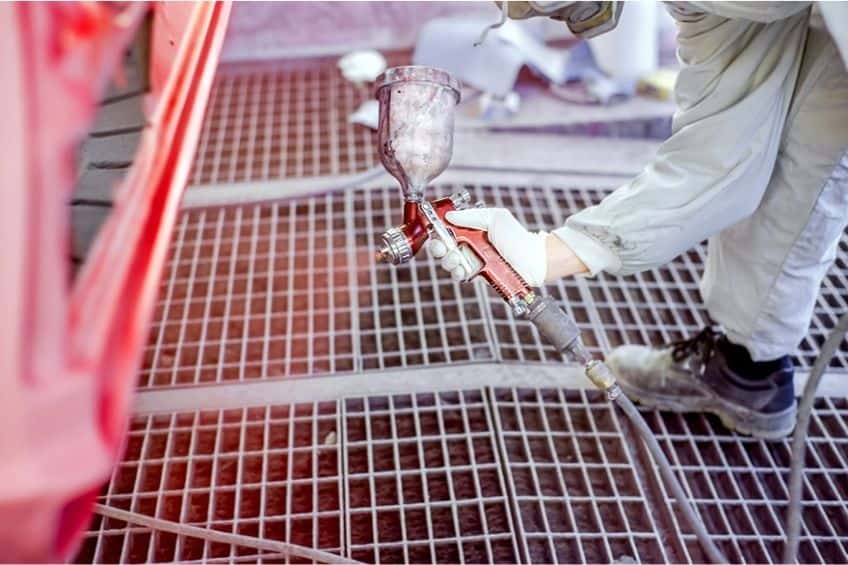 The Best Auto Paint Gun
Finding the best auto paint gun should not be a headache, which is why we have taken the liberty to provide you with some of the best automotive paint gun reviews. The auto paint guns that are mentioned below are our top picks and will provide you with a high-quality paint job if they are used with proper technique and the best paints.
Overall Best: FUJI Semi-PRO 2 HVLP Spray System
If you are looking for the best automotive HVLP spray gun, then it is difficult not to recommend the Fuji 2202 semi-PRO 2. In case you did not know, Fuji is an industry leader when it comes to turbine spray systems, and the 2202 Semi-PRO 2 is one of their most popular products. This spray gun can be used to deliver a high-quality paint job on a variety of surfaces, including wood, but it is most commonly used within the automotive industry on trucks, motorcycles, and cars. There is also no need to purchase a compressor, as this is an all-in-one system that makes it the perfect all-around addition to any workshop.
This is also one of the more cost-effective options, especially if you are planning to do a lot of work on trucks, cars, and other vehicles. This is what makes it such a high-rated product, as it is a well-priced option that works very efficiently. This spray gun is a two-stage spray system that is equipped with adjustable controls which means that you can work at you're a pace that you are comfortable with. It is also best to change the settings when working on a different surface such as going from a car or truck to an exterior wall.
The 2202 Semi-PRO 2 comes with a 1400-watt motor that is fitted in a metal turbine case that is equipped with a gun holder. This will make it easy for you to be in one spot without having to make a lot of trips to the workshop or the garage. Due to the power rating of the motor, the 2202 Semi-PRO 2 is equipped to handle an extensive range of jobs that are perfect for automotive and household use. You will also be able to take advantage of the motor's ability to power through a wide range of tasks with even covering many surfaces.
The 25-foot hose makes it easy for you to access hard-to-reach areas and it allows you to move around freely without worrying about it being too short. The hose has an air control valve that makes it easy for you to control and minimize the possibility of overspray. Bounce back is also minimized and this will allow you to be in complete control while painting regardless of what you are working on.
This spray gun is also equipped with a 1.3 mm air cap, a one-quart bottom feed cup, and an adjustable fan control knob to ensure that the width of the spray matches the project that you are working on. This spray gun features a variety of special features that allow you to produce the best quality with each spray job.
A non-bleed spray gun with an adjustable spray pattern
Includes a bottom-feed cup and an efficient air control valve
Comes with a metal turbine case and airbrush gun holder
View on Amazon
Pros
The hose is flexible and long enough for easy use
The handle is comfortable
The HVLP system makes this an efficient product
The brand is reliable and many have experience using it in the automotive industry
Durable and long-lasting
Easy to use and control
Cons
The nozzle can clog while in use
Thicker paints will require thinning
The Best Professional Automotive Spray Gun: FUJI T70 Mini-Mite 3 PLATINUM
Heading into professional territory, if you are looking for the best spray gun for painting cars then the Fuji 2926-T70 Mini-Mite 3 PLATINUM is what you would want. This spray gun has all of the features that are wanted in a professional system, with the benefit of being portable. This is what makes it the perfect option if you are looking to paint your car or truck without being weighed down by a massive air compressor.
The turbine of the 2926-T70 Mini-Mite 3 PLATINUM is equipped with a 6-psi motor, which means that you can use it for a variety of different types of paint. This sprayer can be used to handle different types of paint, especially when painting different types of vehicles. The heat-dissipation box prevents the sprayer from overheating by efficiently channeling heat out of the system, which means that you can keep spraying and ultimately get the job done quickly. The 25-foot Hi-Flex hose allows you to get to those hard-to-reach areas and awkward areas. This allows you to move around your workspace without any issues, this hose has the flexibility that will allow you to move around various obstacles.
This sprayer is perfect if you are looking for a professional finish on a DIY-friendly budget. This spray gun features a non-bleed system and this allows you to produce a clean-looking paint job, regardless of the surface. To maintain control while working, this product is equipped with a standard fan-pattern control knob. This will help you to choose the variation of coverage that you would want as you work. Selecting the desired setting is quite easy as it can be adjusted on the fly, which is great if you have to adjust to doing more precise work. The air cap measures 1.3 mm with a 1-quart bottom-feed cup.
When it comes to usability and overall experience, the Stay-Cool handle is comfortable enough to allow you to work over long periods. The ergonomic design will prevent wrist strain and other types of hand-fatigue. Maintenance is easy as you will also be given a cleaning brush that ensures that your spray gun always looks good and performs as it should.
Along with the cleaning brush, you will also be given a user's manual along with a wrench. The machine is easy to use, but you can refer to the manual if you run into any issues. This is a great spray gun for novice painters and professionals, and if you need something a bit more premium, the Fuji Mini-Mite 3 PLATINUM is a step above in price and quality, with better features and power.
Professional spray gun with a side pattern control knob
Non-bleed, lightweight, and ergonomic spray gun
Featuring a special noise reduction cover
View on Amazon
Pros
It is the most powerful three-stage turbine available on the market
The Stay-Cool handle is comfortable and provides an ergonomic grip
It is an all-in-one portable system
It comes with a 25-foot-long flexible hose
The controls are easy to use
Relatively quiet operation
Cons
A more expensive paint sprayer
The Best Budget Automotive Spray Gun: DEVILBISS Finishline HVLP Spray Gun
Sometimes we do not have hundreds of dollars to spend on a premium spray gun, but this does not mean that you need to sacrifice quality. The DeVilbiss Finishline 4 is one of the best budget spray guns and it is known for providing users with the latest and the best atomization technology. This small machine will allow you to produce exceptional results and high-quality finishes. This might just be a spray gun on its own, but a small compressor will not cost much, and it will remain a cost-effective solution.
What makes this such a great spray gun is that it is popular for providing spray painters with easy-to-use fluid nozzles and a precision machined air cap. This means that you will end up with a high-quality finish while using this gun. This is perfect for working on areas of the surface that require a detailed finish on your car or truck, so it is not the best paint gun for cars, but it comes close. This is also a spray gun that can be used on larger areas, which makes it a multipurpose painting tool, which can be enjoyed by DIY enthusiasts and small-scale workshops.
The DeVilbiss Finishline 4 is easy to clean as the body of the spray gun is anodized, this means that cleaning does not need to be done as frequently as you would expect. This anodized finish also means that you will never need to worry about rust or other types of wear-and-tear on the interior or exterior of this gun. Any experienced spray painter will tell you about the lengthy cleaning process that applies to spray guns, and even the best spray gun for painting cars can be a pain to clean. However, the DeVilbiss Finishline 4 is a breeze to clean and this is what makes it an outstanding product.
We would recommend this spray gun as one of the best options, especially if you are looking for a long-lasting piece of equipment. Whether it is a big job or a small one, this lightweight spray gun tips the scales at 1.5 pounds, which means that you will not need to hit the gym to use it. This also means that you will have complete control over the gun. The DeVilbiss Finishline 4 comes with a range of fluid tips that range from 1.3 to 1.8 mm, and this allows you to experiment with different types of paint.
Each tip will provide you with a different type of finish based on how the paint is atomized. Regardless of the size of the tip, you are guaranteed to end up with a paint job that looks like it was completed by a professional. However, this does not mean that you should not practice your spray-painting skills, the spray gun will only do so much.
Precision machined air cap and fluid nozzles
All components are anodized for easy cleaning
Efficient air adjusting valve and gauge for easy control
View on Amazon
Pros
It comes with fluid nozzles and an air cap that has been machined with precision
It is easy to clean
It comes with 1.3-, 1.5-, and 1.8-mm fluid tips
It is extremely light as it weighs in at 1.5 pounds
The body is completely anodized
Cons
Quite expensive as it is only a single component
You will need to buy an air compressor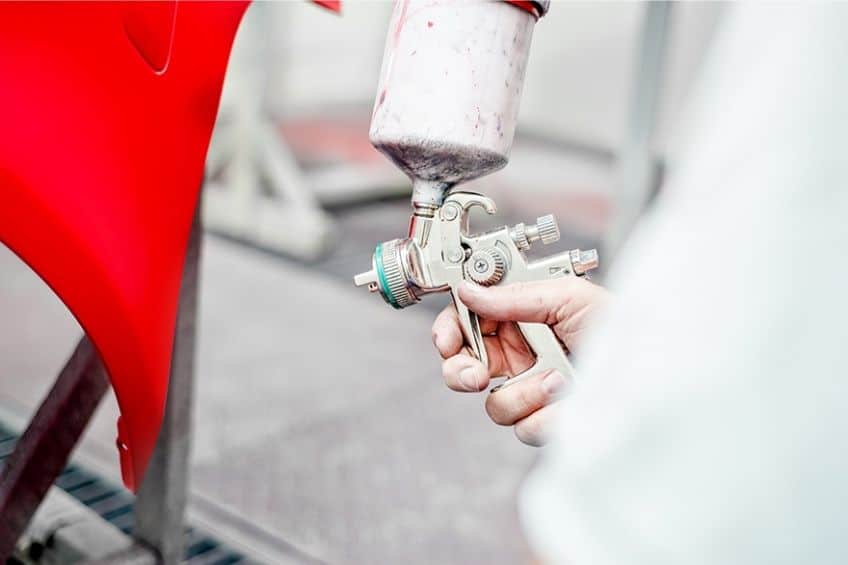 Automobile Paint Sprayer Buying Guide
Regardless of the type of projects that you are doing, there are a handful of factors that you need to consider before choosing the best automotive HVLP spray gun. This ranges from the type of paint that you will be using, so if you are planning on using thick paints or coats such as primer, you will need to opt for something more powerful and larger spray gun with larger nozzles. If you are going to use thinner paints, less power is required with smaller nozzles. There are some great automotive spray guns that are incredibly versatile as they are equipped with adjustable features. This allows you to use a wide range of materials.
Another important factor to consider is your budget, and this is a trap that many people fall into, as they usually end up buying an incredibly expensive paint gun that is barely used after a single project. However, if you are planning to use the gun for multiple projects, then you should likely invest in a premium product that will last a long time. More expensive spray guns will provide you with a high-quality finish and they are easier to clean.
There are a few additional factors to consider before heading out and buying a new spray gun. We have provided a detailed list of factors below and these will help you to find the best spray gun for painting cars without having to sift through a multitude of auto paint guns reviews.
The Type of Paint Gun
Automotive painting requires equipment that is designed specifically for that type of work, which makes it significantly different from regular DIY projects. However, you can use any type of paint gun, the job will be made much easier while using a specific type of gun. HVLP and gravity-fed spray guns are viewed as the best as they use less air pressure which prevents overspray.
The Length of the Hose
It is easy for this to be an afterthought, but this will determine how easily you will be able to move around while working. Most spray systems are equipped with a relatively long hose, especially those that are mentioned in automotive paint gun reviews; however, this is an extremely important factor. The reality is that cars and trucks are usually larger than anything else that you will be working on, and the last thing that you would want to do is haul a heavy compressor with you as you move. If the hose that has been provided is not long enough, you can buy a longer hose, but it is best to check out an auto paint gun review and choose a model that has a long hose.
The Size of the Container
Painting a truck or a car requires much more paint than a household item. The size of the paint container, or the cup, should be large enough to hold a lot of paint, but small enough to be carried around easily. You will need to find a balance between the two, and this comes to personal preference as the strength will differ from one person to the next.
Adjustable Features
The adjustments that are available on a specific spray gun is something that needs to be considered as this will allow you to change the way you work depending on the size of the job. With automotive jobs, you will need to change speeds, nozzle directions, and pressures, and the adjustments of spray guns will determine how well you can do it. If the spray gun is not provided with adjustable features, you will need to buy separate tools that will help you to complete the job. However, it makes more sense to spend a bit more to get a spray gun that has all of the necessary adjustable features.
The Size of the Nozzles
Most spray guns are available with tips and nozzles that are removable and the size of it will determine the amount and the type of spray that is released when pulling the trigger. The width of the paint fan and the distance is also affected by the nozzle. A broader paint fan is needed for body paint, whereas smaller details will require a smaller paint fan, hence, it is important to purchase a spray gun that can accommodate different nozzle sizes. This can be found in a range of automotive paint gun reviews.
Paint Quality
Cars and other vehicles need to be painted with more specialized paints such as primers, clear coats, single, and double stage paints. The amount of paint that is applied along with how evenly it is applied will have a direct effect on the quality of the paint job. Even, thicker coats will look much better than thin coats and they will also have a higher gallon per minute (GPM) rating which will allow you to spread more paint as you spray.
Warranty and Cost
The cost of the spray gun is an important factor to consider, so if you are going to do one job, there is no need to spend more money on a premium model. However, if you are buying a spray gun for business use or if you are planning to paint a car regularly, it would be best to pay for a more expensive model. This is because it will be more durable and it will be a better-quality product.
The Compressor
The air compressor that you are going to use will need to be able to keep up with the spray gun. This means that it has to be able to produce the right amount of air to maintain a consistent amount of air pressure. There are two units that you need to pay attention to when buying a new air compressor, and that is the CFM (cubic feet per meter) and the PSI (pounds per square inch). Paint guns are appraised by the CFM that they require at a particular PSI.
The general rule of thumb is to buy an air compressor that is capable of producing 1.5 times the CFM that the spray gun requires at a particular pressure. This will reduce the risk of the compressor not producing enough compressed air, which will require you to wait until the pressure is rebuilt as the paint dries. There are HVLP guns that come as a complete kit, and this means that you do not need to purchase a separate air compressor. There are plenty of auto paint guns reviews that feature these all-in-one systems.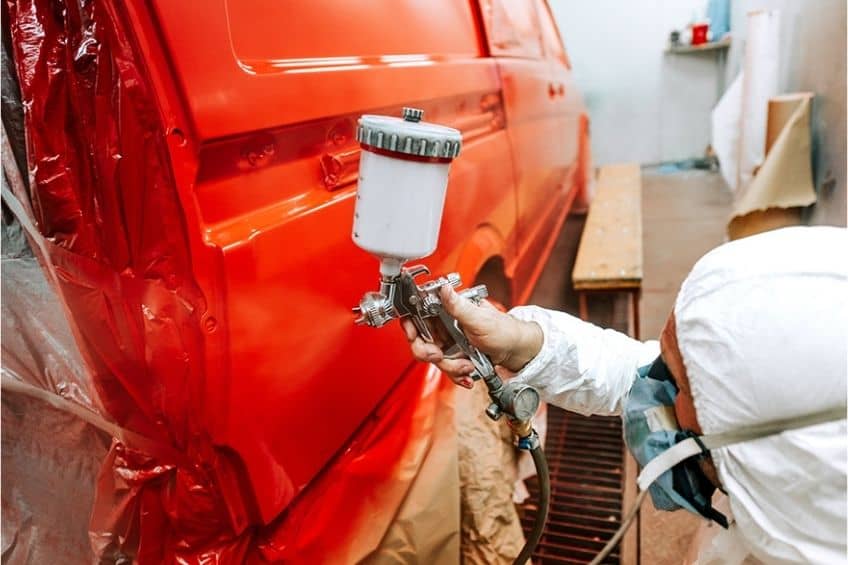 Tips for Painting Your Car at Home
Painting your car at home is something that should not be taken lightly and it requires a lot of time and preparation before the job is started. Below are a few tips that will help to ensure that you end up with a high-quality paint job that does not require you to redo any panel of your vehicle.
Consider the Wind
Spray painting guns release atomized paint that is transported by the air onto the surface of the car. The wind will be able to blow these paint particles away, which will result in a mess and you will need to use more paint to get the job done. The wind also carries dust and sand, and this will ruin your paint job as the finish will not be consistent and smooth. It is best to paint during a calm day with no wind. If this is impossible, the next best thing is to create a makeshift spray booth from plastic sheets.
Use Tape
Use tape to cover all of the portions of the car that you do not want to get any paint on. This includes all of the glass, door handles, locks, and radio antenna. Take the time to tape off any areas as this will prevent you from having to clean and potentially damage the surface that you are trying to remove the paint from.
Test Before You Start Spraying
This is an important part of the spray-painting process as you will need to ensure that your paint is flowing at the desired rate and that the pattern that is being used is the right one. This can be done on an old piece of metal or cardboard. This is also a great way to adjust the distance that you are holding the gun from the test material and determine how far you should hold it from the car.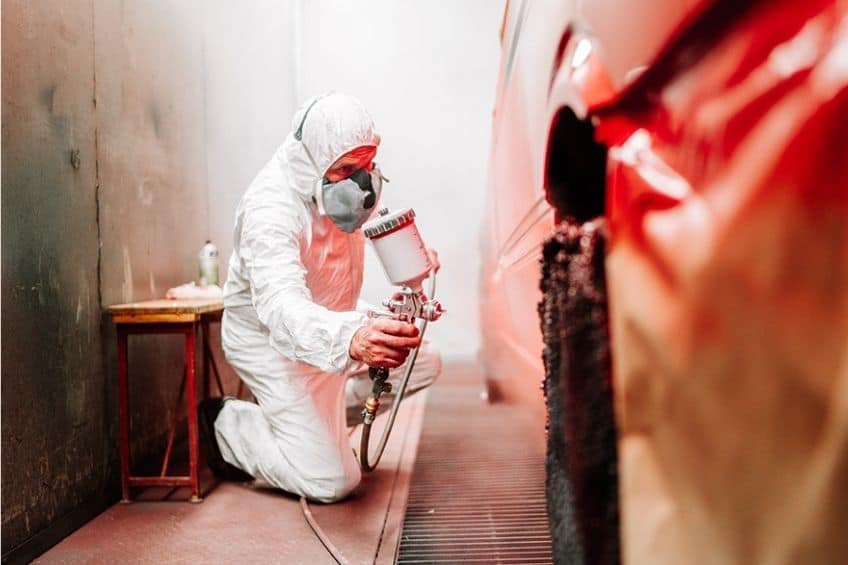 A Basic Tutorial for Painting a Car by Yourself
Now that you have read an auto paint gun review or two and found the spray gun that you need, start by assembling your spray kit. The next step is to find an old piece of cardboard that will be used to conduct a preparation run with the spray gun. This will allow you to make the necessary adjustments before you move on working on the car.
Ensure that you are wearing the correct protective gear such as goggles, overalls, a respirator, and ear protection. The main difference between automotive and interior paint jobs is that automotive paint is prone to cause misting, as it does not dissipate as quickly due to the protective environment that the vehicle is in. When you start spraying your vehicle, the best way to go about this is with solid, and even strokes in a back-and-forth motion that is consistent.
By keeping the lines of the paint straight, you will prevent potential running and coverage from becoming too deep. If you do experience running, you will need to wait for the paint to dry and then sand the area down and restart the process.
The entire painting process will look like this:
Wash the car and proceed to hose the area around it to remove all of the dust particles
Proceed to strip off all of the old paint with a power sander, this should be done in circular motions to prevent scratching the car
During the primer application, start from the roof and work your way to the bottom
The primer should be applied up to three times to ensure that you achieve a proper coating
It is best to wait up to 20 minutes for the primer to dry before adding the next coat
Smooth the primer with 2000-grit sandpaper once the final coat has dried to get a smooth finish
Wipe away all of the dust that the primer has made during the sanding process with a cloth that does not leave any lint
Clean your spray gun
Apply several coats of paint while allowing each coat to dry, a minimum of four coats should be applied
Apply the lacquer coat or clear coat in thin layers, this should be done until the car produces the shine that you want it to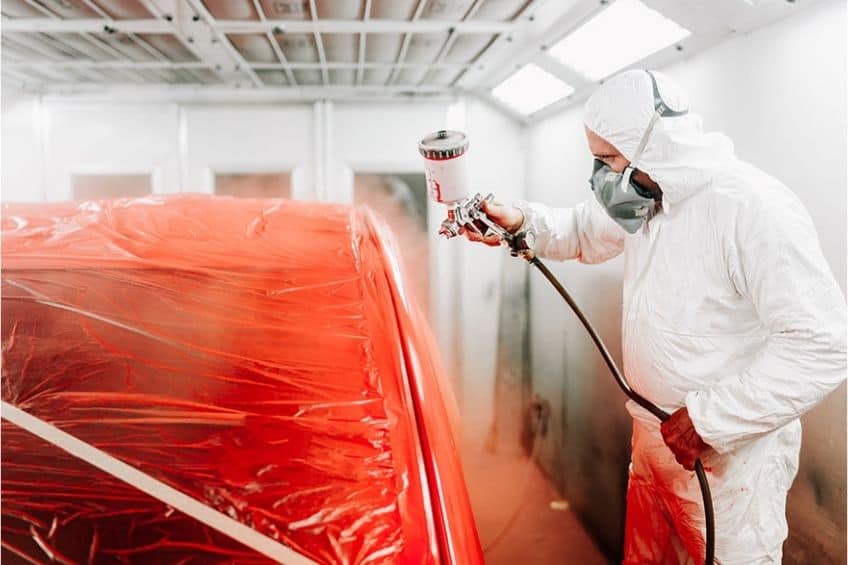 Maintenance, Cleaning, and Storage
Like any spray gun, cleaning it after every use is critical as this will prevent clogging. Gravity-feed guns are a bit easier to maintain as you will not need to disassemble the entire gun to remove all of the excess paint. This unit can be left intact as you add a cleaning solution, empty the cup, and spray the cleaning solution through, which makes it a more desirable type of spray gun where this is concerned.
Regardless of the style of your spray gun, always check the hoses, seals, tips, tubes, and nozzles. Replace what is necessary and check your air lines, motor equipment, and the compressors along with the motor equipment. If you are planning to store your equipment, you should refer to the owner's manual to ensure that you follow the correct protocol. Some models require a winterizing solution to be left inside the gun until you use it again. Whereas other brands will require complete disassembly for storage.
Frequently Asked Questions
What is the Best Budget Automotive Paint Gun?
The DeVilbiss Finishline 4 HVLP is considered to be one of the best budget automotive spray guns by industry experts. This cost-effective product will allow you to produce high-quality results and it is incredibly durable. It also comes with a variety of tips for various applications.
Which Cheap Spray Gun Would You Recommend?
The Krause & Becker Electric Paint Spray Gun is one of the best cheap options if you are looking for a spray gun that can produce a good finish without breaking the bank.
Is it Possible to Paint a Car with an HVLP Spray Gun?
HVLP spray guns do a fantastic job when it comes to precision spraying onto the surface of the car. They also have great transfer efficiency, which means that most of the paint that is released from the gun will stick to the car.
Is HVLP Superior to LVHP?
LVHP guns are better suited for professionals as they provide a superior finish, and they are faster than HVLP guns. HVLP guns are perfect for homeowners that are doing DIY projects as they are slower but they produce great results.
Finding the best automotive paint gun will make a huge difference to your painting project. Whether you are a professional or an avid home DIYer, having the best paint gun for cars can be incredibly useful. Follow our automotive paint gun reviews above to help you find the ideal product for your needs. Enjoy the painting!