Best Primer for Miniatures – How to Find the Right Miniature Primer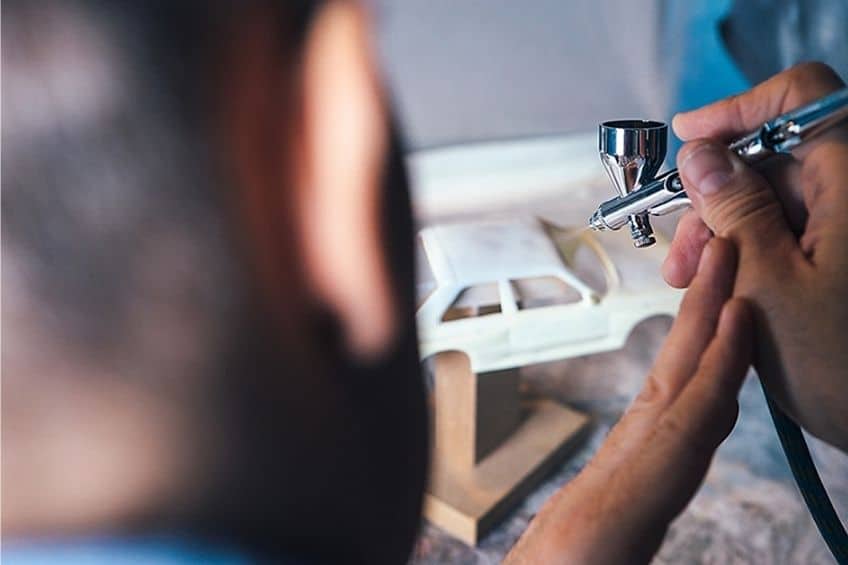 Do you enjoy model painting? Then you will need to find the best primer for miniatures. Finding the best primer for your project depends on the type of surface that you will paint over. You get primers specifically designed for metals, and ones best suited for plastic or for resin. The idea behind how these primers work is always the same. A layer of primer adds a necessary protective coating to prepare the model for painting. Primer can also help to create a smooth and even painted surface. Let's explore some of the different primers available, and find out which is the best primer for miniatures
What is Miniature Primer?
Before applying paint to a surface, primers are there to create the proper foundation. In order to make sure that the paint lasts a long time without any problems later on, applying a coat of primer is necessary. Primers can usually work with a wide variety of different paints and brands.
So, before painting a surface, a layer of primer needs to be applied to prepare it. Whatever type of material or surface you are painting over, a layer of primer will help to create a universal surface to paint over. Primers help to protect the surface from paint absorption, and they help to provide a more even and smooth surface texture to paint over. Using a layer of primer makes painting over it easier, as well as allowing the paint to stand out better. When painting miniatures, a layer of primer will seriously enhance the end result.
Metal and Plastic: The Best Primer for Miniatures
If you are working with miniatures around the scale of 28 – 35mm, then it is best to use a spray-on primer. Any larger models can take just about any other type of primer. When applying the primer, you want to provide a thin and even coating over the surface. No details should be covered over. It is therefore essential to provide a particularly thin layer on the first coat which you can build upon. The best primer for miniatures will offer an easy thin coat.
This is why a spray-on product is often the best primer to use on plastic miniatures. It is the easiest way to get very thin and even layers. Brush on primers follow the same concept here – they need to be suitable for a very thin and even application.
The Best Primer for Plastic and Metal
Interested in finding the best primer for miniatures both plastic and metal? We have selected the best performing products below for various miniatures projects.
VALLEJO Surface Primer
This primer by Vallejo provides the ideal solution for just about any project based around models and miniatures. This product can be applied with a brush as it is, or it can be used as an airbrush primer when thinned out with water. This is absolutely a best primer for miniatures thanks to it being specially designed for these crafts.
One of the reasons that this primer works so well for miniatures is that it can be thinned out very effectively for very thin coats. When applied with an airbrush, this provides an even surface that efficiently covers all areas of the model. This primer is also available in a range of different colors.
An acrylic-polyurethane surface primer solution
The primer is white and suitable for various paints
Easy to clean up with water
View on Amazon
Pros
Can be thinned down easily
Works well when applied with an airbrush
Can be cleaned easily using water
Available in a range of colors
Can be used directly or mixed with other products
Cons
Applying it with a brush can be quite difficult
CITADEL Paint Contrast Spray
This spray-in primer by Citadel has been specially designed to work with their contrast paint line. These paints are formulated for models and miniatures, so you know the primer will work well. The primer is easily applied to models as an undercoat and works very effectively when it comes to painting over.
After spraying this primer, you get a smooth surface for covering over with paint. Although this primer is a little bit more expensive, it does work very well for use with the contrast paint technique of applying a single thick layer.
A versatile grey spray paint primer
Specially formulated for use in model painting
Easy to apply with thin, even coats
View on Amazon
Pros
Specially formulated for models and miniatures
Can be used on basically any surface
Easy to apply
Excellent adhesion
Provides a smooth and even coat
Cons
A more expensive primer
Being an aerosol primer, proper ventilation is required while in use
TAMIYA Fine Surface Primer
This aerosol primer by Tamyia offers a very thin mist when sprayed – providing a perfectly thin and even coat over models and miniatures. This primer is great for preserving every small detail and is ideal for use over smaller models. This is an enamel based primer which makes it a durable choice for plastic and metal models. The primer has good adhesion properties and is easy to apply. This makes it a best primer for plastic.
A light grey fine spray surface primer
Ideal for preparing plastic and metal for paint
A white surface primer that works with all colors
View on Amazon
Pros
High-quality undercoat
Very good adhesion properties
Easy to apply even, thin layers
Works well for capturing every detail
Suitable for various surfaces
LIQUITEX Neutral Grey Gesso
If you are looking for an affordable solution for priming miniatures, then this gesso by Liquitex is a great choice. Compared to regular primers, this product is significantly cheaper while still providing great results.
Gesso is usually used on canvas as an undercoat for painting, but it can also work well as a primer for models and miniatures. This gesso is a particularly good choice for resin and metal models thanks to its strong durability and adhesion. This bottle by Liquitex is easy to use and is available in a variety of colors. The best primer for miniatures could take many forms depending on your project and personal preferences. This includes gesso.
Grey gesso for priming many surfaces
Reduces the viscosity of heavier paints and gels
A non-toxic and versatile acrylic medium
View on Amazon
Pros
Offers a very durable surface
A more affordable primer option
Can cover a large area
Has a thin viscosity which is great for model details
Cons
Should be applied with a brush which is often less favorable for models
Gesso can form surface bubbles when applied
Gesso takes longer to dry than regular primers
Why Use a Miniature Primer?
So, why exactly do you need to use a primer for miniature painting? Well, there are two main functions here. First of all, the primer allows for far better adhesion for the paint onto the model. Secondly, applying primer offers an undertone for the paint – allowing the color to come through better.
Primer for Acrylic Paint Adhesion
The problem with using acrylic paint is that it doesn't always stick to certain surfaces very strongly. Metal, plastics, and resin often struggle to adhere well to acrylics when it comes to model painting. This is where primer comes in useful. It provides a surface that the paint can bond well with, without any flaking or chipping off.
When using primer, there are two common mistakes. People often create a primed surface that is too smooth and lacks adhesion qualities, or people destroy the small details of the model with the primer. Always choose the primer you use based on the kind of paint colors you will be using. White and grey primers are often favorable in order to make lighter and brighter colors come through.
Filling in Scratches/Imperfections With Primer
Another major feature of using a primer is to fill in any scratches or imperfections. This is to provide a nice smooth surface for painting over. When it comes to painting miniatures, this can be useful as they are often damaged through lots of use. However, this function of the primer is very popular with applications such as automotive parts.
The only issue that can arise with priming miniatures is that they are covered in tiny details that can be filled over. The best primer for plastic miniatures will be able to be applied in very thin coats so as not to cover in any details.
Primers Add an Undertone of Color
Yes, primer is meant to be a layer underneath the paint, but it does still provide an element of color to the finished product. Primers are available in a range of different colors, and this should be used to the painter's advantage. Most people go for grey, black or white primers, but miniature primers can be found in just about any color to suit the color theme. Different colors of primer are preferred by different hobbyists.
Better Details With Less Primer
When the primer is applied too heavily, it will fill in the lines and details on models. Miniatures and models are known for their fine details, so this is something that needs to be avoided very carefully. The best primer for miniatures needs to be applied in a thin coat in order to enhance all of the details of the model.
When the model is well cleaned it will have a shiny surface that depicts all of the details. Make sure that every detail is visible, and spray on the primer in short bursts. Once the primer has dried, it should have taken away all of the shine in the model. This is when you know you have an even coating.
Make Sure the Model is Properly Cleaned Before Priming
Primer is required to adhere strongly to the model. For this reason, the miniature will need to be properly cleaned before the primer is applied. This will allow for much better adhesion, and nothing getting in the way of the primer and model.
Miniatures are often formed into molds through a pouring process. In order to do this, a lubricant release agent is added to allow the miniatures to be taken out of the molds easily. Make sure to clean this off completely before priming, as it can inhibit the application of any substances painted over it. Therefore, the first step when priming models is to wash them properly.
Different Types of Primer Application
There are a number of different methods available when it comes to applying primer. Each one will seriously change the end result. No matter which method different hobbyists choose, there is always one goal – to apply a thin and even coat of primer without filling in any lines or details.
Airbrush
Using an airbrush is the easiest way of achieving a very thin and even coat of primer. This method will also stop air bubbles from coming through on the surface. When using an airbrush primer, it is important to get the right consistency. Some primers are mixed specifically for airbrush use, while others require thinning out. This can be done with water or an airbrush thinner. The viscosity of the primer also depends on the size of the airbrush nozzle. Generally, the perfect consistency for airbrush primer would be the same as milk.
Aerosol Spray
Another effective and popular method of applying primer is through an aerosol spray can. This is an easy solution that is readily available for all kinds of purposes. You can get aerosol primers available specifically for models and miniatures, as well as for industrial uses. While the aerosol method won't be as detailed as the airbrush, it still offers a great even thin coating. It is also easy to apply, affordable, and allows you to prime a large area at once.
Brushing
Not all situations allow you to spray primer. For this reason, primer can also be painted on with a brush. Many people prefer to do this. However, it requires more skill and there is more room for error. Painting requires patience, otherwise, details can be painted over and the primer can be applied too thick. It's best to use a flat head brush with this method.
Tips for Priming Miniatures
Once you have the best primer to use on plastic miniatures, and your model is all ready, you are set to get started. Here are some top tips to remember when priming miniatures.
Make sure to properly clean the model before adding the primer. A preparatory clean can be done with a toothbrush and soapy water to remove any release agent
If using an aerosol spray-on primer, never hold the can too close to the model. This can lead to splattering. It's best to hold the can about 6 inches away
Always apply thin coats at a time
Make sure that the primer is properly dried before painting over it. Be patient
The weather and air temperature can affect the way the primer comes out when using a spray can. Try not to spray in humidity or freezing cold
What Color Offers the Best Primer for Miniatures
As a rule of thumb, it's always a good idea to use neutral colors (white, grey, and black). You can get specially colored primers, but these are often more expensive. They will also end up just being painted over with another color. The undercoat often does not show through.
Choosing the color is a personal preference though. It depends on how brightly you want the colors to come through, and what you want to show up. A lighter primer will allow for brighter paint, while a black primer might dull the paint down a little bit.
If you love painting models, then you will need to get the best primer for miniatures. Miniature primer, or model primer, can help to make a major difference in the end result. It will allow for a more durable, long-lasting, and better adhesive paint job. Be sure to follow the guide above when choosing your model primer.