Airbrush Tanning – Guide to Airbrush Tanning Systems
A flawlessly tanned body stands for summer, sun, holiday feelings, beauty, self-confidence, health, and a good mood. Unfortunately, however, in connection with sun-tanned skin, one must always think about the harmful effects of UV radiation. A healthy solution is airbrush tanning or spray tanning. Until recently, this method was reserved for Hollywood stars only, but now it is possible for everyone. Whether in special tanning studios, specialized beauty salons, or even by means of affordable tanning sets for home use – with spray tanning everyone can conjure up a little holiday tan on their skin with our guide to the best airbrush tanning solutions.
What is Airbrush Tanning?
The term airbrush tanning refers to a technique where the "tanning" of the skin is achieved by applying brown paint. People think that this is a similar technique to body painting. But this is not the case. In spray tanning, a self-tanning lotion is evenly applied to the skin by means of a fine spray mist. This beauty treatment is also known as spray tanning or tanning shower.
A special airbrush device and a professional tanning lotion are used for this. Spray tanning is carried out in specialized cosmetic studios or tanning studios. At home, you can also achieve fantastic results with a portable airbrush device, the right color, and a little practice.
How Does Spray Tanning Work?
In order to understand the principle of airbrush tanning it is useful to first deal with the structure of the skin and the natural tanning process in its basic features:
Our skin consists of several layers. The uppermost layer is the tough layer. It is the first protection threshold against penetrating UV radiation. When UV radiation hits the skin, the top layer of the skin thickens and absorbs part of the UV radiation. The UV(B) radiation penetrating into the deeper skin layers triggers the formation of melanin in the lower layers.
This pigment is a further protective mechanism of the skin against solar radiation. The melanin can absorb further UV radiation. But only to a certain extent. If the skin is exposed to radiation without protection, this has negative effects. An accelerated skin aging process and in the worst case also skin cancer are the consequences.
By using spray tanning, only the uppermost layer of the skin is tanned. Tanning is achieved by a reaction of the sugar contained in the color with the proteins and amino acids of the skin. Only in this layer does this reaction produce natural tanning substances, the melanoidin.
The tan is therefore not painted on, as already mentioned. Instead, a high-quality self-tanner is sprayed evenly onto the skin and thus an optimal tanning result of the upper skin layer is achieved.
The airbrush tan is visible after 8 hours and cannot be washed off. Only through cell renewal of this skin layer does the complexion fade. The effect of a once-off airbrush tan is approximately the same as 3 to 5 visits to a solarium.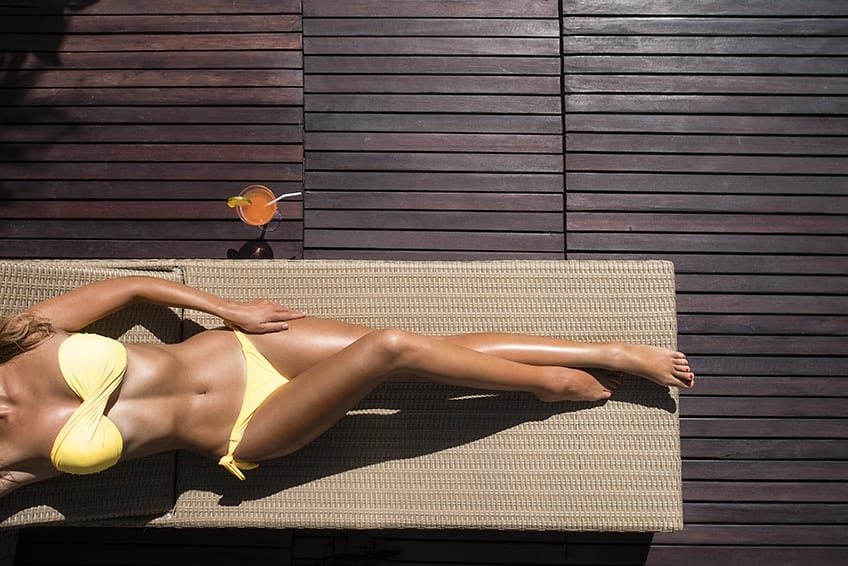 Pros and Cons of Airbrush Tanning
Applying an airbrush tan is a convenient and effective solution for those seeking golden skin. However, there are some reasons that people may be turned away from this method. Here are some pros and cons of spray tanning:
Pros
Quick tanning
No health risk
Color shades are individually selectable
Seamless tan possible
No staining if handled professionally and all preparations are observed
Cons
Good preparation of the skin with peeling and shaving is necessary

Frequent showers, heavy sweating, and above all intensive full baths cause the color to fade quickly

Clothing that is too tight or rubbing quickly leaves light-colored stains

Can be costly in the long run
Airbrush Tanning at Home: The Best Airbrush Set
You can achieve full-body tanning or just a light tan on the décolleté and face with your airbrush machine. If you are interested in applying an airbrush tan at home, then you will need the right equipment. We have rounded up the best airbrush tanning machines below.
MINETAN Bronze Babe Spray Tan Kit
The Bronze Babe Spray Tan Kit from MineTan is the optimal tool to carry out spray tanning at home in the long run at a reasonable price. Included in delivery is the very easy to use airbrush machine and a 50ml pack of professional MineTan tanning lotion.
The tanning lotion is ready to spray and is simply filled into the container provided. Just connect the unit to the power supply and you can start spraying. With the 8 different levels, you vary the intensity of the color application and thus the tanning. Beginners should make their first attempts with levels 2 or 3.
An easy home spray tan kit
Provides an ultra-fine mist for professional results
Very easy to use with very little overspray
View on Amazon
Pros
Easy to use
Very compact and easy to transport
Fully adjustable with 8 different ink delivery levels 
Provides a very even application of the tanning lotion

The tanning lotion is vegan, free from parabens and was developed without animal testing
Cons
Although the Bronze Babe Spray Tan Kit produces very little overspray, it is recommended for the first attempts to tan in the bathroom or shower
MAXIMIST Evolution Pro Spray Tanning System
If you are after the ultimate spray tan machine, then this option by MaxiMist is a perfect choice. The Evolution Pro HVLP spray tan system can produce about 25 tan coats per day, making it a good choice for professional or home use. The machine is thoughtfully designed for easy handling and use.
This HVLP system is dual-action and has a 770-watt compressor. Although it is incredibly powerful, the machine is still incredibly portable. It comes in a compact form that is easy to pack up and put away. The set includes Tampa Bay Tan Spray Tanning products and will be sure to deliver a smooth and precise finish. With this complete kit, you get everything you need to start spray tanning straight away.
Includes a pro series spray gun with stainless steel needle
A specialized HVLP spray tanning salon unit
Lightweight, compact, and portable
View on Amazon
Pros
Fully adjustable airflow
A good choice for professional or home use
Easy to use
Lightweight and fully portable
Includes quality spray tan products
Cons
A more expensive spray tan machine
AURA Allure Spray Tanning Kit
This complete spray tanning kit offers a simple solution for home use. While the spray tanning machine is incredibly practical and easy to use, it still provides a professional-quality tan. The hose is long, which makes it easy to use, and the airbrush offers great precision. You get a perfectly smooth and even tan each time with this device.
The Aura Allure spray tanning kit includes quality Norvell tanning products, and it can be used for 25 or more tanning sessions per day. The kit is also neat and looks great while being easy to pack up and store away. It is compact, lightweight, and seriously convenient.
A complete 5 piece spray tan kit
Compact, practical, and easy to store away
Provides a seriously consistent and even spray
View on Amazon
Pros
Uses advanced satin technology
A high-quality spray kit
Suitable for professional or home use
User-friendly for beginners
Includes quality tanning products
Compacvt and easy to store
Cons
A more expensive spray tan machine
Airbrush Spray Tan Color
The tanning lotion used for an airbrush tanning kit is based on a natural substance that causes the self-tanning of the skin. The substance is called dihydroxyacetone (DHA). DHA is a sugar that is extracted from vegetables and plants. The higher the DHA content in the tanning lotion, the darker the skin can be colored.
In addition, most tan colors contain alcohol. This serves to dilute the ink and improves its sprayability. However, too much alcohol can have a negative effect on the tanning result. The spray pattern then often looks cracked.
Airbrush Tanning Solution: SUNTANA Premium Sunless Solutions
The Suntana Spray Tan solution has a 12% DHA is suitable for medium to dark skin types. The spray produces a natural, intensive tan with a darker undertone. The Suntana Spray Tan is long-lasting and fades very evenly. The scents are an extra bonus, for all users who do not like the typical smell of tanning lotions. The tanning lotion was developed without animal testing, is paraben-free, and contains only substances that are safe for vegans.
Three bottles of bronze-tinted applications
Comes in a light, medium, and dark tan
Coconut, cherry, and chocolate scented
View on Amazon
Pros
Completely safe and vegan formula
Available in three different tan shades
Scented for a better experience
Long lasting
Paraben free
When it does fade, it fades evenly
Cons
The spray lotion bottles only offer a single application each
Airbrush Self Tanner From NORVELL: Spray Tanning Solution – Venetian Plus
The American family business Norvell has been producing first-class self-tanning and spray tanning products since 1983. Norvell products are developed without animal testing and contain high-quality natural ingredients.
With the various products from Norvell, the user can obtain an individual tanning result tailored to his or her specific skin type. This minimizes the orange effect that often occurs with other products. Furthermore, Norvell Spray Tanning products do not have the typical smell of tanning lotion. Also, a sticky feeling after application does not occur.
In addition, Norvell's micro-nutrient technology uses a special combination of vitamins and antioxidants to give the skin a special glow after application.
The Spray Tanning Premium Handheld Solution in the VENETIAN PLUS version produces a very rich dark brown tone. The Cosmo light, Clear and Original versions produce a much softer tanning effect.
Natural enzymes to repair weak dehydrated skin
No parabens, petrochemicals, or harmful products
Formulated for easy application with an airbrush
View on Amazon
Instructions for Airbrush Tanning
Interested in applying an airbrush tanning solution? If you are, it is important to apply the airbrush tan properly to ensure a smooth natural look. Here are some considerations to remember before applying the tan.
Skin Peeling
Before an airbrush tanning is applied, your skin should be free of dead skin cells. For this, it is necessary to perform a whole-body peeling. It is best to use a peeling glove.
 Avoid Creams
After the peeling and especially on the day of the tanning session you should not apply any cream. Airbrush tan adheres best to dry skin. Therefore, also pay attention to the composition of your peeling. Peelings containing oil are rather useless for the preparation for spray tanning.
Shaving
Your skin should also be well shaved. Peeling and shaving should be done the day before the tanning session. This will help to avoid skin irritation.
Performing the Airbrush Tanning
If you have carried out the preparations of your skin correctly, nothing stands in the way of an appointment at the beauty salon:
Bring an old bikini or underwear that is as dark as possible and that you can wear during the treatment. Alternatively, seamless tanning is of course also possible.
Long hair should be put up because the tanning lotion also colors hair.
The toenails and fingernails are protected from the airbrush paint with a special cream. Knees and elbows are also often protected with a cream against too much color absorption. If you wish, you can also protect the soles of your feet from unwanted paint application.
The paint is sprayed from a distance of approx. 15 to 20 cm and takes approx. 15 to 30 minutes. The tanning paint does not have to dry after application.
What to Consider After Airbrush Tanning
After the tanning treatment, the color should be left to work for about 8 hours before it becomes stable against abrasion. During this time, wear loose clothing to avoid unnecessary friction and do not take a shower. Only after the application time, you can remove the remains of the paint in the shower.
If the tanning color is correctly applied, there is nothing to be said against a bath, a shower, or even a cooling off in the pool. However, you should avoid prolonged contact with chlorinated water, as chlorine acts as a bleach, and therefore the intensity of your tan decreases more quickly. You should also avoid peeling, this would make the tan fade just as quickly.
Skin tanned by spray tanning also needs care. However, avoid too fatty or heavy care products such as body butter. In order to optimally care for the skin and prevent fading, light body milk is recommended.
Spray tanning should be worn for about 1 to 1.5 weeks before it is completely removed and reapplied. Pay particular attention to removing the old paint thoroughly by peeling, otherwise unsightly stains may occur.
How to Avoid Stains in Tanning
By preparing the skin properly for tanning, you can greatly reduce stains. This includes a careful peeling, a good shave, or even waxing, as well as the omission of body lotion, creams, and perfumes. Any oily or creamy residue on your skin increases the risk of spots. Pay attention to your peeling in this context. It should be largely oil-free.
After the specified exposure time of the tanning lotion (in most cases 8 hours) you should thoroughly remove the remains of the tanning lotion. Residues that remain on the skin for too long can cause an undesirable darkening.
Avoid sports and heavy sweating on the day of treatment to prevent stains.
Before new tanning is applied, the old tanning must be thoroughly removed. The best way to do this is again a gentle peeling to loosen the old skin scales of the outer skin layer.
Airbrush Tanning Costs
The costs of a tanning treatment in a professional beauty salon are very variable. On the one hand, they depend on the desired tanning level and on the other hand on the body part to be tanned. Furthermore, the costs are also related to whether a permanent tan is desired – whereby tanning must be repeated approximately every 7 to 10 days – or whether spray tanning is tried out for a one-off occasion.
A full-body tan will range between $30 and $60 depending on the desired tanning intensity. You can have your face and décolleté beautified for as little as $15 to $20. The legs for about $15. If you want to integrate additional effects such as glitter, scent, or tattoos into the tanning, the surcharges range between $2 and $10.
Many beauty salons offer customers who come regularly for airbrush tanning a kind of bonus card, subscription or other discounted conditions.
Frequently Asked Questions
How Long Does a Spray Tan Last With Spray Tanning?
The durability of spray tanning does not necessarily depend on the solution used. It is more the speed with which your skin cells renew themselves that influences the durability of the tan. The faster your cells regenerate, the shorter the tanning effect lasts.
Furthermore, the preparation of the skin for spray tanning as well as the care and behavior after tanning have a strong influence on the durability of the airbrush tan. For example, frequent showering and sweating will cause the tan to fade more quickly.
Can Hands and Feet Absorb Too Much Tan?
Yes, certain areas of the body can be more absorbent, and result in more spray tan absorption. Weeks before getting a spray tan, try to moisturize your whole body to get all of the skin equally moist and absorbent. You can also block off any areas such as your feet and palms if you do not want them to get too tanned.
Is Airbrush Tanning Dangerous for the Skin?
The tanning itself is completely safe for your skin. However, the beautifully tanned skin often leads the wearer to believe that they are protected from sunburn. But that is not the case! Spray tanning is not sun protection!
The skin dyed with spray tanning has not produced melanin and is therefore not a bit more protected from sunburn than your natural skin. Sunscreen must be applied as with your untreated skin using a suitable sunscreen product.
Does DHA Enhance Freckles?
Sunless tanning solutions don't enhance things like freckles or facial flaws, but they rather conceal them. Using DHA provides a smooth and even finish over your skin. Make sure to use tanning products that match your skin tone and work with your freckles.
How Can I Fix Tanning Accidents?
As already mentioned, the paint needs about 8 hours to become abrasion-resistant. During this time it is still water-soluble. If your tanning result is completely unacceptable to you, you can make it disappear again within the first few hours.
To do this, lie down in warm water for at least half an hour and then carefully scrub the paint with a gentle washing glove or sponge and shower gel. The sooner you start to repair the tanning accident the less the optical damage will be. If the tanning seems only a nuance too dark to you, but the time of the first shower or bath on the time around 6 hours after the treatment, you will not lose the tan completely but only lighten it.
Can Spray Tan Color Your Hair?
Yes, spray tan colors your skin and it can also color your hair. Particularly if you have lighter hair, this can be an issue. Make sure to tie up your hair and cover it when applying a spray tan. Be very careful around the hairline areas to not create a mess.
What Other Health Risks Can Come From Spray Tanning?
Again and again one finds debates on the harmfulness of the fine spray mist that is created during airbrush tanning. To be on the safe side, it is advisable to choose a beauty salon that has good ventilation or an extraction system.
Some studios work with an LVLP machine (low volume low pressure) to reduce the spray mist significantly. If you work at home with an airbrush tanning device, ventilate the room extensively. It is best to wear protection for the nose and mouth when treating the body.
An airbrush tanning system is an easy way of keeping your skin perfectly bronze throughout the year. Spray tan is easy to apply, effective, and can boost your confidence levels a great deal. Be sure to consider an airbrush tanning machine if you are interested in maintaining a good tan.