Best Paint Sprayer for Walls – An In-Depth Review of Indoor Paint Sprayers
When it comes time to paint the walls of your home it may seem overwhelming. It is a labor-intensive, expensive, and time-consuming job. You can put it off for a little bit but eventually, you will be unable to ignore it any longer. This article will assist you in selecting the ideal paint sprayer for the walls of your home and make the overall painting process easier.
The Benefits of Using a Wall Paint Sprayer
Instead of spending a fortune buying rollers and taking hours to tackle the same spot you can make the process easier by using a wall paint sprayer. You will not be required to purchase paint trays or spend time cleaning up any mess you make. Using a sprayer ensures the clean-up and mess are reduced and requires less effort and can be used to paint both interior and exterior walls.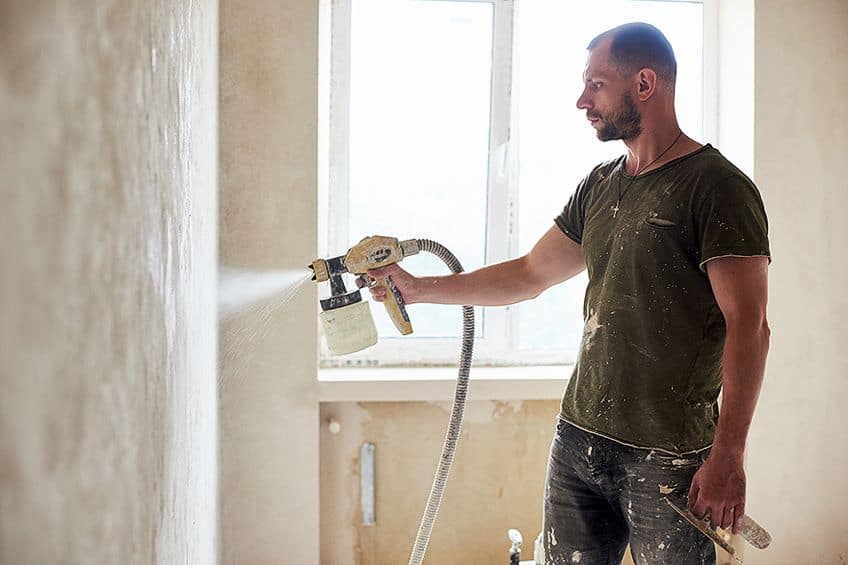 You will not only simplify the process by using an indoor paint sprayer, but you will also be able to use it on a variety of surfaces. It is the perfect tool to use for home projects that may need a speedy paint job. There are many factors to take into consideration when purchasing an interior paint sprayer so you will need to do some research first.
Paint Roller vs. Wall Sprayer
When tackling a home painting job, the standard go-to is a paintbrush and roller and your local hardware store will probably agree with you. the hardware is packed with many brushes and rollers which have been designed to meet all your painting requirements, but these are not your only options.
Using a paint sprayer is an easier option and much more effective, you will need to acquire the skill to work the paint sprayer it is simple to work out and get started.
Either option needs the necessary preparation, painting techniques to apply the paint, and skills to ensure a stunning finish. That being said always go with the best option for you and your project.
Using a Paint Roller
You can use a paint roller to apply the paint to your walls, you will require a tray to decant the paint into, and then you can cover the roller in the paint from the tray.
The paint roller will absorb the paint and then you can apply the roller directly to your flat surface and it will transfer the paint. Sadly, using a paint roller can get quite messy and it will take you much longer to complete the project.
PROS
Applies an even coat of paint
Can be used on the majority of painting jobs
A beginner can do it, no skills required
In the short term is cost-effective
Can cover most areas, you can also fit an extension pole with ease
Maintain and clean with ease
CONS
Can create a big mess
Can deposit lint and hair into your paint
Very time-consuming
The core will often dissolve
Not great for use on textured surfaces
Using a Wall Sprayer
A paint sprayer is the quickest method to use to paint your walls. You will not require much accuracy and it is perfect for painting larger areas such as your home's walls. You will need to practice using it and gain some experience before tackling a project but in the long run, it will save you time and money.
PROS
Offers long-term cost savings
Provides an even coating and stunning finish
Can be used to paint detailed work
Easy to use and quick
Can be used on textured surfaces and for filling gaps
Painting is effortless
Great for use in large areas
CONS
You will have to practice and gain experience
Not ideal for smaller paint projects
You will be required to prepare your areas properly
Can be expensive to setup
Will require cleaning and maintenance
Can leave residue or fine paint mist on surrounding surfaces
Types of Interior Paint Sprayer
If you need to paint inside your house with an interior paint sprayer you will need to know a few things. Firstly, you can choose from three interior painting sprays being airless sprayer, an HVLP sprayer, and a handheld spray gun. Each option has its advantages and disadvantages, so it is your decision which option you select.
Airless Wall Paint Spray
This is the most efficient option of the three, this paint sprayer is powered electronically and does not require a compressor. The setup can be moved around with ease as it is not bulky.
HVLP Interior Wall Sprayer
This is a simple and affordable option for spraying paint, as the unit just needs to plug in and you are ready to go. Sadly, it does have a short life span, but when it is working it is amazing!
Our Recommendations for the Paint Sprayer for Home Use
When you are faced with the decision of purchasing a wall paint sprayer you want to ensure the item you buy will meet all your needs. There are so many options available which can seem overwhelming so we have put together some recommendations.
The Best Overall Paint Sprayer for Walls: WAGNER HVLP Paint Sprayer
This is the best option for a paint sprayer for the home for several reasons. Firstly, it is versatile and can be used to creating lasting, stunning finishes on your DIY projects doesn't matter the texture or surface. It comes with an option of two nozzles and allows you to create different spray patterns.
An efficient HVLP paint or stain sprayer suitable for interior use
Fully adjustable paint flow and pressure settings
Includes a versatile spray nozzle for various applications
View on Amazon
PROS
Simple to clean and pack up
Versatile
So easy to use and portable
Two different sized nozzles included
CONS
Nozzle reach is limited which limits the painting area
Does not produce a fine finish
The Best High-Performance Paint Sprayer for Walls: GRACO Magnum Airless Sprayer
This unit offers amazing performance and is powerful enough that you can use the paint straight from the can and will not have to thin it out first. The suction tube can be placed straight into the paint can so you will not have to decant the paint.
Fully adjustable pressure to give you ultimate control of paint flow 

Stainless Steel Piston Pump allows you to spray paint unthinned 

PowerFlush Adapter connects to a garden hose for fast cleaning
View on Amazon
PROS
Simple to unclog
Settings can be adjusted with ease
Simple to clean
No decanting or thinning of the paint required
CONS
Textured paints can not be used in the unit
The Best HVLP Paint Sprayer for Walls: HOMERIGHT FinishMax
When painting interior walls, the majority of people will select an HVLP wall sprayer as it has a low-pressure output with a high-volume intake and substantially decreases wastage. This unit is perfect for when your project has extra details. It is important to note that an airless option takes less time to use than an HVLP option.
Easy to use, handheld electric paint sprayer, perfect for indoor use
Features easily adjustable spray settings for a variety of surfaces
Easy to clean and suitable for a wide variety of paints
View on Amazon
PROS
Beginners and professionals can use it
Limited wastage
Corrosion prevented thanks to a brass tip
Perfect for detailed projects
CONS
Time-consuming in comparison to other spray guns
Best Paint Sprayer for Walls and Metal: CAMPBELL HVLP Paint Spray Gun
If you find yourself having to spray metal, then you will require a unit that can do so, this is our recommendation. This is a general use spray gun that is affordable and offers great performance and can be used on an assortment of textures and surfaces.
The product is a gravity feed spray gun that is easy to use and clean

Easy controls to adjust both fluid and spray pattern quickly

Ideal for painting interior walls, cars, and furniture with ease
View on Amazon
PROS
Can be used with an assortment of liquids on several different surfaces
Very versatile
Performance is consistent
Provides optimal coverage thanks to having several settings
CONS
The tip can not be removed
How to Use a Wall Sprayer
It may seem quite easy to paint walls but to ensure the best results there are certain things you need to do. We will give an overview of what is required.
Firstly, you will need to purchase a paint sprayer and our guidelines above should help you select the correct one for your needs. Now that you have purchased an interior paint spray you need to pick the right paint (in the color you want) and will have to ensure you have all the other gear you will need to finish the job. You will need masking tape, masks, plastic sheeting, and goggles.
If the space you are going to paint has any décor items or furniture in it you will need to remove them before painting. This will ensure you in no way damage the items or get paint on them accidentally.
When you have finished clearing the items out of the room you can lay down the plastic sheeting which will protect your floors and if there are any windows, doors, lights, or light fittings ensure you mask them off. It is time to start painting, apply the initial layer of paint, and allow it time to dry.
Tips and Tricks for Painting Your Home
If you have done this countless times, or it is your first painting your walls a simple refresher on how to tackle the job will help you. it will assist in your paint job lasting for years and improve the overall quality of your work.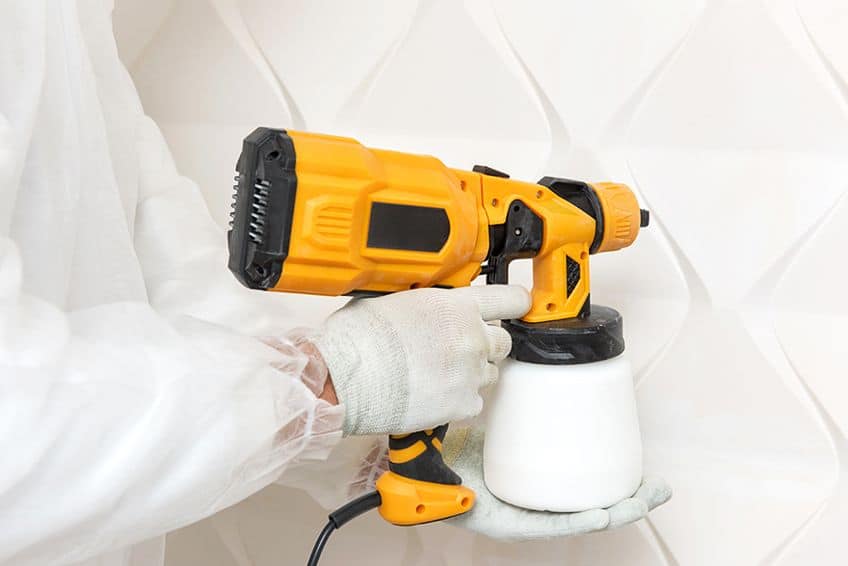 Do Not Let the Paint in Your Can Dry Out
While you want the paint, you've applied on the walls to dry you do not want the paint in the paint can to dry out. It often happens that half-full paint cans end up drying out. One way around this is to place some golf balls in the can to take up the additional space. You can also seal off the can by taking some plastic wrap and placing it under the can's lid and then storing the can upside down. Make double sure the lid is properly closed before turning the can upside down.
Mix the Paint Well Before Use
Your paint needs to be sufficiently mixed before you can begin painting. To assist in the mixing of the paint drill holes in the stirrer will aerate the paint and enable the paint to flow through and result in a more evenly mixed paint.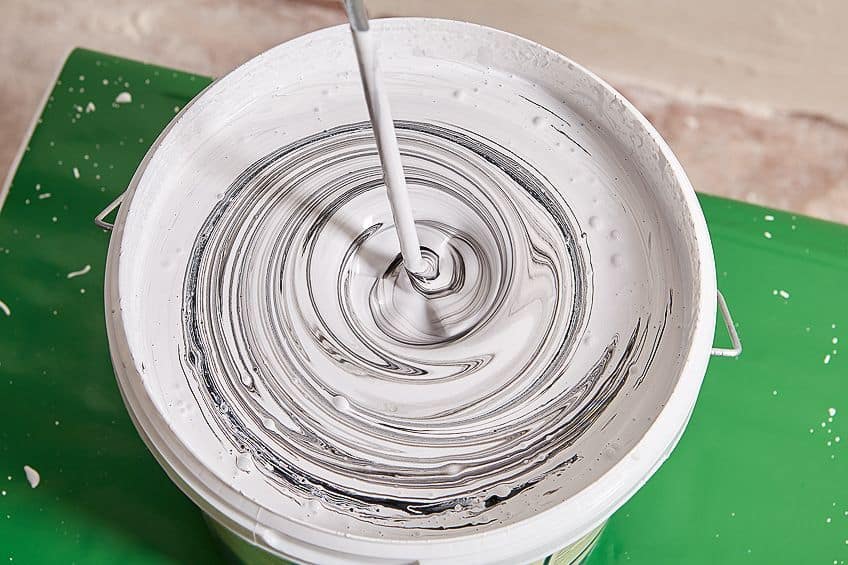 Always Use Primer
Any surface you are painting whether it be a new surface or any other surface, using a primer first will help you cover up any marks or imperfections. Primer also acts like a base coat and the paint being applied can be enhanced by it. If you are working with dry-wall a water-based primer is your go-to. Rather use an oil-based primer if you have smoke-saturated, water-damaged, or paneled walls.
Be Careful of Overlapping Layers
Overlapping paint will result in a stripey finish, overlapping occurs when the paint is applied and dries before the next layer or stroke is applied. To stop this from occurring try to ensure the edge of each layer is wet and have the following stroke or layer touch the previous.
You will have to work quickly to make sure the paint does not dry in-between.
Be Careful of Old Tape
If you have used old masking tape it can be hard to peel off and loosen without breaking into tiny pieces. You can place your painter's tape in the microwave for 10 seconds to make it peel off easier.
Wash Your Paint Gear
If you know your paint job will take longer than a day you might be able not to have to clean your equipment between each day, but remember you can clean your spray gun as often as you want. In colder temperatures, latex paint takes longer to dry so if you are using latex paint, you can leave your gear overnight without worrying. When leaving your gear overnight place, it into a plastic bag (or wrap it in tinfoil) and place it into the fridge. Before reusing the equipment all time for it to thaw out before you start painting again.
Always Prepare Your Surfaces and Surrounding Area
You need to correctly prepare your surrounding area and your surfaces before you can begin painting. You will need to lay down drop cloths or plastic sheeting and correctly mask off any door frames, hardware, windows, or light fittings, and any other objects that are in the painting area. ensure your children and pets stay out of the area so that they do not create any marks on the wet paint or knock over the paint.
Be Aware of the Previous Paint Type
If you are uncertain what paint is currently on the wall, there is a quick way to determine it. Dip a cotton ball in isopropyl alcohol (or any other rubbing alcohol which you may already have at home) and wipe it across the wall.
The paint is probably latex if the cotton ball has a color residue, while if there isn't any residue then it is in all likelihood an oil-based paint which means you will have to use an oil-based primer before you can start painting.
Try Using a Paint Pen
This wonderful tool allows you to store some paint in its cartridge so you can use it if you need to do any quick touch-ups at a later stage you can just use the pen. The pen will ensure the paint stays fresh for a year, but we suggest shaking the pen before you use it.
Wear Protective Gear
Protective clothing is a must when painting particularly if you are using a spray gun. Paint particles become airborne and will end up in your hair and on your clothing so you want to wear a mask, goggles, gloves, and a protective suit.
Follow the Sprayer Manual Instructions Carefully
Each spray gun works differently some you can simply place the suction tube directly in the paint can while others you will need to decant the paint and thin it out before you can load it into the spray gun. Consult the manual of your spray gun and follow the recommendations and guidelines, use the right tip, add the appropriate quantity of paint, etc. this will guarantee you stunning results.
Test Your Skills
Do not just start painting the wall, the first test your technique out on a small surface area prior. You will then be able to see if your paint is the correct consistency and that you are using the right tip for the job. If you are working with a spray gun, testing it out first will allow you to determine the distance you will need to stand away from the wall to give you a stunning even finish.
Experiment on an old cardboard box, a hidden piece of wall, or a piece of wood.
Ensure That You Have Good Ventilation
Paint fumes can be so bad for your health and they can build up easily. A good flow of air through your space will help disperse the fumes and will assist in drying your paint, but be careful you do not want too strong of a breeze that could track in dust or other particles which can be caught in the wet paint. You could also use a fan or two to create airflow in the space.
Start From the Top
When you begin painting always work from the top of the wall or at the ceiling and then move downwards slowly towards the floor using a sweeping motion. You want to try to avoid applying straight lines as this can be quite prominent once the paint dries. If there are runs in the paint you can adjust the settings on your spray gun or put less paint on the roller, but remember to smooth out the runs before the paint has a chance to dry.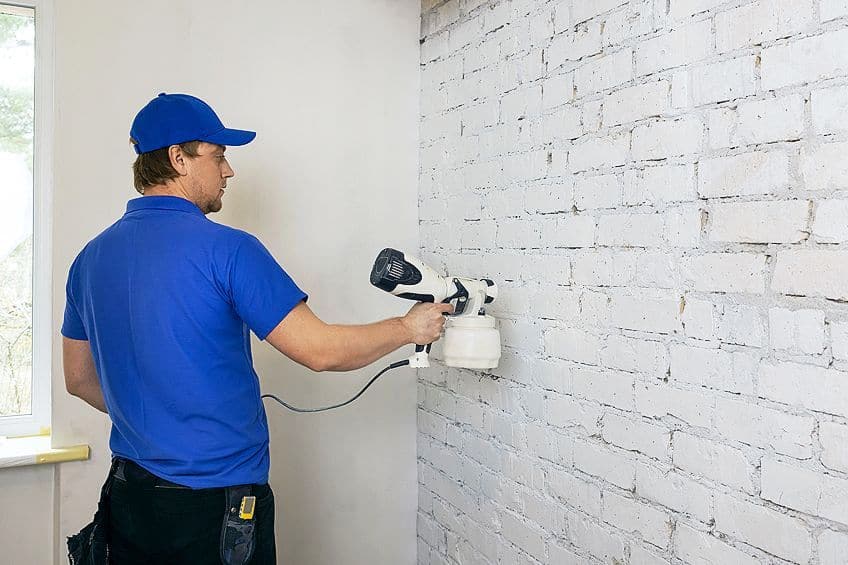 You will ideally apply more than one coat of paint to get the best finish, but remember each layer needs to dry completely before you begin applying another layer. When using a spray gun, the paint should dry quickly but still check it is dry before starting with the next coat.
Using a paint sprayer to paint your walls is one of the best ways that you can speed up any interior painting project. With the right paint sprayer, you can achieve a beautifully smooth and professional finish, with far fewer aches and pains!
Frequently Asked Questions
Is it Worth Buying a Spray Gun?
We feel the answer is yes, while it may sometimes seem like a spray gun isn't necessary, especially if you are working in a small space, it can halve the time it takes to paint and decrease your overall labor costs!
How do I Decide Between a Paint Roller or a Wall Paint Spray Gun?
First look at the space you will be painting, if it is a small space then go with a roller as setting up a spray gun may feel like a mission for space's size. That being said if you do go with a spray gun you can know for certain that you will achieve a stunning finish that will dry much quicker than if you were to use a roller and will not have any overlapping marks.
Can I Use a Paint Sprayer Inside?
Of course, the above article covers using a spray gun inside. You can of course use a wall paint sprayer both inside or outside. We recommend going for a spray gun that doe not require a compressor as it can be a cumbersome setup.